Who would have thought that a game as noble as chess could be so dynamic and traumatic? After all, with titles like Dota Auto Chess we see such a complex version that we need a guide to help us get a little notion of how to play.
Although we could also find some tricks or ideas that allow us to reach victory in our matches. With that said, get comfortable because HDGamers brings you a guide with all that and a little more.
The Dota Auto Chess Guide
With our Dota Auto Chess guide you will learn all the most basic ideas that you should consider in each game. It should be noted that we have developed it based on each instance in the game.
In this way, you will be able to find the fundamental ideas in the most crucial stages of Dota Auto Chess. Without further ado, let's begin.
Early game
Level
from one to five
Things to consider
Don't spend your gold unnecessarily.
Sell unused Lv 1 units at full price.
Strategy
The ideal here is to form a first line of combat made up of tanks. This way you can fast-forward rounds and get on a winning streak.
Middle game
Level
From six to seven.
Things to consider
This is the most important stage in the entire game.
Always keep 50 gold in your account.
If you have more, spend it to upgrade your level or buy upgrades for your units.
Strategy
The key here will be setting up a second lane with high attack power.
Here we recommend that you use the Dragons for three reasons.
First of all, you don't need a lot of space on the board. This way, you can have room for a couple of units to complement this build.
On the other hand, it is relatively easy to build a line composed of them.
Finally, they are one of the few units that will give you AoE damage. It's vital for the late game.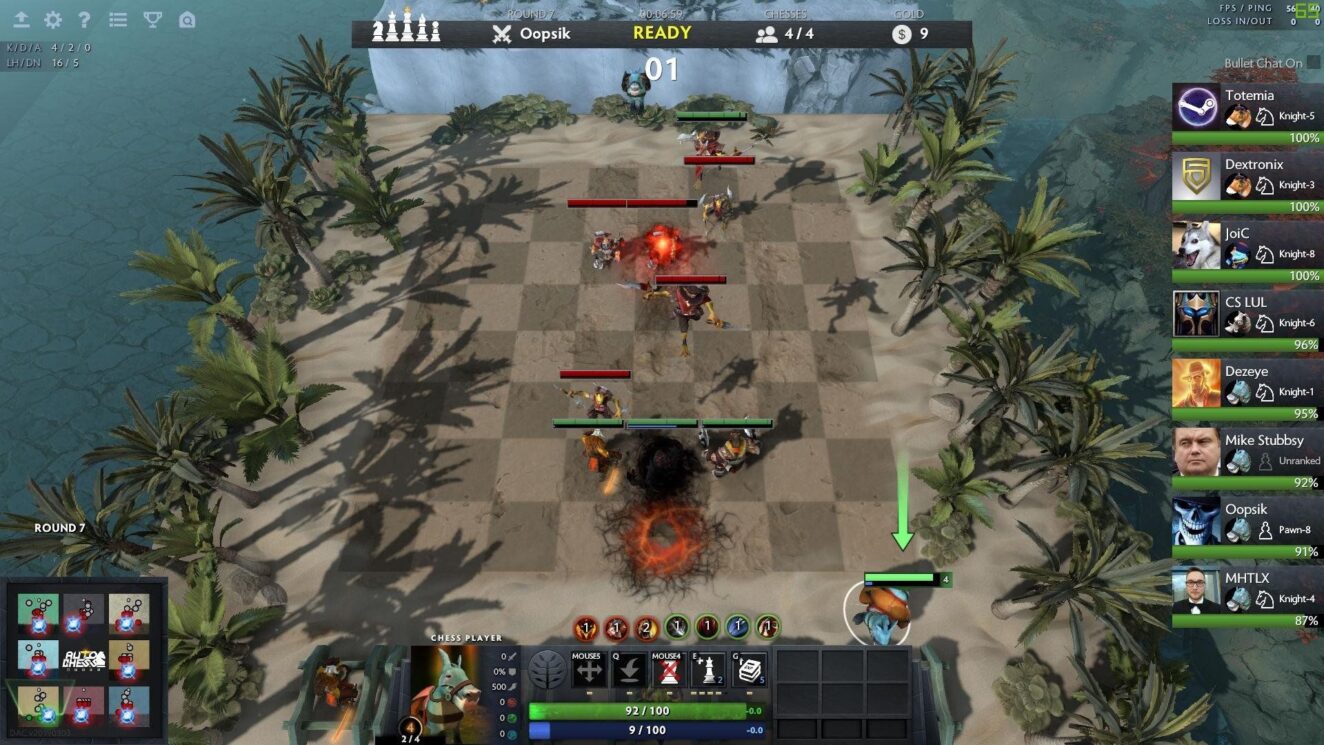 Late game
Level
From eight to 10.
Things to consider
Keep a close eye on your finances. It is preferable that you stay above 50 gold units before reaching this level.
Once you reach this level, use all this gold to get as fast as you can to level 10.
It's also vital that you spend it on getting the latest upgrades for your army.
Strategy
At this point two things can happen.
The first is that you are on a winning streak and victory is close to being consummated.
On the other hand, if you're behind in the game, you have no choice but to appeal to the epic comeback. The one you could get by reaching level 10 first.
You could also use all your gold to buy the best attack units. In the desperate, the more attack power it has, the more chances you have to come back from the game.
Dota Auto Chess Guide Final Recommendations
It is extremely important that you know that this Dota Auto Chess guide will only help you to have a small notion of the things you need to win.
Likewise, we tell you that she does not guarantee victory in the game. That will depend on your skill and the knowledge you have of your pieces. If you want to learn more about them, here we leave you the Dota Tier List Auto Chess.
On the other hand, when it comes to the mid game, we could recommend other units such as wizards or assassins; however, we consider dragons to be one of the best strategy alternatives for the game. That does not mean that only they are good.
In this way we can put an end to our Dota Auto Chess guide inviting you to share your experience with us and thus be able to build better game strategies. We are waiting for you!