Few games like Destiny manage to emulate the thrill of this massively multiplayer online shooter. And no wonder, as it is one of the most popular first-person games of this type of all time. Even with the departure of Destiny 2, its improvements and news, the success of this franchise was only on the rise.
If you are looking for games like Destiny, shooting, that move every fiber of your being, we guarantee that you have reached the ideal place. Clever? Here we go.
Titanfall 2
As with Destiny 2, Titanfall 2 is a sequel destined to reach a wider audience than its first installment. On this occasion, the improvements in movement and shooting stand out.
In terms of movement, new abilities allow you to cover distances quickly and fluidly: wall running and double jump. With regard to shooting, they are now faster: as simple as aiming and shooting . Also, despite being short, its single player campaign is extraordinary.
Apex Legends
Although Apex Legends does not have the ability to run on walls, this 3v3 PvP game does. It makes up for it with an incredible variety of weapons to choose from.
You will also enjoy various classes with various skills and fighting styles to begin your customization. Since launch, they have added new characters and cosmetic improvements, as well as different ways to balance the game, in a way that feels fair to everyone.
World War Z

If you liked Left 4 Dead at the time, and you are excited about games similar to Destiny, then this will be an excellent option for you. Although you will play from a third-person point of view, we assure you that you will enjoy the combat style a lot.
In World War Z, you can kill zombies in creepy ways: from bloody limb detachments caused by bloody gunshots to accurate executions by headshots.
In addition, you will have six classes and teams of up to four people to complete missions around the map and kill hordes of zombies. What more can you ask?
Borderlands 2
Borderlands 2 offers you just the right dose of role-playing video game alongside the experience of first person shooting. Thanks to its latest improvements in quality of life and variety of environments, as well as cooperation and game mechanics, is a good example of how games should look and feel like Destiny.
Your campaign is rich and extensive, lasting approximately 30 hours, but it can be extended with additional content.
The Division 2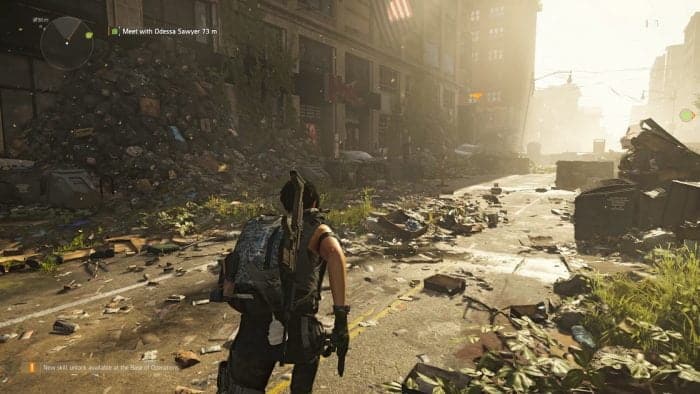 The Division 2 is one of the Destiny-like games that really grew with the feedback received from its players about the first game.
Since their launch, they offered more content than in the first installment. The story takes place in Washington D.C., in the middle of a civil war between the survivors and enemy factions, after seven months of what happened in the first game.
You can form teams of four players to go on player versus environment missions, and raids for eight players.
Halo 5: Guardians
Halo 5: Guardians is the latest Halo game so far. This raises the existence of a mysterious and unstoppable force whose objective is to destroy the galaxy, at the same time that you have to search for the now-disappeared Master Chief.
The campaign is short, it can last in an estimated 8 to 12 hours. However, what else highlight is the multiplayer mode, for which a 24-player PvP war zone has been developed. If that doesn't excite you, we don't know what will.
Anthem
Anthem is an online multiplayer action video game very similar to Destiny. In this title, you will explore Bastion, the fictional world of the game, while eliminating a variety of monster species and collecting equipment powerful enough to deal with new threats.
The fighting mechanics are decent and satisfying, and the customization options for your javelins will really make you stand out from the crowd. A game with a long and complex lore that is worth studying.
Rage 2
Rage 2 is a online multiplayer action video game, and one of the games like Destiny that takes place in a huge open world.
The events of this second installment occur 30 after the first video game, putting us in the shoes of Walker, the last surviving ranger after an asteroid crashed into Earth.
In this post-apocalyptic world full of mutants and bandits, you will have to infiltrate various enemy bases to complete your mission. You will have superhuman abilities that will give you a series of unique options when it comes to fighting.
Atomic Heart
Among the upcoming Destiny-like games is Atomic Heart . This first-person shooter title takes place in an alternate universe in which the Soviet Union unleashes a technical revolution.
You will put yourself in the shoes of a Soviet KGB officer who must infiltrate a secret base that has stopped working properly and find out what happens.
The map of this open world is divided into multiple explorable regions with different ecosystems, structures and levels. If you want to stay alive, you must fight killer robots, zombies and other hostile creatures. It sounds strange? Well, it is.
Void Bastards
It is a recent title that deserves to be on this list of games similar to Destiny. Void Bastards a sci-fi first person shooter where you will have to use the best possible strategy to escape from a space prison.
The game focuses on exploring abandoned ships, gathering supplies and ditching enemies in your path.
A plus point is that you can enjoy different styles of play, thanks to the variety of weapons, traps and tools that we can use during our battles, whether to directly kill enemies, trap them or distract them.
And good? What do you think of this list of top games like Destiny . If you liked this compilation, don't forget to share it with your friends. In addition, we invite you to visit our other sections, where you will find reviews, news and much more information about the world of gaming.