When you've spent hours and hours launching different types of highly explosive birds against insolent pigs, it's normal that you end up looking for other games similar to Angry Birds to change the atmosphere a bit. Angry Birds has been a very successful video game in the Android and Apple mobile stores due to its way of playing with physics, making its players use logic to decide what our next move will be.
Using a slingshot, we can shoot birds at the evil pigs that hide in different types of structures. With different types of colored birds at our disposal, each one will have its own powers and abilities.
Your duty will be to aim, power up and shoot the frame of the structure in which the pigs are located in the expected time, to obtain a maximum amount of three stars per level. Only in this way will you be able to go between worlds, with a set of particular levels in each one.
Over time, the classic version of Angry Birds has been renamed Rovio Classics : AB, and it costs $1. set of games similar to Angry Birds.
Stupid Zombies
If it was fun for you to watch pigs make all sorts of funny sounds when hit or explode, wait until you blow up zombies in Stupid Zombies (and each of its sequels). While they lack the charisma and endearing flying characters of Angry Birds, this game is pretty similar in terms of dynamics.
In a world where zombies are part of the world we live in, hope rests with us, the best trained gunslingers. Our job will be to know how to shoot strategically using a limited set of ammunition and weapons to hit as many zombies as possible in the shortest time. Are you ready to face this post apocalyptic world?
Available for
Crush the Castle
In Crush the Castle we don't need to explain much to you, especially in terms of mechanics. In essence, it is one of the games similar to Angry Birds that you can find available for Android and iOS, with a medieval theme.
Its plot is perhaps a little less childish than Angry Birds, and its level of violence is quite increased, so if you are thinking that this is a good alternative for your nephews, cousins, children, or close children, you may have to rethink it. While it's not a graphic level of violence, if you think about the fact that it's a huge trebuchet with which you punish, dominate and destroy different structures and people in the kingdom, it may not sound as welcoming as you would think.
In this game like Angry Birds, you'll have over 100 levels to enjoy, as well as a level editor, customizations, ranges, and different types of ammunition. With Crush the Castle you will hardly get bored crushing structures, castles and their owners.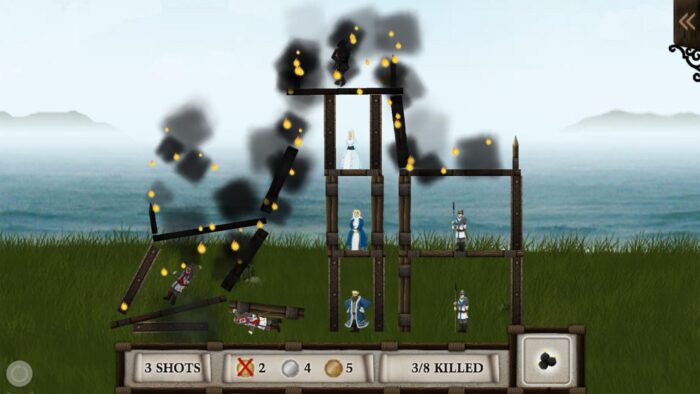 Available for
Catapult King
It is a particular 3D fantasy adventure in which you will have to knock down fortresses, castles, and even a fire-breathing dragon. You'll have the chance to use an arsenal of weapons, including cannonballs and power-ups that you'll get as a reward after completing several of the game's levels.
There are more than 175 super challenging levels that you can overcome while equipping your catapult with special accessories, such as orientation arrows that improve the precision of your shots, summoning lunar storms, among other elements.
Its new improved graphics make this game similar to Angry Birds much more fun, with progressive maps to explore, new shots, missions, challenges, game modes and more than 40 new levels. What are you waiting to try it?
Available for
Slingshot Monsters y Angry Flappy Fart Monster
At first they may seem the same game, but in their details are the differences. You'll have to prepare to launch your army of angry monsters against the Astros, who have invaded Planet X to exploit the Monsters' powerful energy crystals.
With your slingshot, you will be able to launch your monsters and create huge chain reactions inside Planet X, win amazing boss fights, and explore more than 6 worlds with 140 levels of prairie, ice, desert, tropics and lava. Don't miss out on this completely free visual wonder and enjoy it on your preferred device.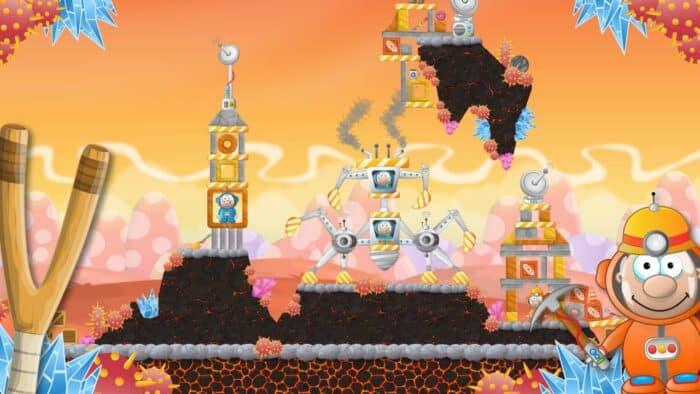 Available for
SiegeHero for Android
When it comes to strategy games similar to Angry Birds, you can't miss Siege Hero. In its two versions for Android, Siege Hero: Viking Vengeance and Siege Hero: Pirate Pillage, you'll have two great games to pass the time destroying structures.
In Siege Hero: Viking Vengeance you will participate in the war for the North, joining the resistance and giving battle to the invaders. To do this, you must destroy their barracks, fight for territory and save your people. With its classic physics-based mechanics, nothing will be more satisfying than taking down your enemies with a single shot.
On the other hand, in Siege Hero: Pirate Pillage, your enemies this time will be pirates, who will do their best to advance through the sea until they reach you, and it is your job to stop them with as few shots as possible. Hit their weak points and shoot down the enemy ships. Will you achieve the best trajectory so that your ammunition destroys the pirate ships without leaving a trace?
Both games are waiting for you on Google Play for free and without an internet connection. What are you waiting for to download them?
Available for
[+Bonus] Angry Birds Saga
It seemed to us that the list was incomplete if we did not leave you this gift. And there are no games more similar to Angry Birds than Angry Birds. In addition, we know that it is difficult to part with this saga. Rovio Entertainment has been able to squeeze the juice out of the birds, pigs and their entire universe to go through different genres of video games, and different versions of the traditional Angry Birds.
Just to give you an idea, at the time of publishing this post, we have up to 10 Angry Birds mobile games. Do you think you can pass them all?
Available for
We hope you've enjoyed it to the end, because that's the end of our list of games similar to Angry Birds. Would you include any other games? Leave it in the comments, and don't forget to share this article with your friends and put your aim to the test!