Ever since Fortnite came out, the super popular battle royale that has taken the world by storm, the tide of games similar to Fortnite that has come out hasn't stopped. Everyone wants to take what is good about the famous game and make it better, as well as avoid its mistakes in order to stand out and succeed in the video game market.
Fortnite is a free game with various game modes for all kinds of players you can imagine, mixing from the action of shooters, crafting, survival, stealth, and even social experiences. 
There are a lot of elements to the game that make it great, but if you've only been playing Fortnite for the last few years, you may not know how much of an influence it's had on other games, and how many other games like Fortnite there are now.
Whatever you're looking for, you'll find something to enjoy in our list of the best games like Fortnite to survive to the end. Check them out below!
Apex Legends
You'll get the chance to explore a universe full of unique characters in Apex Legends, a battle royale first-person shooter. 
Although it is designed solely for multiplayer, it is a game that will satisfy fans of cooperative play. With its cooperative style, it will undoubtedly encourage you to coordinate excellent strategies with other players. In addition, the game represents a challenge due to its high learning curve, especially regarding the abilities of the characters and its varied collection of weapons.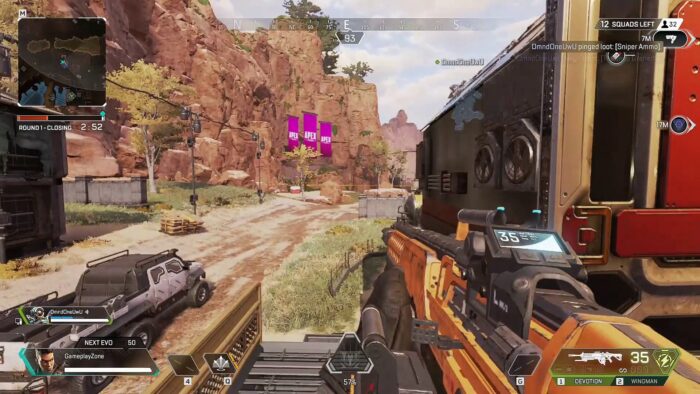 In question, its cooperative mode will be a great support to discover new techniques that you never thought were possible. With its constant map changes per season and its important updates, Apex Legends is one of the games like Fortnite that is here to stay.
Pros
It is – and always seems to be – a free game!

It maintains a fast and frenetic combat.

Its quirky heroes put an interesting spin on the

battle royale genre.

Each Legend has unique abilities and personalities.

The Ping system is revolutionary, being a communication method where, by pressing a button, you send a predetermined audio message to your teammates.

Each squad will be made up of 3 men, making it perfect for 
Cons
It would be wise for the weapon spawn rate to increase a bit

There is only one game mode, multiplayer.

There is no cross-platform play, making it a bit awkward for those who have multiple devices and would like this experience.
Available for
Garena Free Fire
Garena Free Fire is a mobile battle royale shooter in which 50 real players land on an island. Your mission? Be the last man -or woman- standing. With a maximum duration of 10 minutes per game, Free Fire promises to be everything your heart needs to beat a thousand per hour.
Players start in a plane and choose their starting location by parachuting. Explore the island to find weapons and items before the safe zone shrinks, forcing players to move quickly. Things start to get interesting as the safe zone shrinks as players are forced to fight in a shrinking play area.
Where Garena Free Fire differs from other battle royale games is in its unique character system. The game features over 10 unlockable characters, each with their own play style, such as the Bodyguard, who recharges faster, and the Nurse, who restores more HP by reviving allies.
Pros
It is a free game.

Its graphics are quite good despite some visual glitches.

You will be able to explore an island made up of multiple biomes with different climatic conditions ranging from arid deserts to cold, snowy mountains, with lush grasslands and rivers in between.

You will have different vehicles to be able to transport yourself throughout the island.

Fortunately, it has regular updates to fix bugs and add details.

They usually update it with new themes regularly.

You will have many characters to choose and embody.

You will have multiple rewards after your victories.
Cons
Your in-app purchases can get expensive, so be careful with your credit card!

The maps are a bit small, meaning you run out of areas to explore quickly compared to other games. 

The environment is repetitive, perhaps due to its size and the fast quality of its games.
Available for
PUBG – PlayerUnknown's Battlegrounds
PUBG: Battlegrounds is one of the rival titles to Fortnite. Although one opts for realism and the other for a cartoonish aesthetic, both PUBG and Fortnite have managed to include many modes and events that will keep you hooked.
PUBG is a first-person shooter whose battle royale mode works in a similar way to Fortnite. Players go aboard a flying vehicle and drop onto the battlefield of their choice on the map.
The battlefield also works similarly to the world of Fortnite: You will be able to search for loot, and you will brave nature with a mechanic similar to the storm system of Fortnite. Here, you will need to head to specific locations on the map, or the PUBG play zone will kill you. Still, is it true that it sounds like one of the games like Fortnite? We agree.
Pros
Features addictive multiplayer action

It is the first to introduce the novel concept of "battle royale", so you can enjoy this type of game first hand.

Great support from the community and developers.

The number of unpredictable variables make each game unique.
Cons
It is not fully optimized, so it still has some bugs.

Despite its unique games, its gameplay quickly becomes repetitive

Probably due to its lack of optimization, it presents unpredictable performance issues, even on high-end smartphones.
Available for
Call of Duty – Warzone
Call of Duty: Warzone is a video game from Infinity Ward and Raven Software companies, published by Activision . Warzone features 150-player online multiplayer combat , although 200 players are occasionally introduced in certain game modes.
To spend hours of fun and adrenaline, the game features three main modes: Plunder, Resurgence and Battle Royale. Players can enter matches solo, as part of a duo, or with two squadmates, with the ability to automatically fill in gaps in your lineup if you so choose. 
Regardless, chances are you'll be left speechless by the magnificent opening cutscene that uncovers Warzone's map, incredibly large in terms of scale and variety. In fact, the use of vehicles is what helps to mitigate the distances between zones a little.
In general terms, it is a quite enjoyable and entertaining game, especially if you are a big fan of the Call of Duty saga and were waiting for its introduction to a genre as popular as battle royale.
Pros
Huge and interesting map to explore.

You start the game with a couple of armors from the first minute, which gives a greater feeling of solidity when entering the battlefield.

We can regenerate our health automatically.

The large number of players and frequent battles allow you to get something positive out of each game.
Cons
Technical failures in its launch

Killstreaks can be too powerful

The focus on custom loadout drops weakens the looting and survivability nature.
Available for
H1Z1
While Fortnite is often credited with birthing the battle royale boom , it was in H1Z1 that the genre began to gain traction. King of the Hill was a battle royale mode created for H1Z1, and it quickly became the most popular mod for H1Z1. 
It is a shooter with construction mechanics and an arsenal of unique weapons where you will face 149 players with the aim of being the last one standing in fast-paced matches set on a colorful map with different biomes. Whether solo, duo, or in a five-player squad, this game strikes a middle ground between the realism of PUBG and the more relaxed and colorful vibe of Fortnite. 
On PC, H1Z1 also features Auto Royale, a battle royale featuring the vehicles from H1Z1, which is, in theory, a demolition game. Although H1Z1 is not as polished as other battle royales, it still has an active player base and a place in the history of this genre.
Pros
A solid game with clear goals and a strong fan base.

It is a great experience to enjoy with friends.

High-stakes combat is exciting and allows for rewarding victories, 

Auto Royale mode offers interesting and fun gameplay.
Cons
The only map is not that interesting, the lack of variety of weapons detracts from the excitement of the combat, the amalgamation of play styles is not consistent

It has a considerable number of bugs.

Some changes designed for PS4 didn't do the game all that well.
Available for
Knives Out
All in all, if you're looking for something far beyond classic battle royales, Knives Out is the game for you. It is a battle royale type game released to the public in its Android format in 2017 by the company NetEase.
It is a relatively new game that has given a lot to talk about and it is due to its great compatibility with smaller computers. Even since its launch, the game has expanded its game formats for different devices.
Pros
At first they only had Asian servers, but after about a year, they started implementing American and global servers, which has had a very positive impact on the number of active players from anywhere in the world, with lower latency.

During its beginnings, Knives Out came out with a single map, very well structured and in general, the most played.

After a year, and a fairly large update, they managed to incorporate a new map, larger but less popular than the first, since it requires more resources and higher performance than the original.

A new map was recently launched, for a total of three.

smaller than the second, but with larger buildings.

There are not very fun games to be enjoyed because many players simply camp to win.

Its playability is one of the most envied factors, being quite efficient and comfortable, with movement controls, hot keys for healing items, and explosives.
You will be able to use multiple means of transportation, be they air, water or land, to be faster than using only your feet.

The variety of weapons is simply exquisite, from weapons for snipers or snipers, assault rifles, SMGs, to secondary weapons and explosives.
Cons
The presence of bugs is moderate, as in any other battle royale game.

The ping or latency can be more or less high depending on the area where you are, which affects the gameplay a bit.
Available for
Battlerite Royale
Battle Royale is a free-to-play team action game based on a dynamic MOBA. It consists of the confrontation between two teams, of two or three players each. Before each match, each player selects a playable character, known as a "Champion," with unique movement, attack, and defense abilities. You can choose the one that best suits your style of play. 
This game has a round mechanism. When you defeat all the characters on the opposing team, you win the round. If you win three rounds, your team wins the game. An important thing to consider is that the rounds have a two-minute timer, after which a sudden death notice appears. This forces the players to enter a small area in the center of the map that they have been assigned, and based on which you will have to forge your strategy.
In this game, each team will focus on defeating the enemy team, unlike MOBA games, where you must destroy towers, bases or neutral units, as well as not be able to obtain resources or points to raise skills within the game. 
Pros
Thanks to the fact that it does not follow the classic MOBA formula, the game is more dedicated to the action between players, with shorter and adrenaline-filled games

Its free character makes it very attractive.
Cons
Differing in certain basic aspects from the classic battle royale elements, many of the genre's hardcore players aren't too keen on Battlerite.
Available for
Halo Infinite
Halo Infinite is a game developed by 343 Industries and intended as a start for the new era of Halo.  Both games, Halo and Fortnite are highly deserving of praise from everyone who has played them. While Halo ushered in the popularity of first-person shooters, Fortnite spawned battle royale gameplay and in-game microtransactions.
Although the franchises differ in style, Halo Infinite is similar to Fortnite in some ways. For example, Halo Infinite offers gamers the chance to experience the game's multiplayer features for free. In addition, the game receives seasonal updates, such as new maps, modes, and community-created content . 
Like Fortnite and its previous collection, Halo Infinite also features a Battle Pass, which players can purchase to get locked -down but high-value cosmetics. If you want to have a good time on your own or with a friend, Halo Infinite promises you a good time.
Pros
Admittedly, Halo Infinite has liberating and expansive gameplay.

Among the most endearing elements, contemplate its evocative and exciting history.

As if that were not enough, the graphic and sound section leaves us with impressive images and effects.

Multiplayer is a lot of fun to share with friends.
Cons
Only one piece of gear can be equipped

The campaign is quite expensive.

It did not have cooperative mode or Forge at launch, which makes us think that it was not initially intended for this.

The menu interface has many aspects to improve in terms of intuitiveness. 
Available for
Fortnite – Save the World
Instead of getting games like Fortnite, why not play more Fortnite? Save the World is a game released in July 2017, even before Fortnite. Unlike its Battle Royale counterpart, it is not a PvP game, but rather a cooperative PvE , in which players work together to eliminate the husks (enemy NPCs) that have taken over the world. 
In simple words, it is a cooperative tower defense , which allows you and your teammates to build fortifications before the map is overrun with enemies, and thus take them down together.  
The action unfolds on Earth after a massive storm (the same purple storm you run from in Fortnite Battle Royale ) has wiped out almost the entire world's population and only a handful of people are left to defend Earth from the monsters that invade it. the storm has created. It's up to you that your heroes enter the battlefield and kill as many husks as they can!
The objective of Save the World is to clear the zones, saving the survivors from the houses, basements and anywhere they are hiding from the husks. You will also need to learn more about the husks and the storm in the process, collecting data to be analyzed and find out what has happened on earth.
It is a very fun game and it deserves your time if you want to live different adventures, maintaining the main art style of Fortnite and its shooting and construction mechanics. 
Pros
You won't run out of things to do.

You will have many missions to complete, forces to take down and places to explore.

It has the same game mechanics as

Fortnite Battle Royale.

You will build the same type of structures such as walls, ramps, platforms, among others, only here you will be able to improve the buildings to make them stronger and more resistant to attacks.

Epic Games have kept cheats in Save The World and they are, in fact, a core component that saves you a lot of hassle.

You can easily craft them or find them in crates, chests, and more.

The amount of loot you get is higher than Fortnite Battle Royale.

Almost everything in Save The World can be looted, from chests to sofas, shelves, drawers, boxes, toolboxes, mailboxes, vending machines, cabinets, among others.

The missions are engaging and require power and skill. 

You will be able to upgrade your hero with more skills using the experience you get from quests.

There are events going on all the time, which not only give you new places to explore and new enemies to fight, but they also give you some pretty cool loot.
Cons
It can be difficult to find players to play with, as Save the World is no longer as popular since the release of Fortnite Battle Royale.

Although people still play this game a lot, for some events, you may not be able to find a lobby to join, or you may only find 1-2 players when the game requires 4. 

While its graphics are decent, they can look a bit dated when compared to Battle Royale, as Save The World hasn't received as many graphical updates.

 Although they add elements to it from time to time, the progress of the game has been quite slow.

Even many bugs remain uncorrected to date, as most of Epic Games' focus is now directed towards Fortnite Battle Royale. 
Available for
As you may have seen, Fortnite's battle royale formula has found its way into many popular shooters. However, it has also spawned new franchises that hope to gain similar popularity. We strongly recommend that you give all these games similar to Fortnite a try so that you can call yourself an expert in battle royale video games.