If you are looking for similar games to GTA that keep you with the same feeling of adrenaline, you are in the right place. Rockstar Games has done a good job over the years in crafting an addictive, exciting saga plagued by criminals and anti-heroes who dominate the biggest cities.
It seems incredible that a decade has passed since the release of Grand Theft Auto V, and it maintains its level of popularity practically intact. In fact, its multiplayer mode, GTA Online, is still one of the most played games in the world. 
And is that, who has not played GTA at some point? You have probably dedicated many hours of your life to it, and while you love it, the time has come to find alternatives similar to GTA that will keep you entertained until the release of GTA VI.Keep reading this list and get hooked with us!
Red Dead Redemption 2 
What other game could be in first place but Red Dead Redemption 2 itself? From the same company, Rockstar Games, we present this well-known western action-adventure video game. 
It is an open world installment in first and third person, which integrates elements for single player and multiplayer, with which you will definitely feel very comfortable if you played GTA V.
Although it has many similarities with GTA V, such as the player's ability to move around an open and interactive world, its main difference is the setting and means of transport. In Red Dead Redemption 2 , the events of the game take place in the early 20th century in the Wild West era, riding a horse; while, in GTA, the events are oriented towards a modern society of rather questionable morality , while driving cars at full speed.
Pros
The graphic section of RDR2 looks much more elaborate and realistic.

Of course, being a newer game, this usually means it will look better than older ones.

Their side quests have much more interesting characters and storylines than GTA V, so they do a great job of distracting the player with additional quests on top of the main ones.

RDR2's level of immersion is superior, making you feel like you've stepped back in time.

Classic clothing, accents, music, and other elements help players feel like a cowboy from the era.

The characters in Red Dead Redemption 2 are much more endearing, worked and full of life, making them so memorable that they feel real.
Cons
While the gameplay and mechanics may be similar, Red Dead Redemption 2 handles a very different plot, which can discourage those looking for a plot set in a contemporary world.

RDR2 has a reduced number of weapons, but in keeping with the times.

While in GTA you can wield everything from machine guns, assault rifles, sniper rifles, grenade launchers, a railgun, rocket launchers and much more.

The default means of transportation in RDR2 is the horse.

Although it is cozy and typical of the game's setting, we must confess that riding in fast cars, planes and taxis that quickly take you anywhere is another level, and GTA exceeds it in variety and fun.
Available for
Just Cause 4
The Just Cause series has earned its fame as an action-packed saga with an incredible number of explosions. Just Cause 4 is a third-person action-adventure game, where the player assumes the role of Rico Rodriguez, the protagonist. The entire plot takes place in the fictional nation of Solís, a huge open world made up of different biomes , including deserts and snowy mountains.
As the protagonist, you'll be able to travel the world using your wingsuit and grappling hook , which allow you to grab hold of hot air balloons and rocket boosters. 
Among the improvements to the game, a new wind and particle system was incorporated that affects Rico's movement with his wingsuit. The game also features a weather system and environmental hazards such as tornadoes and thunderstorms. 
Just Cause 4 features a wide diversity of vehicles and firearms, including exotic weapons like the wind gun and ray gun. Each weapon also has an alternate firing mode. The player can claim the supply drop at any stage of the game. During combat, you can count on the assistance of allies controlled by artificial intelligence.
Pros
As in any contemporary open world game, you have the freedom to be as wild and cause as much mayhem as you wish. 

There's a wide selection of weapons and vehicles to help you on your journey, but that doesn't mean you're going to be enjoying pleasant rides, far from it.

Action is always the order of the day.
Cons
The generic missions and campaigns sometimes fall into the repetitive: Manipulating the weather, playing with fire, blowing things up, and a lot of action, without much plot or real objectives behind it.
Available for
Far Cry 5
The Far Cry series is a GTA-like game that has changed little since the release of its amazing predecessor, Far Cry 3 , a game that took this series in an exciting new direction. In the latest installment of this franchise, you're like a one-man army taking on dozens of bad guys at once. Of course, in the end, you will come out unscathed against all odds.
Ubisoft has tweaked a few things here and there, improved some mechanics and added more interesting elements to the game, but the basics remain the same: Explore a huge open world with a bunch of bad guys waiting for you to kill them.
Pros
Contrary to previous installments, it is no longer necessary to climb towers to discover interesting places on the maps. 

Still, you will have to explore every corner and talk to people to get quests.

It is very possible that you will not come across certain content if you have not talked to a certain group of people.

There are three places to start your missions, and although the game suggests you start in a certain area, you can ignore the warnings and start in the most difficult regions.

You will have some freedom of choice in your combat style.

If you like scandal, there are plenty of firearms at your disposal.

If the stealth approach is your favourite, grab one of the many silent weapons and go hunting. 
Cons
The game can get repetitive as the enemies and missions lack variety, but it's still an enjoyable experience.

Stealth is hit or miss, as the AI ​​acts erratically and unintelligently for the most part.

That's why the stealth approach isn't that much fun. 
Available for
PC on Steam or on Ubisoft , PS4 , Xbox .
Saints Row The Third
Developed by Volition , Saints Row The Third is an installment that plays with the concepts of action and humor in a way that fits what some players are looking for and that GTA does not have: The surreal, absurd, and even dramatic element of Saints Row. 
It is a slightly more elaborate installment than its predecessor, with obvious novelties in its graphic section. As for vehicles, it has also innovated, because in addition to cars, it is possible to use motorcycles, ships, tanks, speedboats, helicopters and planes.
As in most other sandbox and GTA-like games, the gameplay is free. Contrary to the previous installment, and similar games, the entire city is unlocked to be explored, without obstructions or bridges that make it difficult to get from one place to another. The improvements in terms of variety of vehicles, activities and weapons are also noticeable. 
Pros
If you like the extravagant and unusual, the repertoire of weapons in Saints Row The Third and its characteristic elements will suit you.

Contrary to GTA, whose weapons are very attached to reality and sometimes are repetitive or boring for some.

The Saints Row series brought us really interesting side quests or diversions, allowing the player to participate in drug dealing, crowd control, and even a fight club where one could train in different fighting styles.

Instead, GTA's side quests still feel like part of the main story.
Cons
For lovers of realistic games that cover society's problems in a cruder and darker way, Saints Row The Third may seem absurd and irreverent.

It can fall into a repetitive plot in most of its deliveries, without innovating much in history and characters throughout its evolution.
Available for
Watch Dogs 2
Developed by the giant Ubisoft , Watch Dogs 2 is a game similar to GTA that considerably improves the experience of its predecessor, the first installment of Watch Dogs. This open world stealth action adventure game that allows players to explore different locations and do side quests.
You will embody the protagonist Aiden Pearce, a hacker whose computer skills allow him to carry out high-level crimes. The protagonist ends up becoming a vigilante, so to speak, when he seeks revenge after the murder of his niece, which occurred during an attempted attack on a hotel.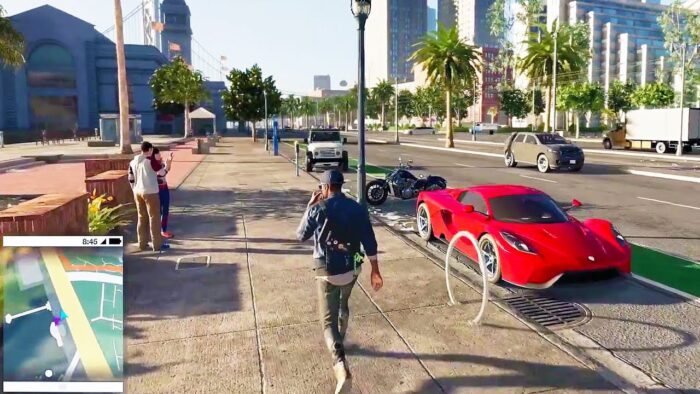 In the game, one of his favorite weapons is his smartphone , using it to exploit bugs in the city's centralized system, called ctOS. This computer system controls nothing more and nothing less than all the technological devices in the city, in addition to retaining very specific information about its residents. 
Pros
The open world experience is great, with an incredible amount of activities.

There are a lot of primary and secondary missions, not counting online activities.

Side quests are not required for the main story, nor to unlock extra parts of the game.

The game is very detailed in terms of both graphics and artificial intelligence of its characters.

Both NPCs and their items are dynamic, staying busy or in use most of the time.

Compared to the first game, now hacking opens up a lot of possibilities for you.

When you hack something, you are given a variety of options on what to do with the item.
Cons
The structure of the main missions can be very repetitive.

Most of the main missions basically consist of going to a restricted area, getting data or hacking something, and then leaving the area.

This can get boring after playing for many hours.

The gameplay in terms of weaponry and shooting can be disappointing when compared to other games.

The quality of weapon interactions feels lower quality.

It contains some bugs and technical problems, especially when playing online.

The offline game is pretty flawless.

Ubisoft has done a good job of patching bugs in time. 
Available for
Yakuza 0
Yakuza 0 is a third-person open-world action-adventure game created by Sega Corporation , the Japanese multinational video game development and distribution company.
It is precisely its theme of gangs and mafias that makes it one of the games like GTA. Its plot is inspired by 1988 in the biggest cities of Japan, Tokyo and Osaka. 
The 80's vibe in Yakuza 0 is unmistakable, with neon lights everywhere and cabaret music in the streets. In fact, the music and its intense gameplay are very likely the best thing about the game.
In this game you will put yourself in the shoes of Kazuma Kiryu, a simple debt collector who has screwed up and killed his target. Of course, you'll soon find yourself on the run and you'll need all your wits and fighting skills if you want to survive the thugs and thugs hot on your heels.
Pros
It has an engaging and engaging story.

According to some users, one of the best video game stories of the 2010s.

Its soundtrack is very well elaborated, it knows how to set you in the game.

Its map is smaller than other games, but it feels very alive.

This makes moving around the city very comfortable, and you can take a taxi instead of jogging.

Combat is fun.

Different moves, combos, counters, weapons and fighting styles.

You will be able to unlock new movements, which will improve the experience a lot. 

Side activities are the biggest advantage of this game, if you want to take a break from the main plot.

From side quests and mini-games, to fighting thugs and running businesses.

The game features karaoke, darts, billiards, bowling, baseball, disco, a phone dating club, radio controlled car racing.

To top it off, it also has plenty of Sega arcade games like Space Harrier and Out Run, and games of chance like poker, blackjack, shogi, and gambling on underground wrestling matches.
Cons
The start of the game is slow.

It has 17 story chapters, of which the first 5 feel heavy and infinite, while the last 12 are the reason why it is so acclaimed.

It's a Japanese game, which means it has a lot of dialogue, long cutscenes, and the sub-stories are unvoiced.

There is no dubbing in English, so you have to read the subtitles.

This, despite having impeccable voice acting, is an inconvenience for a large number of people.
Available for
Mafia 3
Mafia 3 is the latest installment in the series by Hanger 13 studio , it focuses on the story and side activities of a war veteran trying to escape from his past. 
Its narrative is somewhat loaded and slow, and of course, if it is inspired by a combination of classics like The Godfather and Goodfellas with the gameplay of Grand Theft Auto. It's a GTA-like game with such a well-written narrative that you'll sometimes forget you're in a video game and not watching a gangster movie.
The Mafia series features an open world full of complex characters and a timeless storyline with a lot to work on. It offers a unique story, centered on the Vietnam War and American life afterward.  Notably, there is no noticeable connection to either of the first two games, which is what makes Mafia 3 so different. 
Pros
The narrative of the game is exquisite, a very rare aspect in games of this genre.

It has cutscenes full of unique emotion and expressiveness

The soundtrack of the game is a work of art, immersive and totally appropriate to the game.

The lighting and nightlife is beautiful.

Despite its visual flaws, it's quite pretty at night, especially with static lighting.
Cons
Compared to Mafia 2 and other games in the genre, the cars and other environment elements have questionable lower resolution textures.

The artificial intelligence of the characters and the game in general is not as good as in other games and installments. 

Somehow or another, the game doesn't feel quite complete.

In some scenes, the acting and facial expressions of the characters are impeccable, but in others, there are only some random movements, incoherent facial expressions and, in general, lack of expression.
Available for
Lego City Undercover
Despite the success of video games from big franchises adapted to Lego format, developing a video game based on LEGO City sets has been quite a challenge, and a bit more uphill than other more recognized collaborations. 
Despite its unpromising start, LEGO City Undercover received good reviews, especially for its level design, writing, and engaging gameplay. And while it's not a perfect game, LEGO City Undercover is a humorous and well-designed title. Its similarities to shows like Grand Theft Auto show that this well-known formula can be successfully reinvented in a novel way.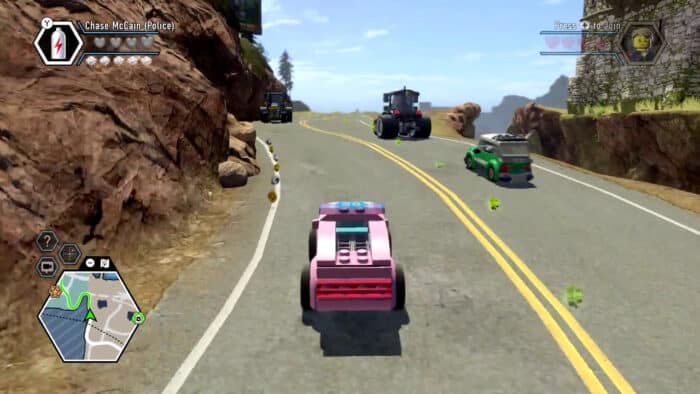 With the strong similarities to GTA and the undeniable popularity of that franchise, it seems like it might be the right time to revisit this underrated LEGO game, because who knows, they might even dare to release a sequel.
Pros
It features a large open world with many collectibles.

Movie-inspired skits work well.

It's a good mix of GTA with classic Lego gameplay.

New super builds to collect and build.
Cons
It suffers from a couple of technical issues and long loading times.

It does not have the cooperative multiplayer game mode.

Its lack of popularity did not allow it to go further and receive all the support from its creators to exploit its full potential. 
Available for
Payday 2
Although PC is clearly the best platform to play Payday 2 , with this GTA-like game you can have a good time no matter which system you prefer. 
Although the systems and mechanics have certain flaws and limitations, they come together to create an exciting raid scenario that you will want to repeat again and again. As long as you can find some criminals to fight, Payday 2 is an addictive and challenging criminal chase. Would you try it?
Pros
It poses a deep strategy and missions with several phases.

Compared to the previous installment, this one has more intense firefights, assaults with friends, among other features.

Good graphics and lots of textures, plus excellent and realistic sound.

Immersive missions with loads of variables for easy replayability.

Special objectives open new paths within the game.
Cons
Although they have put a lot of effort into it, some graphics are inconsistent

The single player mode is full of flaws and some bugs.

Compared to other games, its AI can be improved
Available for
Sleeping Dogs
Interestingly described as a cross between GTA and a Bruce Lee movie , Sleeping Dogs is one of those hidden gems of the gaming world that rarely gets the popularity it deserves. 
Developed by United Front Games , Sleeping Dogs uses the classic GTA template to let you commit some pretty questionable acts in an open environment. You will be able to help people, or hit them while you make your way on your mission. 
You can participate in side activities, such as street races or helping random strangers with small favors. For its part, the combat is based on combos and counterattacks, with retaliatory attacks and hard-hitting combos interspersed with some really violent attacks. 
Pros
Its evocative setting of Hong Kong is exquisite, with a musical atmosphere that helps you immerse yourself.

Excellent close combat

A solid plot and varied gameplay
Cons
Visuals have some clutter and confusing textures, making character models and animations look artificial

The missions stick to the GTA formula, without many innovations.

Killing without consequence doesn't fit the character or the game in general.

The city is not very explorable, despite the fact that the size of the map is quite decent.

The angles and the camera are somewhat difficult to control and annoying.
Available for
This concludes our list of games like GTA to spend hours of street action. Have you played any of these before? Tell us what other game you would add to the list and don't forget to share it with your friends.