Monster Hunter , the famous action and fantasy RPG saga, has been presenting us with the experience of epic battles against incredibly powerful creatures for years. For this reason, there have been many games like Moster Hunter for different consoles and devices.
If after having passed Monster Hunter, you still want to live this kind of adventure and continue fighting against mythical creatures, then know all the games similar to Monster Hunter that we will present here.
Dauntless
Dauntless is one of the few free titles of this genre, which makes it more accessible to play with friends than other games like Monster Hunter. Its cartoonish style and vibrant colors make its characters and settings contrast and stand out even more.
Share many elements with Monster Hunter, of that we are sure. However, if you look closely, you will notice that it has many originalities that make it a unique and entertaining game, that allows you to explore the world while hunting.
Due to the smaller scenarios, hunting these creatures is faster and easier, in order to increase the power of our armor or improve the one we have. It is available for PC, Xbox One, PS4 and Switch.
Devil May Cry 5
It is the fifth installment of this famous video game, Devil May Cry 5 is available for PC, Xbox One and PS4.
It stands out among all the previous installments for including 3 playable characters, each one with its peculiarities and combat style. In addition, its variety of weapons guarantees that you will be able to find at least one character with which to identify yourself.
It is not as focused on statistics as Monster Hunter, but in both you will be able to fight intense combats in which you will also have to learn to deflect and avoid the movements of the Bosses and others opponents. There is no doubt that you will not get bored with this game.
Toukiden 2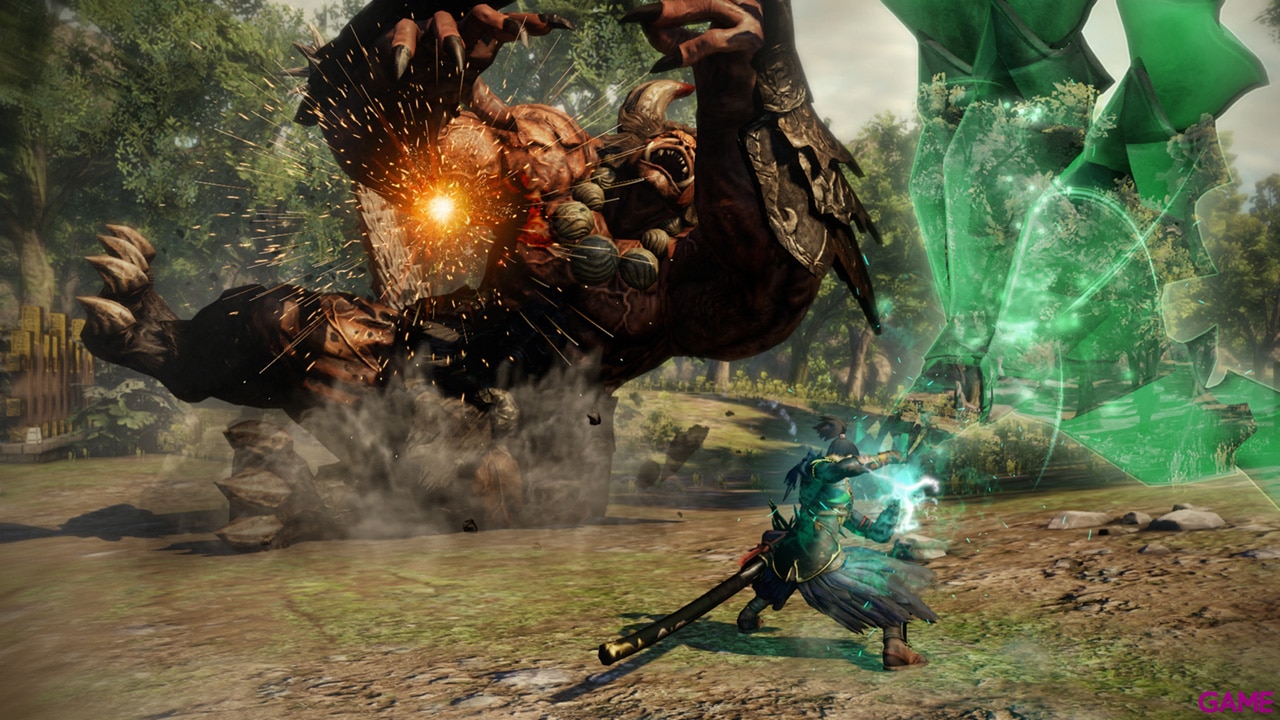 Toukiden 2 is an action role-playing game that follows Toukiden: Age of Demons. You can play it on both PC and PS4, aiming to hunt gigantic creatures, called Oni, around the open world.
The fights take place at a faster pace than Monster Hunter, and give players much more flexibility to develop their own fighting style.
Unlike most games similar to Monster Hunter, Toukiden 2 does not require waiting for different transition screens to load to travel between different areas.
In this game, it will be very difficult for you to get bored, as there is always some new activity that you can do to pass the time, be it improving your current team or getting new skills.
Legend of Zelda: Breath of the Wild
Exclusive, at the moment, for Nintendo Switch, Legend of Zelda: Breath of the Wild t has a structure quite different from Monster Hunter. However, they share many similarities if we look at the style of play.
Remember that Link, this time, can access a wide variety of weapons, such as spadas, bows, clubs, axes and much more. You will have a cooking system and recipes that grant different types of statistical buffs, such as an increase in stamina, elemental resistance, among others.
Another important aspect is that you will have to find and dominate each of the Four Divine Beasts, and catch other types of simpler creatures. Beyond that, creatures and their ecosystems have erratic behaviors, an element similar to Monster Hunter as well.
Horizon Zero Dawn
Horizon Zero Dawn is a PlayStation 4 exclusive game that shares certain similarities with Monster Hunter. You will put yourself in the shoes of Aloy, an outcast who seeks to prove her worth and be accepted into the Nora tribe, a group of hunters and gatherers.
Like Aloy, this tribe also tries to survive in a post-apocalyptic environment, as it seems that mechanical beasts have established world domination.
At first, you will be easily defeated, but little by little you will get improvements in your armor and you will gain knowledge to counter the attack of these machines.
The Witcher 3: Wild Hunt
Like many other games like Monster Hunter, The Witcher 3 is a multiplatform game for PC, Xbox One, PS4, Switch, based on a group of fantasy novels. With impressive storytelling and decision-based progression, this game has 36 possible endings.
At the same time, it offers a gigantic open world to be explored by your character, Geralt of Rivia, a beast-hunting warlock for hire.
You will be able to access a wide variety of games and magical powers that allow you to give yourself a certain advantage in combat.
Although its resemblance to Monster Hunter is based on the whole series of strange creatures that you can hunt around the different regions of the world, the game concentrates mainly on telling the story of the witcher.
Dragon's Dogma: Dark Arisen
Dragon's Dogma: Dark Arisen is another fantasy action RPG game. You'll take on the role of Arisen, an original character who has been assigned the responsibility of defeating an unusual dragon.
In fact, popular legends depict it as an omen of death, and the origin of a series of supernatural events worldwide.
During your adventure, you will also recruit members for your party, called Pawns, who will support you at all times.
In addition, you will be able to choose between different classes for your character, each one endowed with unique tools and skills that alter the way you face combat. Believe us, there will not be a moment when you will get bored with this game.
God Eater 3
The God Eater installments have arguably been one of the most successful and competitive games like Monster Hunter in this entire list, in terms of creature slaughter.
Its most recent release, God Eater 3 for PC, PlayStation 4 and Switch, has brought with it a set of optimizations for the game system. Among them, it stands out the possibility of preserving the fluidity of the combat that has given so much fame to this video game saga.
As in all installments, you will have to explore different regions and go on missions to hunt down gigantic dangerous beasts known as Aragami.
To do this, you will have a series of large and effective weapons that you can improve to increase their damage and resistance. Although the story is an important section of this game, it tries to always put you in the center of the action.
Although it is not the only notable theme of games similar to Monster Hunter, its main attraction is precisely the variety in terms of combats, types of weapons and creatures that you face.
We suggest that, if you liked this list of games like Monster Hunter, you can visit some of our other sections. We have game news every day!