It is not surprising that there are a large number of games similar to Minecraft, one of the most influential video games and one that has lasted the longest in the last decade. Minecraft has been able to penetrate the hearts of many gamers since its inception, becoming one of the most played and watched games on streaming platforms of all time. 
It is easy to identify the factors that have given Minecraft this fame, and it is its particular pixel art style, its retro aesthetics with modern gameplay. In short, a sandbox that combines the genres of survival, crafting, resource management, combat, and exploration in a very natural and entertaining way.
Precisely because of its originality, numerous games like Minecraft have emerged that have tried to take advantage of its success over time, but none have been able to achieve the same level of popularity. Do you know some of the Minecraft-like games that stand out from the crowd? Here in We Talk About Gamers we detail them all for you!
SurvivalCraft
It is one of the most similar games to Minecraft released in 2011, and based on the mobile version of the peculiar cube game Minecraft Pocket Edition. 
Despite the fact that this mobile variant managed to acquire its own identity, and managed to differentiate itself from the game on which it was based, it was left a bit aside as it did not have the same acceptance as the Minecraft giant, nor did it receive the recognition it deserves.. Even after incorporating some features on mobile phones that the Pocket Edition did not know how to implement at the beginning.
It all starts when you are abandoned on an island by a sailboat that leaves without a trace or explanation. Soon you start exploring the island and collecting resources, as well as realizing that the animals in this game have more elaborate intelligence and behavior than in Minecraft. In fact, it is these mobs that are the biggest threat to the player's survival.
Pros
Gathering and crafting aspects appear more convenient and logical than in Minecraft.

Numerous customization options and difficulty levels,

seed packs, textures, and graphic settings.

The fights against mobs are fairer and more realistic, feeling that we are always on the verge of death, not being able to defend ourselves with enchantments or potions.

SurvivalCraft

has a

larger map, with practically infinite terrain,

while in the first editions of Minecraft the aim was to limit the terrain to avoid overloading the game.

They have released

Survivalcraft 2 Day One,

a new and updated version of the game, where the furniture now exists, and the

multiplayer mode

, where up to 4 people can play on the same screen. 
Cons
The amount of items that can be obtained from each crafting is less than that of Minevraft, making the construction of items slower, but at the same time, more realistic.

Being a game with so much potential, the original Survivalcraft was abandoned and withdrawn by its developer, with numerous improvements and updates coming out for Minecraft on mobile, going hand in hand with its PC counterpart.

Both SurvivalCraft and SurvivalCraft 2 have been paid games.
Available for
Block Story
Block Story is a Minecraft-like game that lets you build in 3D blocks and explore vast landscapes that even you can build yourself. 
You'll be able to fly over dragons and various creatures in this entertaining game with role-playing elements that also has the mission of keeping everyone safe and saving the world. On your journey, you will be able to build fortresses and fight against monsters, bosses and collect resources to craft weapons and equipment.
Your hero will be able to level up as you progress through the game, gaining custom stats and attributes. In addition, you will be able to forge items and use your weapons to summon creatures that will defend you against other monsters in battle.
Pros
You can access a huge world with

different biomes, from deserts to arctic zones

, with endless hours of exploration and RPG elements that Minecraft, to some degree, lacks.

The elements of magic and mythical creatures like dragons are quite ingrained in the game, so if you are a fan of these elements, you will love the game.
Cons
Some users think that its open world is much more static than that of Minecraft.

Combat doesn't feel as realistic or interactive, and the appearance of creatures seems a bit random.

Paid content

microtransactions

can be overwhelming for players.
Available for
The Blockheads
The Blockheads is a 2D game for iOS similar to Minecraft that can give you hours of fun. At the beginning of the game, an exclusive world is created for each player and you will have to choose between a protagonist or a protagonist to survive in a hostile environment.
As players, we must survive in this adventure where we will discover and explore aimlessly in a non-linear environment. You'll have to manage to build a shelter with the resources you have at hand, making use of different skills such as cutting down trees, collecting materials and food.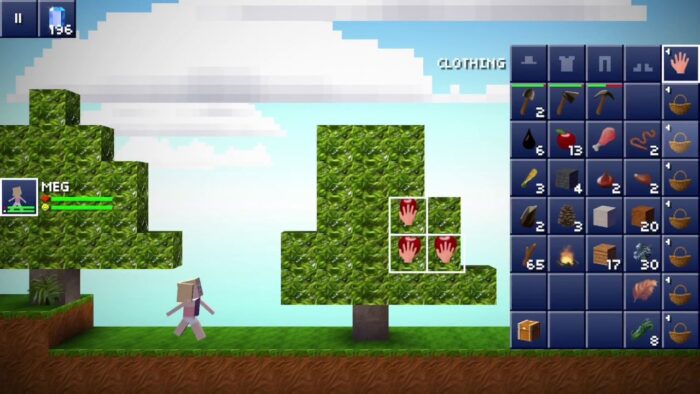 Pros
It can be played by

children ages 9 and up,

being safe for them and consistent in terms of violence and difficulty.

If you are a fan of aquatic adventures, in this game you will have to build rafts and boats to be able to cross the many oceans that it has.

It has a simple and intuitive interface that is quite enjoyable.
Cons
It replicates the Minecraft experience but in an overly condensed way.

We don't directly control our character but we give him orders, which may seem a bit strange in games like Minecraft.

The 2D perspective of the game can be a long way from the Minecraft experience.

Not updated since 2018.
Available for
iOS

on iPhones and iPads.
BlockWorld
BlockWorld is in the list of games similar to Minecraft for all ages, making it a family game to spend time together building and having adventures.
More advanced players will be able to show off their endless creativity by painting their creations the perfect colors, or showing off tricks with thrown weapons and smart geometry generators. There's room for all kinds of creators!
Also, in this huge sandbox, you will find worlds generated randomly and full of creatures to fight in the company of your friends. Imagine it and it will be possible: Build with themed blocks and objects ranging from the zombie apocalypse to modern architecture. Jump in and build worlds where your imagination is the limit!
Pros
In its PC version, it has 4K resolution.

It can run on low-end hardware.

It's multiplayer, so you can invite your friends.

High capacity for player customization.

Its terrain is infinite and totally destructible.
Cons
Like other games on this list, it can seem very childish to some players.

It is not available for Android and iOS.
Available for
Trove
If you are a fan of games similar to Minecraft, we have no doubt that you will quickly fall in love with Trove's characters and cubic design. Just like Minecraft, Trove is a voxel-style sandbox with RPG aspects. Its open world allows you to explore freely and offers an incredible amount of customization, so that no two characters in the world are the same.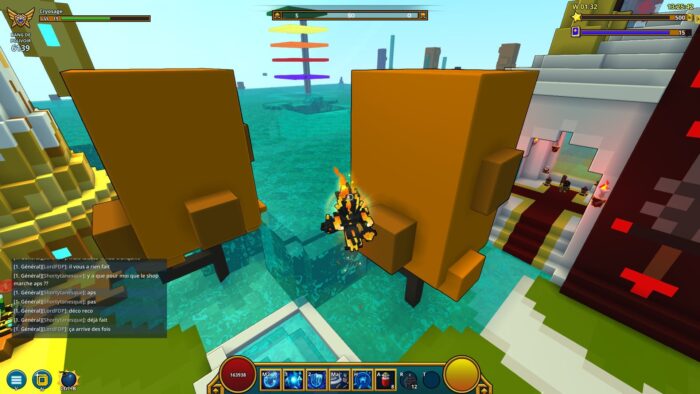 It focuses mainly on the online mode, encouraging players to interact with each other, and encouraging them to form groups to go to dungeons or battle against world bosses, a very typical feature of the most well-known MMORPGs .
Pros
It still receives updates and keeps up with modern trends.

It has a very interactive online community.

You can link your account to play seamlessly on cross-platform.

If you are a fan of online games and enjoy experiences similar to some MMORPGs, then this game is for you!
Cons
You have to farm quite a bit in order to achieve certain goals, which some people might find annoying.

The fact of having to form groups and interact with other people to be able to carry out certain content in the game makes it more complicated for players who enjoy more of a solo experience.
Available for
Cube World
As its name suggests, Cube World is one of the Minecraft-like games belonging to the exploration-focused, voxel-based action RPG category. It takes place in a procedurally generated fantasy world composed entirely of cubes.
However, its big difference with Minecraft is that Cube World focuses, more than on construction, on the development of the character itself, with four different classes and specializations to choose from: You can be a Warrior, Ranger, Wizard or Rogue.
Pros
If you like the Minecraft style but also the customization, and you focus on character advancement more than other elements, this will be your ideal game.

You can play alone or join your friends in cooperative multiplayer mode.

You can overpower the pets that fight alongside you and use them as mounts.

Its open world is gigantic, and non-linear, giving you almost infinite freedom of action.

Cube World's unique progression system makes finding loot, solving quests, and beating dungeons rewarding and exciting time and time again.
Cons
Due to its small team of 2 developers, bugs take a little longer to resolve.

The game receives very few updates.
Available for
Manic Digger
This list could not miss Manic Digger , an open source implementation similar to Minecraft and based on blocks. It is a generic platform on which you can create your own games and scenarios. 
In fact, other games have been created on it, such as Hytale and Vintage Story. In essence, with this code and following the server scripts, endless possibilities of block building games can be created.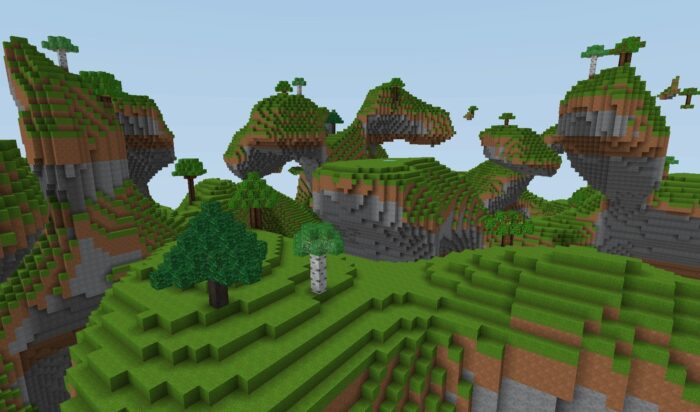 Designed to play in both multiplayer and first person modes, its 3D graphics are pretty cool and Lego-like. 
Its installer weighs a little 3MB, so it is a free experience that will allow you to explore some aspects other than the Minecraft you already know. You can try this game for PC from the developer's website.
Pros
It is versatile, having multiplayer and solo modes.

It is lightweight, so it can be downloaded quickly.

Being open source, it can be modified and adapted to your liking, if you have the knowledge.

It runs on basically any contemporary computer.
Cons
It has not received recent updates, despite the fact that some games based on it have.

The community that plays it is not very large because it was not published on platforms like Steam, where it could have gained more popularity.
Available for
Terasology
According to its own developers, Terasology is a very extensible voxel-based Minecraft-like open source game . Born from a technical demo inspired by the aforementioned game, little by little it has become a platform for all kinds of game scenarios in a voxel world.
Terasology puts its own spin on this cubic model, seeking to differentiate itself from Minecraft. With its impressive worlds, depth of field and flying blocks, it represents a substantial improvement to the graphic section.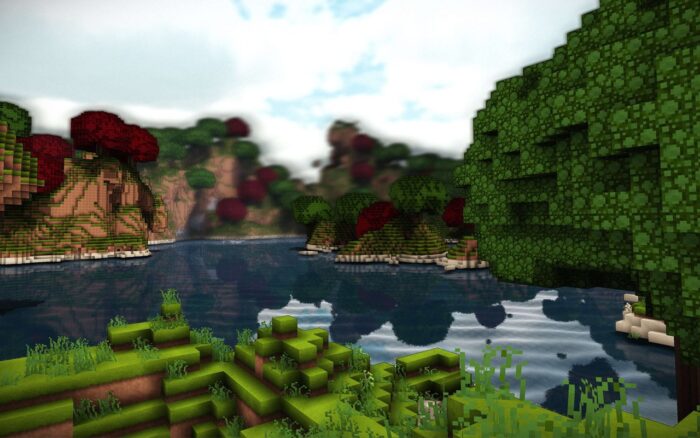 Also, although the controls are different from those of Minecraft, the experience with it will make mastering the controls of Terasology easier.
Pros
It is an open source game and totally free.

It has more realistic visuals and graphics than Minecraft.

The features it requires are basic, any average computer can run it.
Cons
It is in an early development phase, so despite the fact that the project is going very well, its continuity is unknown.
Available for
Earth Craft
This is another cube-style crafting game with a dynamic similar to that of Minecraft but much more condensed. Its general rating on Google Play gives it a 3.8, however, it is a game with a lot of enjoyable content that has been downloaded more than 1 million times.
His criticisms are generally based on very radical comparisons with Minecraft, and that is that sometimes with so much competition, it is difficult to keep up. Still, this game is quite similar and enjoyable to play.
Pros
This variant of Minecraft features a

more realistic variety and design of animals.

Survival and exploration is an aspect of the game that will keep you on the edge of your seat at all times.
Cons
Ads can become quite invasive, popping up in the middle of a fight or craft without warning.
Available for
MultiCraft
MultiCraft is a game similar to Minecraft that offers you a world of endless possibilities and adventures. In it, just like in its parent game, you'll be able to build and demolish blocks with ease, construct buildings, and make tools that will help you in your day-to-day life in this cubic universe.
You will have the possibility to be a builder or a hunter , with the two different game modes, which are the Creative Mode and the Survival Mode,
Creative Mode allows you to modify the rules of the game to adapt it to a creative environment, avoiding that constant pressure and fighting for survival. In this mode, the player should be able to get almost all the resources for construction for free.
In contrast, in Survival Mode , the player himself will be in charge of collecting resources and building structures while fighting to survive, interacting with villagers and defending himself from attacks by mobs and external threats.
In addition, it has the Multiplayer mode, with which it will be enough to obtain the IP address of a multiplayer server to be able to connect, and allow two or more players to play MultiCraft together. It's as simple as downloading the server file needed to set up your own server, or connecting to someone else's server.
Pros
It is light and friendly in terms of gameplay and controls.

Having two different game modes makes it a very versatile alternative to Minecraft that is worth trying.

It's cross-platform, so you have no excuse not to play it on your favorite device.
Cons
According to many players, the ads can become extremely frequent, although at least the game lets you know when they will appear.
Available for
Block Craft 3D
Block Craft 3D is one of those Minecraft-like games that can keep you glued to your chair for hours and time flies by. You can create and grow your own village and keep it happy, or freely explore and build in a completely unlimited open world.
It has more than 100 million downloads and opinions on Google Play. So, if you want a Minecraft-like gaming experience on your smartphone, download it at once and don't miss out on its great and constant updates!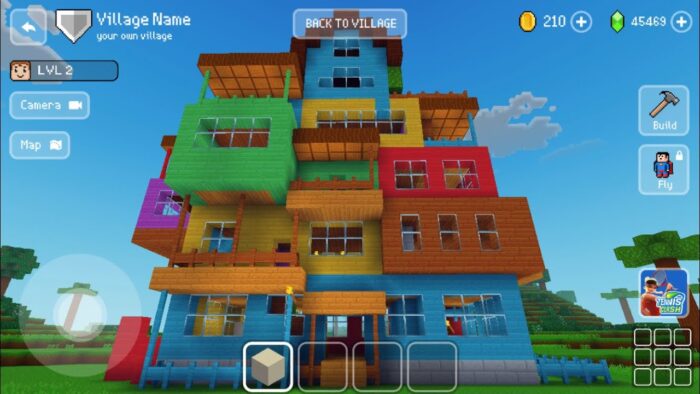 Pros
It is a free application, with few and justified integrated purchases.

Its

updates and revisions are frequent,

so you won't have to face a game full of bugs with no opportunity to improve.

It has a fairly active community, so you can find a lot of content and tutorials on the internet that will help you.
Cons
Being a game still in constant development, you may find one or another bug and you may even have to report it, but it's all part of the growth of the game.
Available for
Crafting and Building
Crafting and Building is a 10+ rated game for the whole family. As in the game on which it is based, you will be able to create your own character, build your house, castle or temple using pixelated cubes.
At the same time, you will be able to decorate and paint your creations with other objects crafted by yourself. You will have different types of blocks at hand, such as grass, diamond, and temple stone. 
To the amusement of many, this game has multiplayer, which will allow you to collaborate with your friends by building different buildings, as well as reward each other.
Exploration and the world are a vital part of the game, being able to meet villagers and even adopt a pet from the world. Another curious aspect of this game is that the mobs are also involved in the construction itself. Are you interested? Sign up soon!
Pros
You can play with friends of various nationalities as it is available in various languages ​​such as English, Spanish, Hindi, Russian, Korean and Japanese.

It is a calmer and more pleasant game to spend hours of rest without worries, given its rating for children over 10 years of age with fantasy violence.
Cons
It may not be a game for the most hardcore gamers who love traditional Minecraft, due to its lack of stronger action elements and child rating.
Available for
Blockstorm
In a world designed in cubic lines, Blockstorm is an FPS (first person shooter) that makes it possible to create and edit maps and then share them with other players. With untold combat options and a fully destructible map, it's one of the Minecraft-like games that strays a bit further from the general RPG theme .
In this game, as in almost all FPS , you will form a team with other players and you will have to annihilate your opponents. With different modes like capture the flag and elimination, Blockstorm will rarely get boring.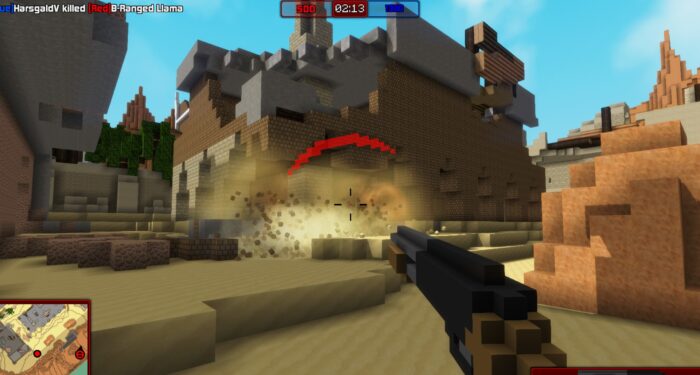 Pros
If you are a lover of shooter games and Minecraft, this will be the perfect combination for you.

You love to compete but you also enjoy the visual style of Minecraft.
Cons
It is not available for mobile.

It is only available for PC and it is a paid game.
Available for
What do you think of these games like Minecraft? Are you ready to jump from one giant pixel world to another? We have no doubt that you will sign up for at least one of these games and you will spend incredible moments enjoying its characteristics and interesting proposal. Dare to try them and share your most ingenious and cubic creations with us!