For fans of Town of Salem , it's probably a mix of role-playing, strategy, and social deduction. As we know that it is not easy to find similar games, today we present the best games like Town of Salem so that you can expand your repertoire.
Town of Salem is a multiplayer game that challenges participants to use their insight to decipher the truth, whatever the cost. We all have favorite genres when it comes to video games. An interesting fusion, right? Well,
The games vary in size, and can range from seven to fifteen players, divided into three groups: Town, Mafia, and Neutral.
Most intriguing of all is that no one knows who is who. This leads to a lot of scheming and pointing out, especially as the mafia begins murdering innocents left and right.
Well, in no particular order, these are games similar to Town of Salem that will leave you doubting yourself:
Throne of Lies
Just like Town of Salem, Throne of Lies is a 3D online multiplayer game that integrates around of 8 to 16 participants. In it, you will have to use your deduction and insight skills to identify who the traitors are.
At the beginning, you are assigned one of the more than 40 available classes and neutral characters. Precisely, due to the great variety of classes and abilities that each player can have, you will hardly get tired of this game. It is worth a try.
EpicMafia
EpicMafia is another online game of deduction and suspicions that arises as a kind of online expansion of the classic party game, Mafia .
We anticipate that, as in other games similar to Town of Salem, the game is full of doubts and mystery. Impossible to get bored!
In EpicMafia, you will have around 220 roles that are secretly assigned. You can be from the group of gangsters (they know who is who) or citizens (who only know that there are a certain number of gangsters) .
In the night phase, gangsters kill an innocent citizen; while, in the daytime phase, citizens debate who they think killed him.
Trouble in Terrorist Town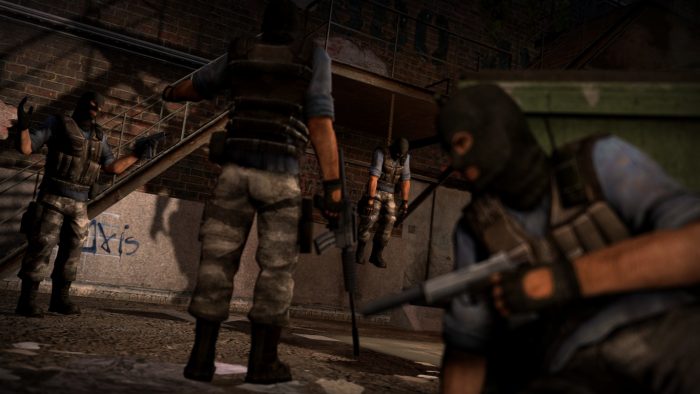 Trouble in Terrorist Town is a mod made by users, and introduced in the tenth version of the game Garry's Mod. As its name says, It is a group of terrorists, made up of traitors and "innocents", whose roles are assigned completely at random.
As in other games like Town of Salem, traitors must kill those "innocent", while detectives must figure out who the murderers are before they finish them all.
As if that weren't enough, traitors have weapons of many kinds, from simple knives to suicide bombs.
In addition, there are different weapons scattered on the map, within everyone's reach, that the "innocent" can use to defend themselves against attacks. As you can see, the fun never ends.
Camp Cadaver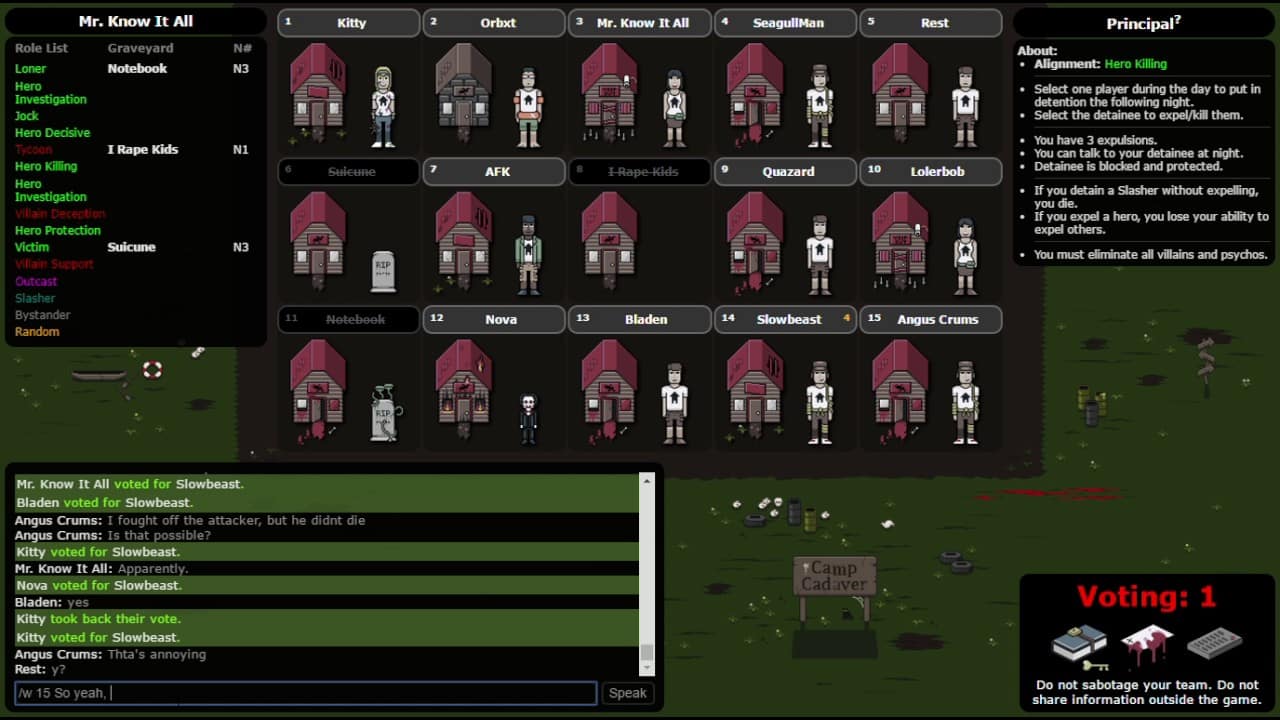 Camp Cadaver is another of the games similar to Town of Salem where we will have to guess the role of other players. In this game, killers run free around the city, claiming fatalities.
At the beginning of each game, each participant receives a role, which establishes his goal, equipment and skills. Of course, the player always knows his own role, by just like the members of his villain or psychopath team too.
Remember that, when suspected, everyone is suspicious, and you can hardly trust someone. Use your assigned skills to gather information, help your team, or plan the murder of your next victim. At Camp Cadaver, anything goes.
Deceit
Deceit is another of the games like Town of Salem that will put our deduction skills to unsuspected limits.
In this case, a twisted Game Master leaves us to our fate in the middle of a hunting ground with five other participants.
Unfortunately for the group, two are infected with a dangerous virus created by him and that causes murderous instincts towards other non-infected players.
Thus, the uninfected must work together using items they find in the areas to reach a safe place. There will be three areas through which you will have to make your way to the security hatch while each member of your group is stealthily eliminated.
Without a doubt, adrenaline and action will not be lacking in this strategic and action game, so it really is an excellent option when looking for games similar to Town of Salem.
Status Report
Status Report is another game like Town of Salem, where between 3 to 7 people participate . The dynamic consists of one of these participants being randomly chosen as the captain of a spaceship. The other players are part of the ships aboard the artificial intelligence.
Only one of the artificial intelligence programs is operational, the others have been infected by a virus that causes them to kill the crew members on board.
At the same time, this virus tries to trick the Captain into thinking that it is actually the operating system. For his part, the Captain must be quick to tell them apart if he wants to save the crew from him.
Now that you know some of the best games like Town of Salem, you will surely have quite interesting options to invite your friends to play. We just ask you not to take these games too seriously, because they can cause real fights!