Hollow Knight is a 2D side-scrolling Metroidvania game set in the imagined underground realm of Hallownest. While exploring the confidential environment, the player controls a mute, nameless knight who resembles an insect. The knight uses a nail, a type of sword that is utilized for both battles and interacting with the environment.
Players run into hostile bugs and other monsters throughout the majority of the game's regions. Melee combat entails striking opponents close range with the Nail. The player has the option of learning spells, that enable long-range assaults. Enemies defeated a dump called Geo. The hit points, which are symbolized by masks, are restricted for the knight at the beginning.
Hallownest Full Map
This is the complete Hollow Knight map (click on the map to enlarge)
Greenpath
This is the complete Map of Greenpath
Greenpath Map Characters:
The Hunter
Nailmaster SheoCornifer
Hornet
Nailsmith (if spared)
Dreamers
Zote the Mighty
Greenpath Map Enemies:
Durandoo
Fool Eater
Gulka
Husk Bully
Vengefly
Volatile Mosskin
Wandering Husk
Grimmkin Novice
Husk Hornhead
Leaping Husk
Maskfly
Moss Charger
Mosscreep
Mosskin
Charged Lumafly
Crawlid
Duranda
Moss Knight
Obble
Squit
Tiktik
Greenpath Map Bosses
Hornet Protector
Massive Moss Charger
Vengefly King
Deepnest
This is the complete Map of Deepnest
Deepnest Map Characters:
Midwife
Zote the Mighty
Mister Mushroom
Cloth
Mask Maker
Quirrel
Deepnest Map Enemies:
Stalking Devout
Wandering Husk
Grub Mimic
Deephunter
Deepling
Dirtcarver
Garpede
Goam
Husk Bully
Little Weaver
Carver Hatcher
Corpse Creeper
Husk Hornhead
Deepnest Map Bosses
Fog Canyon
This is the complete Map of Fog Canyon
Fog Canyon Map Characters:
Mister Mushroom
Quirrel
Cornifer
Millibelle
Fog Canyon Map Enemies:
Ooma
Uoma
Charged Lumafly
Mossfly
Crystal Peak
This is the complete Map of Crystal Peak
Crystal Peak Map Characters:
Crystal Peak Map Enemies:
Shardmite
Grimmkin Novice
Crystal Hunter
Glimback
Crystal Crawler
Crystallised Husk
Grub Mimic
Husk Miner
Crystal Peak Map Bosses
Enraged Guardian
Crystal Guardian
Royal Waterways
This is the complete Map of Royal Waterways

Royal Waterways Map Characters:
Cornifer
Tuk
Dung Defender
Fluke Larva
Royal Waterways Map Enemies:
Grimmkin Nightmare
Flukemunga
Belfly
Bluggsac
Flukefey
Flukemon
Husk Hornhead
Hwurmp
Husk Sentry
Lance Sentry
Heavy Sentry
Husk Bully
Pilflip
Wandering Husk
Winged Sentry
Royal Waterways Map Bosses
Flukemarm
Dung Defender
White Defender
City of Tears
This is the complete Map of City of Tears
City of Tears Map Characters:
Hornet
Zote the Mighty
Nailsmith
Relic Seeker Lemm
Quirrel
Cornifer
Eternal Emilitia
City of Tears Map Enemies:
Winged Sentry
Grimmkin Novice
Husk Dandy
Lance Sentry
Belfly
Gorgeous Husk
Great Husk Sentry
Heavy Sentry
Husk Bully
Cowardly Husk
Gluttonous Husk
Husk Hornhead
Husk Sentry
Leaping Husk
Wandering Husk
The Abyss
This is the complete Map of The Abyss
The Abyss Map Characters:
The Pale King (memory)
Hornet
The Hollow Knight (memory)
The Abyss Map Enemies:
Sibling
Shadow Creeper
Void Tendrils
Ancient Basin
This is the complete Map of Ancient Basin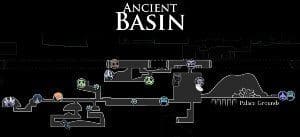 Ancient Basin Map Characters:
Cloth
Cornifer
Mister Mushroom
Ancient Basin Map Enemies:
Aspid Hunter
Mawlurk
Shadow Creeper
Lesser Mawlek
Lightseed
Infected Balloon
Ancient Basin Map Bosses
Conclusion
These are Hollow Knight's maps. The map is one of your most important tools, and you never take it for granted. You utilize it as part of the adventure. The world seems terrifying and mysterious when you don't have a map and have no idea where you are going. We sincerely hope that these maps enhance your gaming experience.