El equilibrio del mundo en Realm Grinder está en peligro y la única esperanza es la creación de un imperio poderoso. Un objetivo que lograrás gracias a nuestra tier list de Realm Grinder.
Con ella vas a poder conocer el verdadero potencial de cada una de las edificaciones necesarias para dotar a tu reino de la fuerza necesaria.
¿Qué construcciones tiene la Tier list de Realm Grinder?
Antes de continuar avanzando con nuestra tier list de Realm Grinder, es realmente importante recordar algunos puntos sobre el juego. En este sentido, nos referimos a la naturaleza de las facciones.
Facciones
Fairies.
Elves.
Angels.
Goblins.
Undead.
Demon.
Titan.
Druid.
Faceless.
Dwarven.
Drow.
La razón de esta aclaración es que cada una de ellas te aportará un edificio diferente. Entonces ¿Cuáles son los mejores de todos?
¿Cuáles son las habilidades de las edificaciones de Realm Grinder?
Para responder a esa pregunta es que hemos creado esta tier list de Realm Grinder. En consecuencia, la finalidad de ella es mostrarte cuáles son los edificios más poderosos de todo el juego.
Es así como podrás crear las bases para un imperio tan podersoo que restaure el equilibrio y el orden en el juego. Dicho esto, vamos a conocer el nivel de las edificaciones de cada una de las facciones de Realm Grinder.
Fairies
Nivel S
Fairy Trade Treaty.
Pixie Dust Fertilizer.
Fairy Cuisine.
Kind Hearts.
Nivel A
Fairy Friendship Pact.
Fairy Workers.
Golden Pots.
Spellsmith.
Nivel B
Fairy Alliance.
Starmetal Alloys.
Rainbow Link.
Swarm of Fairies.
Elves
Nivel S
Elven Trade Treaty.
Eleven Mint.
Elven Treasure Casing.
Ancient Clicking Arts.
Nivel A
Elven:

Friendship Pact.
Emissary.
Efficiency.

Secret Clicking Techniques.
Nivel B
Elven:

Alliance.
Diplomacy.
Luck.

Sylvan Treasure Frills.
Angels
Nivel S
Angel Trade Treaty.
Holy Bells.
Angelic Determination.
Angelic Feathers.
Nivel A
Angel Friendship Pact.
Guardian Angels.
Angelic Wisdom.
Archangel Feathers.
Nivel B
Angel Alliance.
Magical Gates.
Angelic-Dominance.
Wings of Liberty.
Goblins
Nivel S
Goblin Trade Treaty.
Strong Currency.
Slave Trading.
Cheap Materials.
Nivel A
Goblin Friendship Pact.
Black Market.
Hobgoblin Gladiators.
Goblin Economists.
Nivel B
Goblin Alliance.
Goblin Central Bank.    
Fool's Gold.       
Green Fingers Discount.
Undead
Nivel S
Undead Trade Treaty.
The Walking Dead.
Deaden Muscles.
Death Temples.
Nivel A
Undead Friendship Pact.
Unholy Rights.
Corpse Supply.
Plagued Buildings.
Nivel B
Undead Alliance.
Dead Fields       
Tireless Workers.            
Undead Resilience.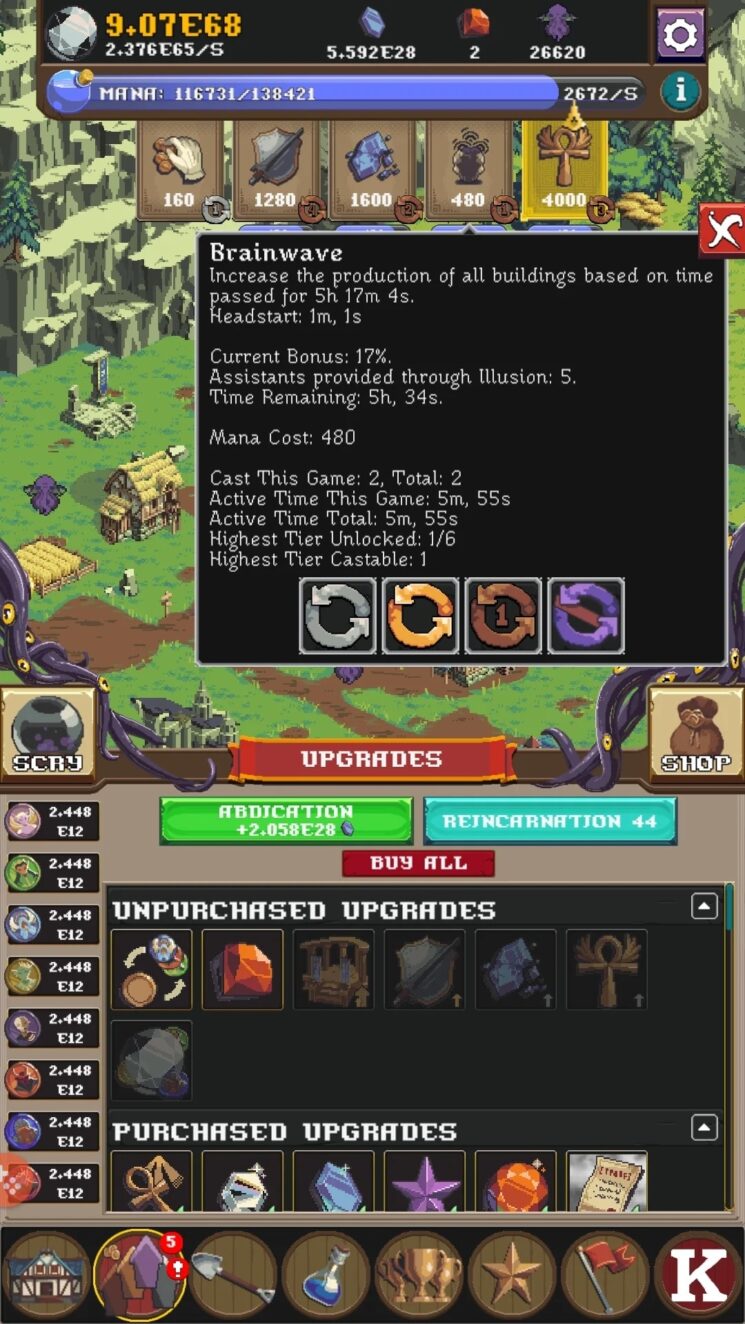 Demon
Nivel S
Demon Trade Treaty.
Torture Chambers.
Devil Tyrant.
Evil Conquerors.
Nivel A
Demon Friendship Pact.
Lava Pits.
Demon Overseers.
Demoic Presence.
Nivel B
Demon Alliance.
Infernal Magic.
Burning Legion.
Very Bad Guys.
Titan
Nivel S
Titans Trade Treaty.
Colossal Forge.
Charged Clicks.
Oversized Legends.
Nivel A
Titan Friendship Pact.
Titan Drill.
Charged Structures.
Titan sized Walls.
Nivel B
Titan Alliance.
Cyclopn Strength.
Heavy Coins.
Oversized Legends.
Druid
Nivel S
Druid Trade Treaty.
Druid Vocabulary.
Animal Companions.
Natural Recycling.
Nivel A
Druids Friendship Pact.
Bardic Knowledge.
Earthly Bond.
Shapeshifting.
Nivel B
Druids Alliance.
Mabinogion.
Earthly Soul.     
Building Jungle.
Faceless
Nivel S
Faceless Trade Treaty.
Territorial Expanse.
Evolution Mutation.
Deep Memory.
Nivel A
Faceless Friendship Pact.
Gold Synthesis.
Mitosis.
Overgrowth.
Nivel B
Faceless Alliance.
Magical Treasure.          
Abominations.
Hive Mind.
Dwarven
Nivel S
Dwarven Trade Treaty.
Dwarven Ale.
Expert Masonry.
Mining Prodigies.
Nivel A
Dwarven Friendship Pact.
Underground Citadels.
Indestructible Treasure.
Bearded Assistants.
Nivel B
Dwarven Alliance.
Battlehammers.
Magic Resistance.
Overwatch.
Drow
Nivel S
Drow Trade Treaty.
Underworld Tyranny.
Honor Among Killers.
Shadow Advance.
Nivel A
Drow Friendship Pact.
Mana Addicts.
Blood Sacrifices.
Blackmail.
Nivel B
Drow Alliance.
Spider Gods.     
Professional Assassins.
Blade Dance.
Recomendaciones finales sobre la tier list de Realm Grinder
Para finalizar nuestro recorrido por el extenso mundo de la tier list de Realm Grinder, vamos a darte algunas recomendaciones finales para disfrutar al máximo de tu juego.
La primera de ella consiste en que este listado aplica a los mods de Realm Grinder. La única diferencia es que el edificio visto en este simpático mod, es el mejor de todos.
También vale la pena recordar que esta tier list de Realm Grinder podría ir variando con el tiempo conforme vayan apareciendo nuevas actualizaciones. En este sentido, en HDGamers estaremos atentos a cualquier cambio. Por lo pronto, solo dedícate a disfrutar de este gran juego y conviértete en un emperador digno de la corona gamer.