The balance of the world in Realm Grinder is in danger and the only hope is the creation of a powerful empire. A goal that you will achieve thanks to our Realm Grinder Tier List.
With it you will be able to know the true potential of each of the buildings necessary to provide your kingdom with the necessary strength.
What builds does the Realm Grinder Tier list have?
Before we move on with our tier list of Realm Grinder , it's really important to remember a few points about the game. In this sense, we mean the nature of factions.
Factions
Fairies.
Elves.
Angels.
Goblins.
Undead.
Demon.
Titan.
Druid.
Faceless.
Dwarven.
Drow.
The reason for this clarification is that each of them will give you a different building. So Which are the best of all?
What are the skills of Realm Grinder buildings?
To answer that question, we have created this tier list of Realm Grinder . Consequently, the purpose of it is to show you which are the most powerful buildings in the entire game.
This is how you can create the foundations for an empire so powerful that it restores balance and order in the game. That said, we are going to know the level of the buildings of each of the Realm Grinder factions.
Fairies
Level S
Fairy Trade Treaty.
Pixie Dust Fertilizer.
Fairy Cuisine.
Kind Hearts.
Level A
Fairy Friendship Pact.
Fairy Workers.
Golden Pots.
Spellsmith.
Level B
Fairy Alliance.
Starmetal Alloys.
Rainbow Link.
Swarm of Fairies.
Elves
Level S
Elven Trade Treaty.
Eleven Mint.
Elven Treasure Casing.
Ancient Clicking Arts.
Level A
Elven:

Friendship Pact.
Emissary.
Efficiency.

Secret Clicking Techniques.
Level B
Elven:
Sylvan Treasure Frills.
Angels
Level S
Angel Trade Treaty.
Holy Bells.
Angelic Determination.
Angelic Feathers.
Level A
Angel Friendship Pact.
Guardian Angels.
Angelic Wisdom.
Archangel Feathers.
Level B
Angel Alliance.
Magical Gates.
Angelic-Dominance.
Wings of Liberty.
Goblins
Level S
Goblin Trade Treaty.
Strong Currency.
Slave Trading.
Cheap Materials.
Level A
Goblin Friendship Pact.
Black Market.
Hobgoblin Gladiators.
Goblin Economists.
Level B
Goblin Alliance.
Goblin Central Bank.
Fool's Gold.
Green Fingers Discount.
Undead
Level S
Undead Trade Treaty.
The Walking Dead.
Deaden Muscles.
Death Temples.
Level A
Undead Friendship Pact.
Unholy Rights.
Corpse Supply.
Plagued Buildings.
Level B
Undead Alliance.
Dead Fields
Tireless Workers.
Undead Resilience.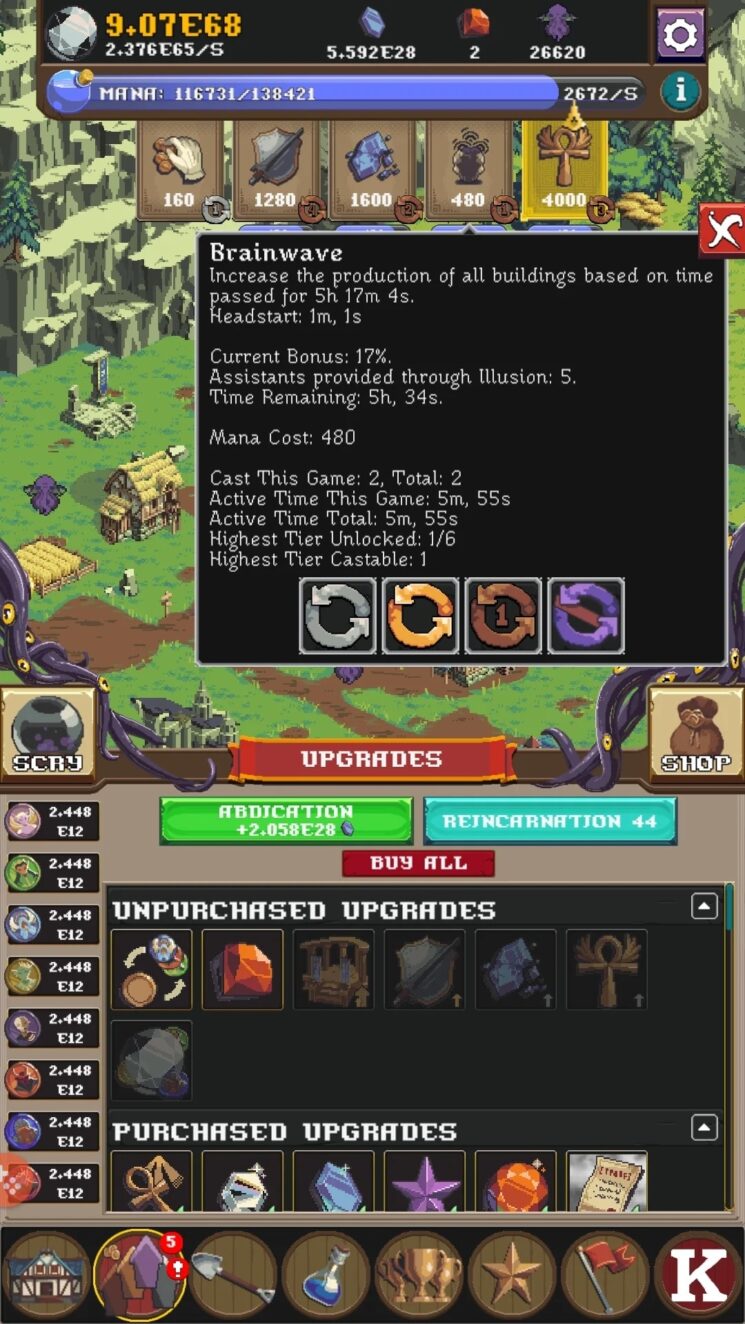 Demon
Level S
Demon Trade Treaty.
Torture Chambers.
Devil Tyrant.
Evil Conquerors.
Level A
Demon Friendship Pact.
Lava Pits.
Demon Overseers.
Demoic Presence.
Level B
Demon Alliance.
Infernal Magic.
Burning Legion.
Very Bad Guys.
Titan
Level S
Titans Trade Treaty.
Colossal Forge.
Charged Clicks.
Oversized Legends.
Level A
Titan Friendship Pact.
Titan Drill.
Charged Structures.
Titan sized Walls.
Level B
Titan Alliance.
Cyclopn Strength.
Heavy Coins.
Oversized Legends.
Druid
Level S
Druid Trade Treaty.
Druid Vocabulary.
Animal Companions.
Natural Recycling.
Level A
Druids Friendship Pact.
Bardic Knowledge.
Earthly Bond.
Shapeshifting.
Level B
Druids Alliance.
Mabinogion.
Earthly Soul.
Building Jungle.
Faceless
Level S
Faceless Trade Treaty.
Territorial Expanse.
Evolution Mutation.
Deep Memory.
Level A
Faceless Friendship Pact.
Gold Synthesis.
Mitosis.
Overgrowth.
Level B
Faceless Alliance.
Magical Treasure.
Abominations.
Hive Mind.
Dwarven
Level S
Dwarven Trade Treaty.
Dwarven Ale.
Expert Masonry.
Mining Prodigies.
Level A
Dwarven Friendship Pact.
Underground Citadels.
Indestructible Treasure.
Bearded Assistants.
Level B
Dwarven Alliance.
Battlehammers.
Magic Resistance.
Overwatch.
Drow
Level S
Drow Trade Treaty.
Underworld Tyranny.
Honor Among Killers.
Shadow Advance.
Level A
Drow Friendship Pact.
Mana Addicts.
Blood Sacrifices.
Blackmail.
Level B
Drow Alliance.
Spider Gods.
Professional Assassins.
Blade Dance.
Final recommendations on the Realm Grinder tier list
To end our tour of the extensive world of the tier list of Realm Grinder , we are going to give you some final recommendations to make the most of your game.
The first one is that this list applies to the Realm Grinder mods. The only difference is that the building seen in this nice mod , is the best of all.
It is also worth remembering that this tier list of Realm Grinder could change over time as new updates appear. In this sense, in HDGamers we will be attentive to any changes. For now, just dedicate yourself to enjoying this great game and become an emperor worthy of the crown gamer .