The construction genre, a fun branch of video games that will never go out of style. We have prepared a list for you with the best house building games , some focused on design and architecture, others closer to urban planning.
In this list you will find everything , you will see entertaining and colorful titles for mobile, but also complicated, quite realistic urban planning games for PC. There is something for all tastes, we do not organize them in any specific order, the latter are as good as the former, they are just say … Different.
Without further ado we present the eight best construction games out there, from exclusive games for PC to some available only on mobile phones, we hope you enjoy them.
House Flipper – PC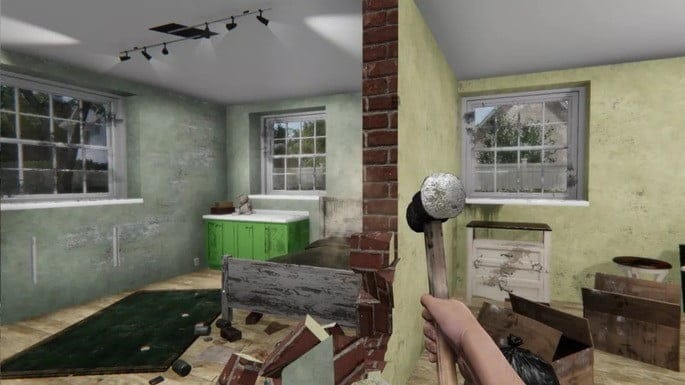 Let's start with a title related to remodeling, in House Flipper your task will be to renovate houses that are on the brink of destruction. After you redecorate and rebuild a house you can sell it and start buying other types of properties.
Here's how it works: You're in your office, a client calls you and you have to take care of painting, redecorating, doing the plumbing and basically saving the house of anyone who contacts you.
The more missions you manage to complete within the houses, the better alternatives you will have to improve each of the buildings . This title gives you a lot of freedom when deciding how the houses will be, the final result depends on you and only on you.
The game is easy to master, the mechanics are intuitive, you will learn to handle it quickly. This is one of the modern simulators that we have liked the most in recent years.
Construction Simulator – PC
From the creators of Farming Simulator now comes Construction Simulator for PC, as you can imagine everything revolves around construction. You can expect a high level of quality and depth in this title.
You will assume the role of an engineer or a contractor builder, you will have to accept offers to build buildings from scratch.
The graphics are excellent and it is truly varied, addicting. You have, among other things, 40 different vehicles that you have to use when building, all in order to meet the delivery deadline as punctually as possible.
Construction Simulator gives the impression of being something like an open world game, you can freely travel between your buildings to check that everything is going as it should.
If construction is your thing, you must try this game… And yes, you will have to handle the excavators yourself.
Will you be the next to make a fortune as a contractor? If you plan to dedicate yourself to construction or civil engineering, first stop by Consturction Simulator to get an idea.
Life is Feudal: Forrest Village – PC
To understand what this title is about, you will have to put in a blender Skyrim, SimCity, a pinch of GOT and some House Flipper. For us it is the funniest game on the entire list. If you enjoy medieval themes, this is the one you should get.
The title is based on two perspectives: that of the builder who creates the houses, the plantations, in short, everything the town needs; that of the villager, where you will have a first-person camera and you will be able to hunt, fish, mine … Basically test how your creation works.
In the end, this ends up being a title with two phases, one of construction and design, then one of urban planning that you can put to the test yourself by putting yourself in the shoes of the villagers. A marvel!
Playing as a villager is no joke, you can starve if you don't do things right. Citizens are divided into children, adolescents and adults. You should build everything in such a way that you meet the needs of each group in a balanced way.
The Sims – PC, PlayStation 4, Xbox One, Android and iOS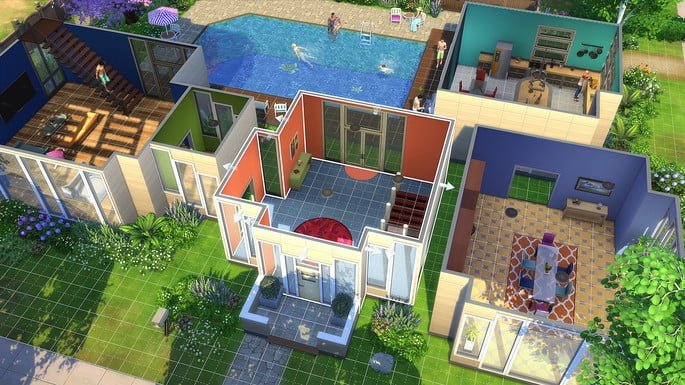 The most successful life simulator in the world raised its standards even more with Sims 4. It is the version of the entire saga with more expansions and cheats available.
Never in a game of The Sims have you had so many abilities and so much freedom, you can be an entrepreneur, freelancer, vet, restaurant owner, have a clinic, be a teacher, doctor, vampire, mermaid, get pregnant with quadruplets … And let's leave it there.
Sims is not exactly a city simulator, or a house builder, but that's okay. Who doesn't play it to test your skills as a designer? You can go the long way and sweat every penny you use for construction or use a little bit of motherlode to go crazy with ideas, it's up to you.
As if that weren't enough, this title has hundreds of tricks and mods that you can download and use to give it even more variety and freedom.
If you want to see all the extra possibilities of the game, check our article with Cheats for Sims 4, or have fun installing mods for Sims 4.
SimCity – PC, Android and iOS
This is a franchise that has been able to reinvent itself and stay in the market for a couple of decades now. It is the most commercial and well-known reference in its market. Who has not played Sims City?
It is no longer an exclusive title for PC, now you can download and play it from your Android or Iphone and start building Foodopolis from scratch. Will you be a good mayor?
The game is strategic and quite educational in general. There are hundreds of possibilities and actions available that will take you and the inhabitants down different paths. Your mission will be to keep the happiness level of the citizens of Foodopolis high, as you will realize, it is not an easy task.
A classic that we recommend trying to all gamers who are new to the construction simulation genre. You can stay for several months perfecting a single city, these are hours of distraction and fun guaranteed.
Of all the games on the list this is possibly the most balanced, it is not exactly a house building game, but it is an excellent city simulator that allows you to relax a bit by not being as realistic as others. This is one of the best games of all time.
Castaway Home Designer – PC, Android and iOS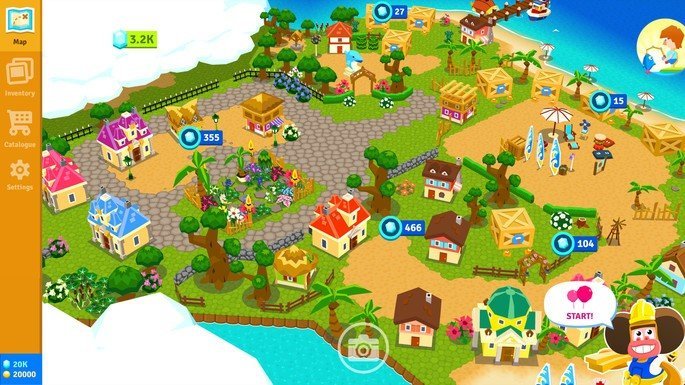 A title that has become popular among users who have it on their smartphone, it is free for all mobiles.
This colorful and striking game mixes urbanism, interior design and architecture: You will not only be able to build the houses, but also take care of every detail within them.
There are more than 1000, yes a thousand, decorative items that you can buy. We promise you, you need to download it to your cell phone.
It's light, easy to use and extremely eye-catching, also perfect for kids and teens with a penchant for creative pursuits.
Of the entire list this is the lightest, entertaining, but at the same time satisfying. We really got stuck with this game when we downloaded it to write the review.
Cities: Skyline – PC: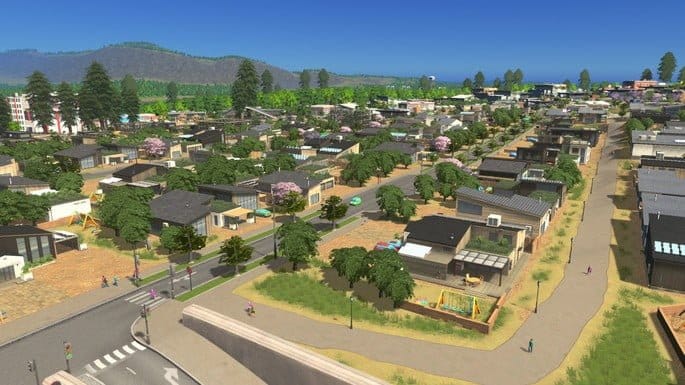 Do you remember Sim City? Skylines is a city simulator that took the gameplay to another level, improved it in every possible way.
To be a simulator the game is complex and quite faithful to reality, if you like to relax playing Sim City, this may not be the title for you, here you will have to be a versatile player, aware of many aspects at the same time.
To ensure the success of your city, you need to make the best decisions while enjoying the best city simulator created to date. Urban planning professionals themselves have given the game positive reviews.
Design Dreams – Android and iOS:
This is a free and casual game with a lot of fans, that's why we decided to add it to our list. You can download it on any mobile, it is a house construction title.
You will build and design properties in the most varied locations, from the city to the countryside to the mountains. Different types of spaces are unlocked as you play and complete challenges.
The progression system is great plus you have a good narrative at some points. Also they combined a construction game with Candy Crush, yes, it is not a typing error … To unlock items you can play a mode very similar to Candy Crush, if you win you will expand your collection.
It's pretty crazy, but after a while you get used to it, Desing Dreams is perfect to hang out, cultivate your creativity and relax… Except when you lose in the Candy Crush and your progress is delayed.
These were our favorite house building games . Do you have any suggestions? You can leave us a comment or write us directly to our social networks: @HablamosdeGamers we are already almost 30 thousand gamers.