We should not always judge a book or, in this case, a video game by its cover. A great example of this is Realm Grinder which looks simple, but trust us, it is not as easy as it sounds. That is why we decided to bring you a Realm Grinder guide.
In it we will tell you what are the most important tricks to dominate the world. In addition to other tips that will be very useful to fully enjoy this great and challenging title.
How to download it?
The first thing we must do to know all the secrets of Realm Grinder is to download it. Don't worry, it's a free game that can be downloaded very easily.
In this sense, you will have to decide where to play it, however, we will teach you what to do to enjoy it in all cases.
For pc
If you want to play Realm Grinder on a computer, you only need two things.
An emulator for Android. We recommend Android Studio or Bluestacks.
Download the game.
Install it from the emulator and enjoy.
For mobile
Here things are much simpler.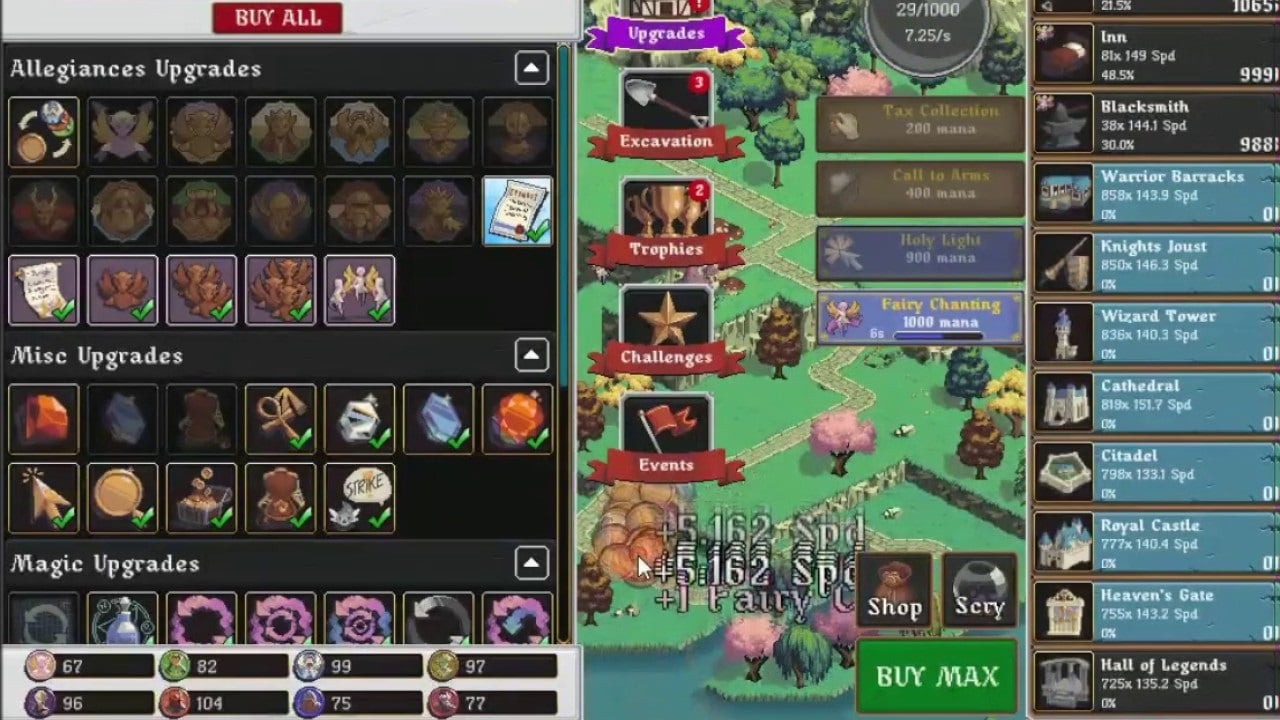 Realm Grinder Guide: first steps
Now that you know how to download it and be able to enjoy this great video game, it is important that you start off on the right foot. You do not want to be considered a simple aspirant from the beginning of your adventure.
To do this, HDGamers brings you some tips or tricks that will help you form the foundations of a great empire. Don't worry, these do exist, not like the Realm Grinder commands.
Factions
One of the central points of the game is knowing how to choose and combine factions to your advantage. Therefore, the first task we have as a future monarch will be to know, in depth, who they are and what are the advantages that each one of them offers.
Fairies
Here you will focus on the support buildings. In addition, it increases the level of basic buildings.
The only drawback this faction has is its lack of automatism. That is, you will have to be aware of the completion of your work to restart.
Goblins or elves
Another of the factions that will keep you in the game for long hours is that of the goblins. But, if we tell you that they will make you win large amounts of gold, it is possible that all that effort is worth it.
Angels
Moving on to the angels faction we take a group dedicated to the invocation of spells. Unlike the previous options, it is a bit more automaton.
However, its biggest flaw is that it will limit you a lot when choosing the nature of your empire (it will only be to rule with magic and wisdom)
Undead
The undead faction will give you the opposite of the fairies. They are the best option for the creation of buildings whose production is long-term.
On the other hand, they are great at upgrading the empire's helpers. In summary, one of the most practical factions to create the Realm Grinder builds stronger.
Demons
Like the undead, the demons are adept at long-term production; however, they allow you to reach the maximum level of the helpers in less time.
If your intention is to collect all trophies in the game, this is your best selection. In addition, its work is automatic so you can do other things away from your computer or phone.
Combination of factions
After learning about the famous vanilla features of Real Grinder, let's move on to something more in-depth about them. These are some classes that are derived from them that have qualitiesquite remarkable.
Notably, his presence will be seen in the late game. So you must have patience to be able to take advantage of its virtues.
Titan
The Titans come from an alliance between the Fairies and the Goblins. It is a faction that offers incredible production power and strength to the empire.
Its biggest flaw is that, in short, it will depend on how lucky you are when invoking it. So it is not very popular.
Druids
The Druids faction is the result of the alliance between the Elves and the demons. It is a combination with an outstanding magic charge.
Likewise, it will allow you to maintain the balance of forces within your territory. Very practical for buildings of magical order and production.
Anonymous
The Anonymous are not very well known –Maybe it is because it is not a very practical faction- But they are usually one of the alliances between Hadas and No Strongest dead in the game.
The biggest of its problems is that you need a lot of time and resources to be able to reach a suitable level for its invocation.
Automatic casting
Leaving a bit of the subject of the factions that we can see has a lot to tell, it is extremely important that you know one of the most useful tricks of the entire game.
It is one that you achieve by obtaining 60 thousand mana points. It will be, at that moment, when you can activate the automatic casting option.
What she will do is put all the necessary buildings to produce while consuming mana automatically. Do it without hesitation when you get the chance.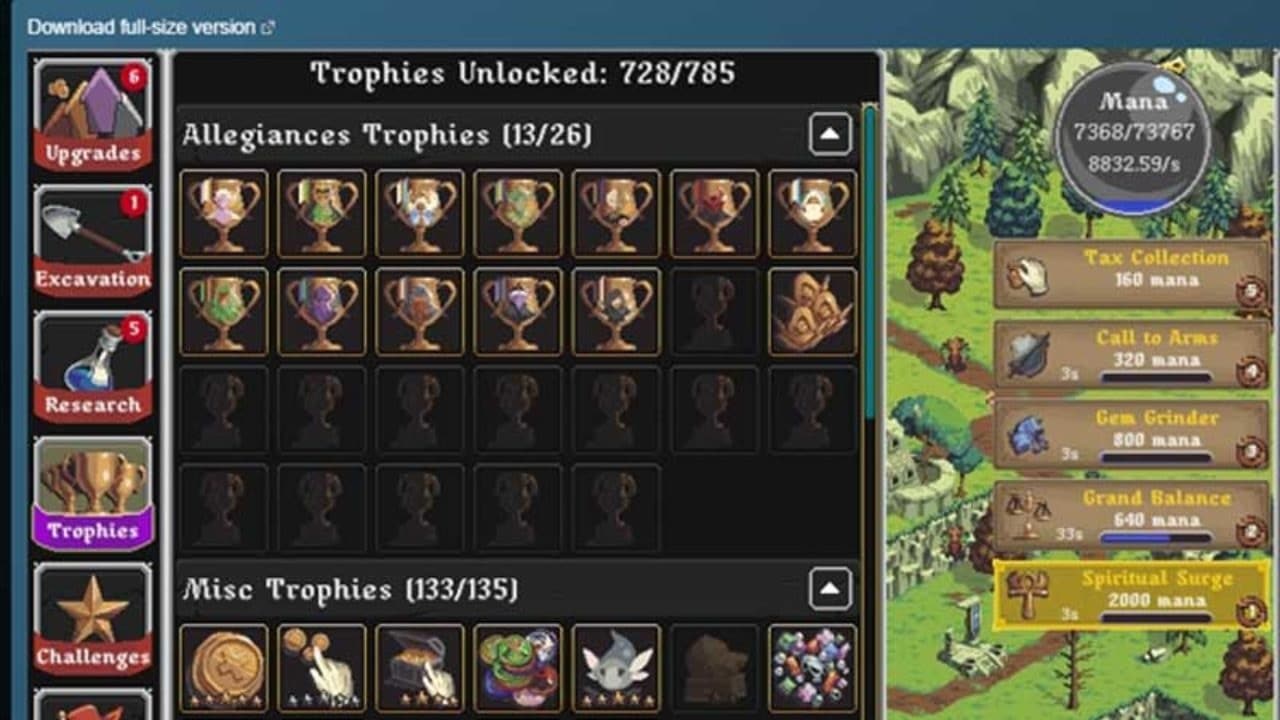 Realm Grinder Guide: How to restart the game
If you are already bored with your kingdom and want to restart your game and put all your skills to the test once again in the generation of an empire, there are two ways. In both cases, you can start over in another settlement.
Sounds amazing, how do I do it ?! Make yourself comfortable, because we will explain the only two ways to do it.
Abdicate
The easiest way to "reboot" is to abdicate the throne. You can do this at any time. The process will cause you to lose all the buildings, improvements and gold that you have collected.
What's so positive about that? Well, the answer is simple. When abdicate they will give you gems. With them you can start a new settlement with a considerable gold production multiplier. Now it doesn't sound so bad huh?
Reincarnate
We already knew the easiest way to start a new game. We're going to level up a bit with the second method. This is called reincarnate.
It sounds like an Egyptian belief but the truth is that it is possibly the best way to restart an empire strong enough to establish it quickly.
As in the previous case, you will lose everything you have achieved, except the trophies. The only problem with this path is that you will need to have one octillion (1Oc) gems.
Sounds impossible! Yes, at first it will sound like this. But as you grow, with the help of this Realm Grinder guide, you will be able to improve production levels and you will achieve them in a matter of a few days. In this way, you will have all the excitement of this great game that awaits you.