In the world there is good and evil. A power struggle that generates great stories like the ones we enjoy in video games like Doom with all its mods and other attractions.
Although it is a series of titles with a few years, its difficulty as well as its history continue to attract millions of fans around the world. More when we have the Doom mods that give it an important quality leap.
How do I install Doom mods?
I want to play Doom with its mods! Take it easy, soldier, things are not as easy as you think. Before enjoying them it is important that you know how they are installed. Unfortunately, it is not something that is done automatically.
So, in order to install all the Doom mods that you want to enjoy, you just have to follow these steps:
The first thing you should do is download the GZDoom program and unzip it to be able to install it.
After this, we have to search for the ZDoom Launcher.
Now you have to start it and find the Doom2.wad file.
Then you must click on the add button and look for the GZDoom.
Copy and paste it in the address where the GZDoom is installed.
This will open a new window where it will ask you to add external files. These are the Doom mods you want to use.
Finally, just run the game from the launcher and enjoy.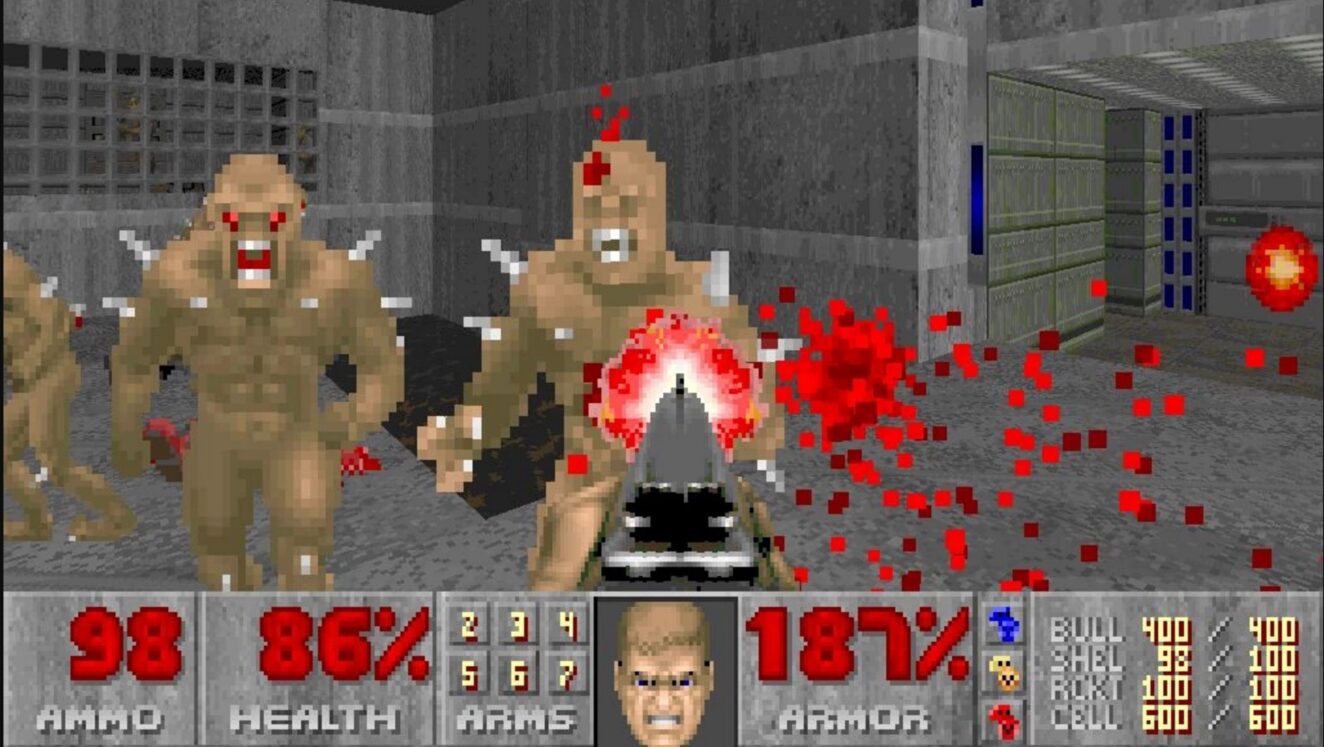 What are the Doom Mods and what does it provide us?
With a game like this that has been captivating thousands of fans around the world for so many years, it is clear that there is a gigantic variety of mods for it.
This is where we set out to prepare an incredible selection of the best Doom mods.
Doom Ultimate Enhanced
With the installation of this mod you achieve:
Improve and balance the game without destroying it.
Provide greater experience to the player.
Some smooth animations for weapons, items and decorations.
New sounds for weapons.
New variations for the Wolfenstein SS.
Brutal Doom
If you want more intensity in the game, use this mod, with which you will get:
A more violent game.
Lots of blood.
Unique Gibs.
Death animations.
Dismemberment.
Headshots.
Executions.
Particles of fire and explosion, flares and much more.
Destroy most things on stage like:
Trees.
Lamps.
Hanging bodies, etc.
Pushing explosive barrels to cheat, or grabbing them and using them as an explosive weapon.
Prepare to Die Pack + SE
By installing this mod you will have the updates focused on improving minor things, such as:
The cars that appear in the game have been updated in 3D models.
The complete tutorial Map, which allows you to understand the game and learn all the movements.
You reach the final mission directly after completing the second map.
Cody Cruikshank's Project Brutality reuploaded
Use the present mod to achieve the improvements for the GZDoom and Zandronum engines, such as:
Add realistic gore.
Dismemberment.
Headshots.
Executions.
Lightning and particle effects.
Conceive enemies to be smarter and tougher
Imagine that the weapon is stronger and stronger
Add new epic boss battles.
DOOM CE
This mod is based on the existing total conversions of PlayStation DOOM and DOOM 64 for GZDoom, PSX DOOM TC and DOOM 64 Retribution.
Add many features that make them more faithful.
A large amount of the code has been adapted from GEC Master Edition or DZDoom.
Bionicle Heroes: Doom Edition
For lovers of Bionicles this is the mod that you should install that:
Add 8 new weapons and replace all the monsters.
S.T.A.L.K.E.R. Anomaly
With the implementation of this mod the player will have the freedom to choose in which fantastic story to develop their game. They can be selected from the following stories:
With 4 chapters of interesting missions.
Sandbox if you prefer to make up your own story.
Intense combat warfare, where the factions fight for influence and control over different areas of the zone.
Mental Omega
With the reinstallation, from the renewal of this mod you will get:
The following 6 new Special Ops:

Allied Special Op Mission Digital Demon.
Convergence of Allied Special Operational Missions.
Special Operational Mission Allied Parasomnia.
Soviet special operational mission trophy hunter.
Epsilon Special Op Mission Fallen Ashes.
Epsilon Special Op Mission Split Seconds.

A new Cooperative:

Epsilon Co-Op Mission Monochrome.

New challenge maps to the game:

Aberration Challenge:
Against the 3 allied sub-factions with a tech level switch.
Ironwall Challenge:

Against the armies of China with a powerful experimental weapon.

Gladiator Challenge:

Where your enemy has advanced weapon deactivation effects in use.

Challenge of judgment:

Where a mysterious force is able to perish all its bases.

An entirely new faction:
CnCNet5:

Free multiplayer services.

12 subfactions:

With your own unique sets of units.

16 Unique Stolen Tech Units:
98 single player missions:

Including a campaign for Yuri.

36 cooperative missions:
22 challenge maps:

For one or two maximum players.

AI:

A challenging one.
Another too challenging.

Skirmish / Multiplayer Maps:
Skirmish / Multiplayer Game Modes:
Very up-to-date visual and sound effects.
New soundtracks for each side.
Save / load functions.
Half-Life 2: MMod
With the reinstallation of this renewed mod you will have:
New model of faster weapons that include their textures, shading, animations and sounds, among which are:
Gunplay shotgun.
SMG1.
Pistols.
.357.
Crossbow.
Gravity pistol.
Pistol.
Shotgun.
Dynamic lights for:

Muzzles.
Bullet impacts and explosions.
Burn NPC, accessories and lightning for NPC
Support for proper centered ironsights.
Performance ambient fire particles for low-end systems.

New sounds for:

Rocket explosions.
Explosive barrel explosions.

NPC:

Accessories when lit on fire.
From being annihilated by Combine energy.
Annabelle.

New main menu with the appropriate logo for each game and its background music.
Health and Suit icons above the HEALTH and SUIT lines in Players HUD.
Slime explosions toxic to all explosives.
Precious embers flash from the muzzle of the shotgun.
Modifications on impact:

Support Destruction Particles.
Tracer effects.
Aliens: The Ultimate Doom
With the installation of this a mod you manage to survive and exterminate androids, Xenomorphs and Predators. In addition, it includes:
Change of demons.
The environment is darker.
Changing textures:
Satanic ones, to give the atmosphere of a collapsing space station.
Replacement by environment objects of the:

Zombies.
Sergeants.
Chaingunners.

A feeling of tension in the environment with the total disappearance of Music in order to give the advantage of hearing the enemies moving.
A randomization in Things, this increases the difficulty due to the lack of Kits, despite this they do not stopecer.
A radar showing nearby enemy entities.
The ability to choose between different characters, each of them begins with different weapons.
New weapon skins.
Complex Doom
With the use of this mod you get:
That the enemies are stronger.
The weapons have been renewed and are recharged.
New effects to make it look better.
Each monster typically has 3/4 levels.
A more difficult monster will spawn instead of the one that dies
Armors and Spheres have a random chance to spawn a stronger type of power-up.
There is an inventory system to make use of items / upgrades that are randomly dropped by monsters.
You can launch grenades and mines with equipped weapons.
Infernal Attack
This is a mod that if you install it you will have:
A more frenetic game.
If you make use of the extensive inventory it can be a tactical game.
At the start of the game a recovery backpack with:

100 loads.
The cuffs.
A Razor.
A Beretta 92 pistol.
An Assault Rifle.
A Shotgun.

Randomizer for all new ones:

Creatures.
Weapons.
Objects.
Decorations.
More than 125 weapons.

All enemies have variants
Lots of graphic effects.
You can:

Throw grenades.
offend.
Use flashlight.
Dodge projectiles quickly.
Throw hook.
Double jump.

Kicking ability:

Flying:
If he jumps when kicking.
On the ground:
If it occurs while crouching.
Interaction with decorations, which can be destroyed by the player.
Arsenal of Weapons
Melee weapons:
Selfies arm.
Knife.
Unknown Weapons
Shield Generator.
Cuffs.
Chainsaw.
Lightsaber.
FrameSword.
Light weapons:
Unknown Weapons.
Heavy Rifle.
Heavy Uzi
Flare gun.
Dispersion Gun.
Colt 45.
Uzi.
Plasma Gun.
Beretta 92.
SKS.
Sub Machine Gun.
Rifles:
Assault
Demon Tech.
Shotguns:
Unknown Weapons.
SuperPump.
Striker 12.
Nail Shotgun.
Is there anything else you wanted to know about Doom mods?
A very important point that we missed earlier, specifically when we talked about how to install mods, is the file you should select.
In this sense, you must choose the .pk3 file in the ZDoom Launcher. That's the mod itself. On the other hand, it is worth noting that, in general, all mods in this game are compatible with the Doom commands.
So there is no reason not to have a unique experience enjoying Doom mods and saving humanity from world annihilation once again.