Today we bring you an article that will help you improve your game in Rocket league, we have to talk to you about camera settings . In Rocket League the camera settings are essential to rank up, customizing the way you see the game in your own way is one of the best hacks you can apply.
Not only will we explain which setting is best for each type of game, but we will show you the detailed settings of the best players in the world so you can copy them and decide which one is your favorite, whether you are playing Rocket League on your PC or on your PS4.
Why should we change the camera settings? Isn't it okay to leave them as they come by default? The truth is that Rocket League gives you at first some camera settings that are good to learn how to use the game. However, you will realize later that to improve, sometimes these settings fall short.
Luckily Psyonix implemented the possibility of changing and personalizing through 7 variants how you interact with the game, let's start:
How to change camera settings in Rocket League
The first thing you should do is go to the options menu and select the "camera" tab. Once there you will have several options with which you can play, such as the angle, distance, speed of the transitions and the way you see your car.
We explain in detail what each of the controls mean:
This option can be activated or deactivated according to your preferences. It doesn't have any benefit, it only creates a more realistic gaming experience. When you have this option activated, the camera will vibrate during specific moments, such as in crashes. Our recommendation is that you only activate it if you play for fun, of rest always keep it off.
FOV stands for "Field of View". This option determines how wide your viewing angle is. The larger this number the more terrain in the field you will be able to see. Rocket League pro's generally use a value between 100 and 110.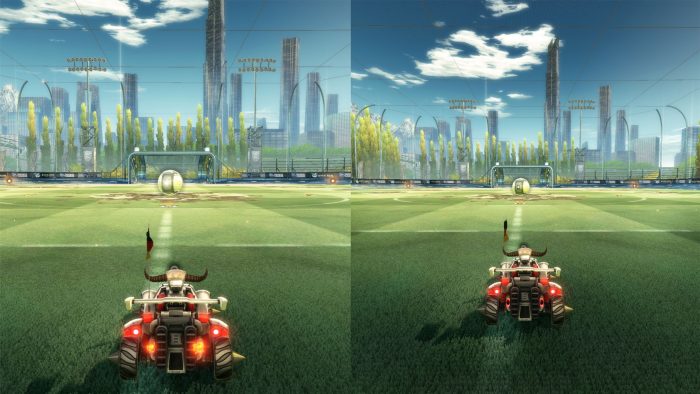 This value implies how much distance you will have in the camera behind your car. Increasing the distance literally moves the camera position back. The advantage of increasing distance is that you will have more field of vision, but you will also lose dribbling precision. In general the most used camera distances are between 260 and 280. Try and find out which one makes it easier for you to play.
This will define how high the camera will be relative to your vehicle, usually the default setting is good for everyone, but some prefer using it at 110.
This value defines the angle at which the camera attacks your car, we recommend not changing it.
This is another of the values ??that we should not change, defines for how long the camera is blocked from looking at your vehicle.
Here you will have to experiment to find the right speed depending on your style of play. This value defines how fast the camera moves once you make a movement with the vehicle. If your reflexes are fast you can reduce the time, if you think it is going very fast you can increase it. It will completely depend on your style of play.
How to improve in Rocket League – Pros camera settings:
We promised you, here we leave a analysis with the camera settings of the best players in the world, you can copy them if you feel identified with their style of play.
Bluey's camera settings (PSG eSports)
This setting is quite traditional, you can try it if it is the first time that you change the default settings.
Values:
FOV: 110
Height: 110
Angle: -3.0
Distance: 240
Stiffness: 0.10
Swivel: 7.0
Transition: 1.00
Fairy Peak (Vitality) camera settings:
Possibly the best of all time, it uses quite violent camera settings.
Camera controls:
FOV: 110
Height: 100
Angle: -3.0
Distance: 270
Stiffness: 0.35
Swivel: 10.0
Transition: 1.00
Jacob's camera settings (ex-NRG):
We use Jacob as an example not only because he is one of the most iconic players, but because he uses the camera distance at 300.
Settings:
FOV: 100
Height: 120
Angle: -4.0
Distance: 300
Stiffness: 0.65
Swivel: 6.0
Transition
1.00
Kronovi (G2) camera settings
One of the few pros that change the camera angle.
Configurations:
FOV: 110
Height: 110
Angle: -4.0
Distance: 280
Stiffness: 0.60
Swivel: 2.50
Transition: 1.00
Turbopolsa (Team Dignitas):
The only two-time champion we have so far in Rocket League history, he uses a peculiar angle and FOV.
Settings:
FOV: 110
Height: 110
Angle: -5.0
Distance: 270
Stiffness: 0.4
Swivel: 6.0
Transition: 1.00
Maestro camera settings (Fnatic):
We bring this example because it is the most peculiar of all, it plays with completely different settings from all the pros, as you can see, a crazy distance, over 320.
Settings:
FOV: 101
Height: 110
Angle: -6.0
Distance: 320
Stiffness: 0.40
Swivel: 5.0
Transition: 1.00
What  Rocket League camera settings do you gonna use? What is your favorite distance and FOV?