Memory problems? We will teach you how to unlock iPhone without password, with two different methods. A traditional way through iTunes and a modern one using a password unlocking program.
What happens if I enter the wrong password too many times?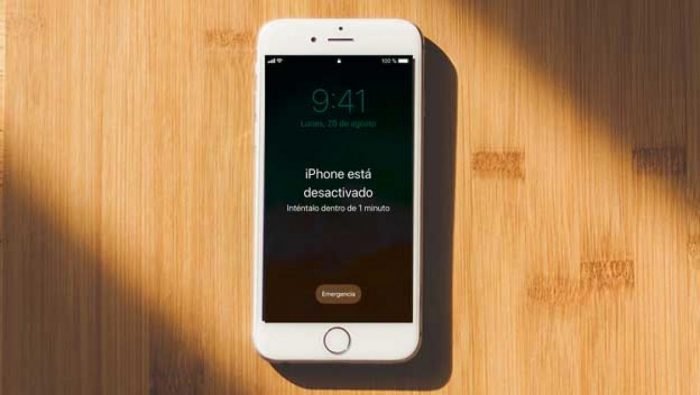 As you can understand the access code of your iPhone is responsible for protecting the device from unauthorized access … but sometimes it makes it very difficult if you forget the password, or if some funny person tries to enter without notifying you.
These are the messages that appear after at least six invalid attempts to enter the password have been completed:
6 attempts: "iPhone is disabled for 1 minute"
7 attempts: "iPhone is disabled for 5 minutes"
8 attempts: "iPhone is disabled for 15 minutes"
9 attempts: "iPhone is disabled for 60 minutes"
10 attempts: "iPhone is disabled. Connect to iTunes " It could also happen that your iPhone completely erases all its information, if the option" Erase data "is activated. You can check it in: Settings & Touch ID and passcode (or Settings & Passcode for iPhones without Touch ID).
In summary when there are many unsuccessful attempts, your iPhone locks automatically for increasing periods of time. But if you insist more, the phone is deactivated and requires you to connect it to iTunes.
Although it may seem strange, it is very common for iPhones to crash many times as a result of a small relative, a child, many others because of our complex but careless mind.
Why doesn't unlocking my iPhone with iTunes work?
At the end of the article we will explain all the steps to restore the password and unlock an iPhone with iTunes, however this option is not 100% effective.
First of all, depending on the iTunes settings you have activated , the program may ask you to first enter the password before being able to reset the phone … Yes, very useful, thanks for nothing iTunes.
The other con is that iTunes will erase your data, information and settings when you remove the old passcode.
That is why we first explain to you a infallible method to unlock iPhone without password which is valid for all modern models.
How to unlock iPhone 7, 6, 8 and 10 without password
The first thing you need is a secure password unlocker for iOS. UkeySoft Unlocker lets you bypass that annoying automatic password lock screen invalid.
It is better alternative that iTunes or iCloud works 100% of the time.
Steps to unlock any iPhone or iPad without password
Step 1
After you download it, start its installation program on your Mac.
Finally go to "Unlock screen password" to activate the program.
Step 2
Connect your device to the computer with the USB cable and click " Next" to enable the unlock function.
The UkeySoft Unlocker will help you unlock your iPhone if you entered the password incorrectly more than 9 times or if your screen was broken and rendered useless.
Step 3
You will enter recovery mode. Depending on each model, the instructions will be different.
Ukey Soft Unloker It will detect the model automatically and will give you the instructions to unlock the iPhone 6s or earlier, iPad, iPhone 7 or iPhone 7 Plus, iPhone 8, iPhone 8 Plus, iPhone X, iPhone XS, iPhone 11, without a password iPhone 11 Pro and iPad Pro with Face ID.
Step 4
Once the Ukey Soft Unloker model is detected, it will tell you which firmware must be downloaded in order to continue with the unlocking process. Simply verify that the information on the screen is correct and then click download.
Step 5: Unlock iPhone without password
After downloading the necessary firmware, the program will show you the steps to start the process and remove the iPhone password.
Step 6
The process will be ready, disconnect your iPhone from the Mac, log in with your Apple ID and configure it.
How to unlock my iPhone with iTunes
Before you go, we recommend to download Dr.Fone to make it easer.
If your device is disabled or blocked follow these steps to be able to configure it again with iTunes without the need for the password.
Warning: The method with iTunes does not always work, depending on the settings of the phone iTunes will ignore or not ask you for the passcode to reset the iPhone.
If you recently synchronized your iTunes with the iPhone you can use it to unlock it without the password, otherwise it will be impossible.
You will need to activate the recovery mode , these are the steps.
Step 1. Launch iTunes and connect iPhone to computer
Open iTunes on your computer, connect your iPhone via USB cable. If iTunes does not immediately show you a window asking for the password, it means that the method will work.
In case your iTunes asks you for the password, go to the previous subtitle and download a password unlocker.
Step 2. Activate the iPhone in recovery mode.
This process varies with each model, here we give you a fairly general one.
Let's take as an example putting the iPhone 6 / 6S into recovery mode:
1) Turn off the iPhone
2) Go to your computer and open iTunes.
3) Press and hold the "Power" and "Home" buttons at the same time, then connect your iPhone to the PC. While your iPhone is still connected to the computer, restart it.
When the Apple logo appears, release the power button but hold the home button until you see the message "Connect to iTunes" on the iPhone screen.
Ready! Your device is now in recovery mode.
Step 3 . Restore or update the iPhone device
We are almost done, now iTunes detected iPhone in recovery mode and you can progress.
A screen will appear with the following text:
"There is a problem with the iPhone that requires it to be updated or restored" you will have two options, one for "Update" and another for "Restore". You must click on restore and follow the instructions.
All set, at the end of the process you can create a new password for your iPhone.
We hope that these two methods of how to unlock iPhone without password have been useful for you, remember that if you do not have an iTunes on your computer that is synchronized with the iPhone, you should use the Ukey Soft Unloker.