That small region of the vast Gamer universe destined for mobile devices is getting bigger and bigger. All of this from games like Granblue Fantasy that have come to woo a growing community in recent years. That is why HDGamers brings you the Granblue Fantasy tier list to help you establish yourself as a mobile gamer.
What is Granblue Fantasy?
First of all, we have to say that Granblue Fantasy is a role-playing video game that has a turn-based combat system typical of any game of this genre for mobile devices. However, a game that has the theme of a great classic such as Final Fantasy is always going to be liked by all players in the world.
In addition, being a kind of MMORPG, it has a level improvement system for each character as you complete missions and defeat opponents. In this way, you gain experience and improve your skills. So it ends up being an incredible option to hang out.
What is the Granblue Fantasy tier list?
In this order of ideas, we have to tell you that Granblue Fantasy has a good variety of characters to choose from to embark on our adventure through a world full of dangers and mysteries.
Therefore, we need to know which are those heroes that will help us to personify our virtual experience. More important than that, knowing their abilities and characteristics with which we will create a story that we will seek to turn into a legend.
It is at this point where a Granblue Fantasy tier list comes into force since it is that tool that will allow us to know in depth the nature and those traits of each character. In this way, we can find the profile that best suits our taste and style of play.
The Granblue Fantasy tier list
Thus, in HDGamers , we came to the conclusion that a Granblue Fantasy tier list was necessary so that users of this game can feel supported by the virtue of knowledge of these great heroes.
Consequently, the list that you will see below was made in such a way that you can know a brief description of each character. In addition, they will be able to see their attributes, elemtos, favorite weapons and much more.
Without a doubt, a work with which we hope to contribute to the construction of Granblue Fantasy legends that will be told for generations. So it's time to introduce each character who will bring this Granblue Fantasy tier list to life.
Zeta
Description
If you are looking for a character who is capable of dealing damage and devastating at medium range, this is Zeta .
Element
Fire.
Style
Attack.
Type
Human.
Preferred weapon
Spear.
Skills
Spear of Arvess.
Rhapsody.
A thousand flames.
Support Skill:
Arvess Pact.
Charge attack.
Strike resolved.
Narmaya
Description
Narmaya is such a peculiar character from the Granblue Fantasy tier list that he has two combat poses. Which enhance a particular skill set.
Element
Dark.
Style
Attack.
Type
Draph
Preferred weapon
Katana
Skills
Butterfly effect.
Transitory.
Kyogasuigetsu.
Support Skill
Fortified vigor.
Block swords.
Charge attack:
Dawnfly Dance.
Freeflutter Dance.
Percival
Description
Percival's most important asset is his Traumerei ability, with which he increases offensive power to levels that can deal considerable damage.
Element
Fire.
Style
Attack.
Type
Human.
Preferred weapon
Saber.
Skills
Creation.
Electricity manipulation.
Manipulation of magnetism.
Healing.
Statistics amplification.
Memory manipulation.
Lancelot
Description
One of the favorite characters in the game is Lancelot, the loyal knight of the order of King Arthur, he is strong and noble. A series of qualities that allow him to be one of the most complete heroes in the Granblue Fantasy tier list .
Type
Human knight.
Preferred weapon
Frostblade Saber Persius.
Skills
Superhuman physical characteristics.
Weapon Mastery.
Acrobatics.
Invulnerability.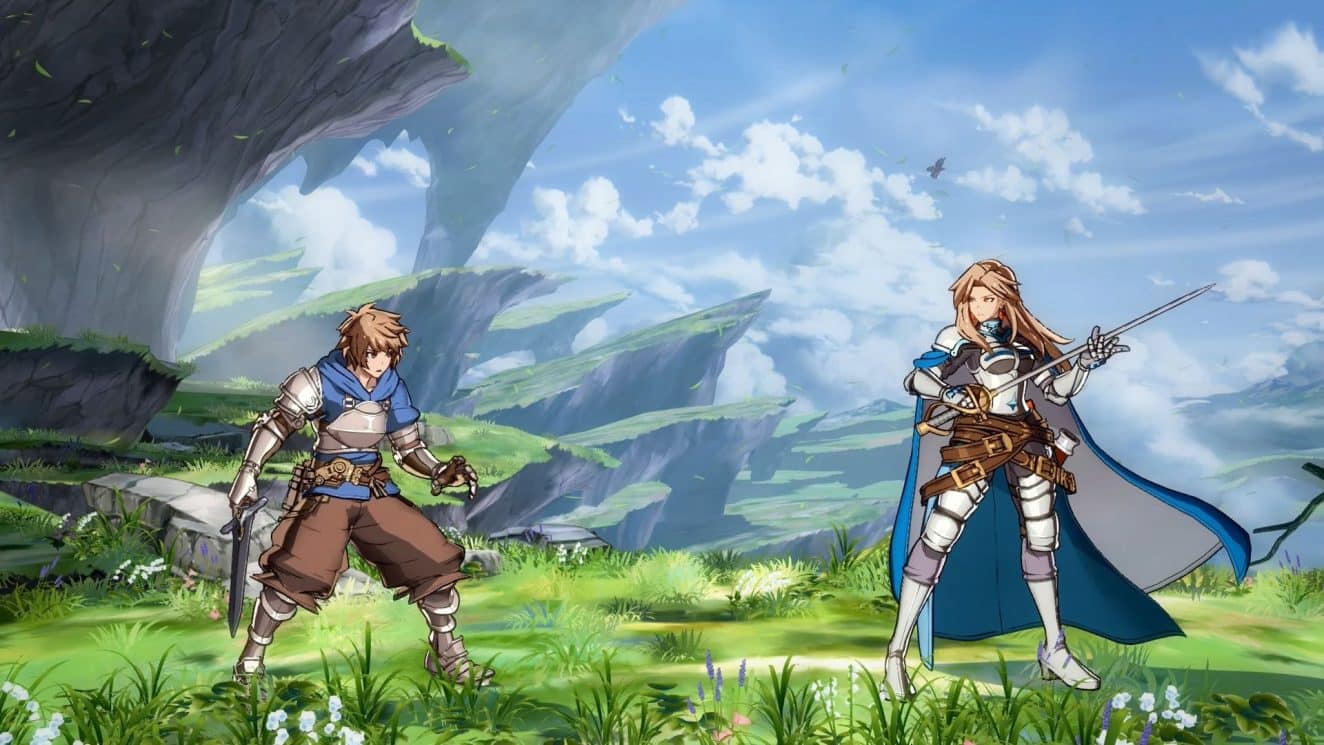 Metera
Description
Metera is the typical archer role character. It is capable of using an incredible amount of projectiles with which it can deal incredible damage at a distance. In addition, he has the ability to devise traps to keep the fight away from his position.
Element
Wind.
Style
Balanced.
Type
Erune.
Preferred weapon
Arc.
Skills
Bow of rope.
Starry sky.
The Great Fall.
Support Skill
Genius.
Charge attack
Quick spraying.
Ferry
Description
Although he does not have the same rank as Metera, talking about Ferry is to mention one of the most useful characters in the ranged game. This is because it has a whip that can easily stop an enemy without getting close to him. Plus, you can set the pace of battles just by using it.
Element
Light.
Style
Special.
Type
Erune.
Preferred weapon
Dagger.
Skills
Purge spirits.
Gespenst.
Blessing.
Support Skill
Nameless ghost.
Charge attack
Etelaite procession.
Beelzebub
Description
Beelzebud is the most powerful and capable of all the opponents in the Granblue Fantasy tier list . Since it has the ability to adapt to almost any situation and come out of them unscathed. Without a doubt, a character to always keep in mind.
Attributes
Single action
Shadow pass.
Ability
Black flies.
Langelaan field.
Chaoscalibur.
Karma.
Unisonic.
Celestial Art
Darkspear.
Hymn.
Super Celestial Art
Legion of Chaos
Katalina
Description
When we talk about Katalina, it is to mention who is perhaps one of the most multifunctional characters on the Granblue Fantasy tier list. She has very simple actions that can reward players with basic knowledge and reading ability.
Element
Water
Style
Balanced.
Type
Human.
Preferred weapon
Saber.
Skills
Heal.
Dissipate mount.
Wall of light.
Support Skill:
Knightly pride.
Charge attack
Frost blades.
Charlotta
Description
Charlotte has a series of normal movements as well as very fast commands that can be combined to produce high impact combos on your enemies. And if we add to that that she is one of the fastest characters in the entire game, we are facing a case where it becomes difficult to be able to respond to her attacks effectively.
Element
Water
Style
Balanced.
Type
Harvin.
Preferred weapon
Saber.
Skills
Blue moon.
Kni Shilt.
Sword of Lumiel.
Support Skill
Captain of the Holy Knights.
Apostle of Justice.
Charge attack
Noble execution.
Gran
Description
The true protagonist of Granblue Fantasy is Gran , a character with so many skills and such polished graphics that he is a more than easy choice for players around the world. Furthermore, he is one of the few characters who can dominate the battle at any rank.
But if we add to that the fact that he possesses possibly the best stats and most comprehensive powers in the entire Granblue Fantasy tier list , it's pretty easy to see why he's so popular. However, it is a bit difficult to learn to drive so if Great is your choice, you will have to spend some time learning how to fully exploit its potential.
Career
Human.
Gender
Male
Single action
Power boost.
Cancel.
Celestial art
Tempest Blade.
Ability
Reginleiv.
Ascendant sword.
Overdrive overload.
Tracking.
Super celestial art
Catastrophe.
Last observations on the Granblue Fantasy tier list
As you can see in this Granblue Fantasy tier list , it is a bit difficult to know which character to select to start your adventure in this incredible game. Since everyone has their points for and against.
However, we can recommend that beyond choosing Gran for being the obvious option, you try to give other members of this list the opportunity. After all, it may be the case that one manages to surprise you.
Before you finish, remember to visit some of our most read articles:
We hope you have enjoyed this post and that you found the information you were looking for. If you think that we should update any information about Grandblue Fantasy Tier List or that we have made a mistake, do not hesitate to write to us!