We know that video games are a window to enter a fantasy world with the creation of countless stories and multiverses waiting to be discovered. In this sense, the difficulty between certain examples usually varies, a good example is the case of Bioshock and its blocked accesses. So, so that no door is a danger, we bring you the Bioshock codes.
Valid and active codes of Bioshock – February 2023
You may have noticed that when writing about the Bioshock codes, we only mention those hidden keys in the world that are the keys to certain stations. For this reason, if you want to live the full experience of the game, we recommend you have a very good eye and search carefully in every corner, since these codes are hidden in your environment.
However, if you don't want to suffer continual headaches and frustration of not being able to find them while running for your life. HDGamers brings you the complete list of these tricks so that no door is such an obstacle that it puts your game at risk.
All BioShock Infinite Locked Door Codes – Episode 1 
High Street: The Watched Clock Diner – 2076
Fontaine's Department Store: Housewares, The Bistro at Fontaine's – 3958
Fontaine's Department Store: Ladieswear Department – 0928
All BioShock Infinite Locked Door Codes – Episode 2
Finkton Factory: Surgical Suite – 2847
Finkton Factory: Fink MFG Research Laboratories – 8371
Fontaine's Department Store: Housewares, Service Bay – 7951
Fontaine's Department Store: Housewares, The Silverfin Restaurant – 1216
Full list of Bioshock 2 active codes
Fontaine Futuristics: Plasmid Theater Door – 5254
Inner Persephone: Therapy Wing Door – 4146
Siren Alley: Plaza Hedone Door – 1919
Inner Persephone: Holding Wing Door – 2673
Adonis Luxury Resort: Plasmid Therapy Door – 1540
Dionysus Park: Basement Storage Door – 1080
Pauper's Drop: Fontaine Clinics Door – 0047
Minerva's Lair: Operations, Programming – 2341
Full list of Bioshock 1 active codes
The elevator that leads to Fontaine's house in Olympus Heights – 5744
The weapon store in armored escort's Failsafe at Point Prometheus – 1921
Room 7 of the McDonagh Tavern on Neptune's Bounty – 7533
The Safe in Julie Langford's office in Arcadia – 9457
 The Robertson Tobacco Store in Fort Frolic – 7774
Rapture's Grand Carnival: Challenge Room – 1951
The pumping station at the agricultural fair – 0512
Funeral Home of the Medical Ward – 0451
The lower dock of Neptune's Bounty – 5380
Kyburz's office on Hephaestus – 0126
What you will find behind each door
The question we all ask ourselves is: what does each door hide? Well, we advise you to take the time to open all the doors that we mentioned in the previous table. Each one hides something different, although there is always something useful to find.
You may notice that some doors are not in the table below, those in particular will only serve you to advance in the story.
Fontaine Futuristics: Plasmid Theater – Money, bandages, ammo, Gene Tonic (Careful Hacker 2)
Adonis Luxury Resort: Plasmid – Audio diary (Fitness), money, drill fuel
Arcadia: Langford Research Laboratories – Access to Farmer's Market, money
Farmer's Market: Main Market – First aid kit, ammo, invention components, money
Fort Frolic: Robertson's Tobaccoria – Money, Electric Buck or anti-personnel Pistol Rounds
Hephaestus: Workshops – Access to Power to the People station, ammo, Invention Components
Medical Pavillion: Twilight Fields – EVE hypo, 00 Buck, Automatic Hack Tool, Standard Auto Rounds
Neptune's Bounty 1: Lower Wharf – First Aid Kit and ammo
Rapture's Grand Carnival: Challenge Room – Activates Ferris Wheel
Therapy Wing – EVE hypo, money, first aid kit, ammunition
Neptune's Bounty 2: Fighting McDonagh's Tavern – Access to Shorten Alarm's Gene Tonic. Audio Diary
Olympus Heights: Mercury Suites – Access to Fontiane's Apartment
Point Prometheus: Failsafe Armored Escorts – EVE hypo (3), Rare Ammunition, Invention Components
Bioshock expired codes
Fortunately for fans of this amazing and exciting game, all the codes we have previously described are still completely valid. So you still have the opportunity to enjoy them to the fullest.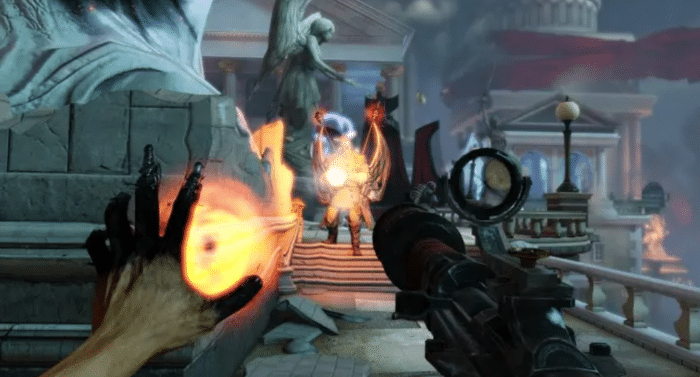 How to redeem codes Bioshock
To make use of your knowledge about the codes of Bioshock. Just go to the locked door and point to the control panel on the side of it. Once in it, you will have to enter each command one by one to open it.
Next, we leave you with a small video that illustrates each step that we have described in order to provide all the tools for you to enjoy the experience of this great game.
Before you finish, remember to visit some of our most read articles:
Great! You reached the end of the article, that means you know all the secrets of Bioshock codes. Now, we can finish our task. From HDGamers, it only remains for us to invite you to enjoy one of the best titles that exist today. Good luck!