It is not always easy to take the first steps when we face the unknown for the first time. From walking to cycling, the guidance of someone with more experience is always necessary. That is why HDGamers collected all the necessary information about Welcome to the Game 2 in this guide so that you can understand the beginning of this enigmatic game .
The problem with Welcome to the Game 2
The real problem with Welcome to the Game 2 is that it ended up being a much more difficult game to understand when taking the first steps than its predecessor. However, we have taken on the task of collecting all the necessary data and tricks to help you survive.
Therefore, to help you make correct progress in Welcome to the Game 2 , we bring you this guide with all the details you will need to know if you are new to the game.
First tip
The first thing you will need to face the challenges of Welcome to the Game 2 , will be a flashlight. Which you can easily locate on the nightstand next to the bed.
You may not see its usefulness immediately, but when you have to explore areas of the house without light or the forest in the middle of the darkest night, you will appreciate having this valuable tool.
First mission: Two coins
Once you have the flashlight in your possession, you can start your journey into the unknown. The initial mission of the game will be the moment you hear the phone. It will be a call from your friend Adam who will tell you about the need to find a remote VPN to steal Dos coins.
The reason why you need these coins is simple. They are the resources with which you can acquire more things and trade with the game. So it's not wrong to think of ways on how to get a good amount of them.
Returning to the mission. You will find the remote VPN lying in the alley, taking the stairs to the first floor, leaving the lobby, and walking to the end of the alley where the fence is.
If when you get to the location the VPN isn't there, don't despair and wait a few minutes for a drone to arrive and drop it there. Then, you can take it and continue the mission.
Now that you have the resource to get the coins, it's time to get it working. The only way to do that is to take him back to the apartment. Here you will have to decide where to locate it to get the most out of its production since, the place does matter.
To illustrate this idea a bit, let's say that if you place the VPN in one place, you can earn 5 coins two for every 240 seconds. Likewise, if the location you give is different, you may earn 0.94 coins every 1400 seconds. The truth is that it is a kind of lucky roulette.
Anyway, when you place the device in the place that you consider most optimal, you will notice that the shadow of the VPN appears on the wall with a red, yellow or green color. Each one will indicate the connection status that it establishes and, obviously, the capacity to generate coins that you will have in that location.
Mission 2: Hack the WiFi
Once you have established your Two coin cultivation, it is time to move on to the next step, establishing communications by stealing the WiFi from the neighbors.
Actually, we can say that this is one of the most boring parts but at the same time one of the most delicate to do. Because if you do not have enough networks in your library of options that you can move freely, in less than a minute you will have a SWAT team knocking on your door and ending your game.
Therefore, continuing with this Welcome to the Game guide, what you will have to do is move the modem in such a way that you can steal some passwords from the signals you catch.
Key theft
When you have been able to find a good number of signals, you can try to enter them and steal their password in order to connect. But it is important to know that at this point you will come across two types of signs.
The WEP signals that are not that complicated to unlock but are extremely slow in terms of connection speed. Likewise, you will have the WPA2 networks that are the opposite. These offer you a much higher speed but they are a real challenge to be able to unlock them. Despite this, we recommend that you try it.
Although trying to unlock the security protocols for WPA2 signals is actually a bit complicated, there is a very practical method that will help you violate them quite easily. This involves injecting networks with disavow packets until they are opened.
It should be noted that this process is longer than finding the keys by itself, but it allows much faster connection speeds. To perform this method you just have to enter "inject XX: XX: XX: XX 25", the last number being how many packages it will inject once a signal is detected with this configuration.
On the other hand, you can try a different number of 25, we only recommend that they be multiples of 5 to have a greater chance of finding a match. Once you can corrupt the signal, it will give you a window like the following:
Mission 3: Keys
Continuing with this guide on Welcome to the Game II, we find a well-remembered mission from the first installment of this game. Searching for keys on web portals is one of the most entertaining but, at the same time, one of the most frustrating to do.
It is not so much because of how complicated it can be to locate them on web portals, since you only have to enter its source codes. To do this, just right-click on the magnifying glass in the upper left of the URL search bar.
The really difficult thing about this mission is that these keys, or codes, are on any page you are looking for. That is, they are distributed in a random order within the web. Now that you see how frustrating it will be to search one by one, the only clue we can give you is that you will have found one if, when randomly scanning an image or a text box, your cursor becomes the Click icon.
Likewise, another clue that we can give you is that you visit the link of Deep Wiki II, is the only one that generally keeps a key in Welcome to the Game . Of the rest, we can only wish you good luck in your search.
Mission 4: External threats
Something that we did not comment on in the previous point is that in total you will have to locate 8 keys. In truth, it is a rather complicated and frustrating mission for the simple fact of having to go one by one.
But, if that did not seem enough, now you will have to consider the risks of having to carry it out with a series of threats that will constantly haunt you.
The police
Understanding that they are in charge of maintaining public order, it is quite logical to think that they will persecute you if they see that you are becoming a burden on society.
In this sense, try to always keep moving both physically and digitally. But, if you start to hear the sirens, it's time to worry. Even more so when you are in full search for the 8 keys hidden on the web.
For this complicated situation, there is a fairly simple solution but it will need your agility and reaction speed. Just disconnect from the network, turn off the computer if you want and run to hide in the shower. Wait there for about 5 minutes and you will be safe since these policemen do not worry about searching the bathrooms.
The doll maker
The following character is quite quirky and was designed for those with a rag doll phobia. He is the doll maker and you will meet him by chance.
This is because one of the pages you will visit will be that of their company, where you may be lucky and find a key, or not. The only sure thing is that if you will meet him as the days go by. It will all start with the illusion of listening to gloomy and weak music.
We advise you not to panic, just run to your front door and open the peephole. When you do this the search for the doll maker will start.
It is really a very entertaining mission and that complements with emotion a game where until now you only had to look for virtual keys. It is for this reason that we will not delve much into it, we will only tell you that in room 801 of the hotel, you will find that the door has a broken lock.
Lucas
This is a somewhat complicated character to understand, the truth is one of the great enigmas that have yet to be revealed about Welcome to the Game .
We can start by saying that we do not know very well how to avoid their meeting. Since it is about avoiding some audio tracks that identify it, but, at the moment, we have only recognized one for it.
So it is most likely that you will meet Lucas many times. Which is not a good sign since it is a kind of sociopath, serial killer or whatever you want to call him.
The only advice we can give you is to close the door tight, sIf you hear that they are touching it or trying to open it, look through the peephole and check to see if there is a white guy in a suit with tattoos on his neck. If so, start to fear for your life.
One way to save yourself from it, is that as soon as you see it, run to the closet and hide. Although this may fail, it is the only way to survive your encounter with Lucas . But, if you meet him again, which is quite probable and are usually inevitable encounters, it means that you are dead.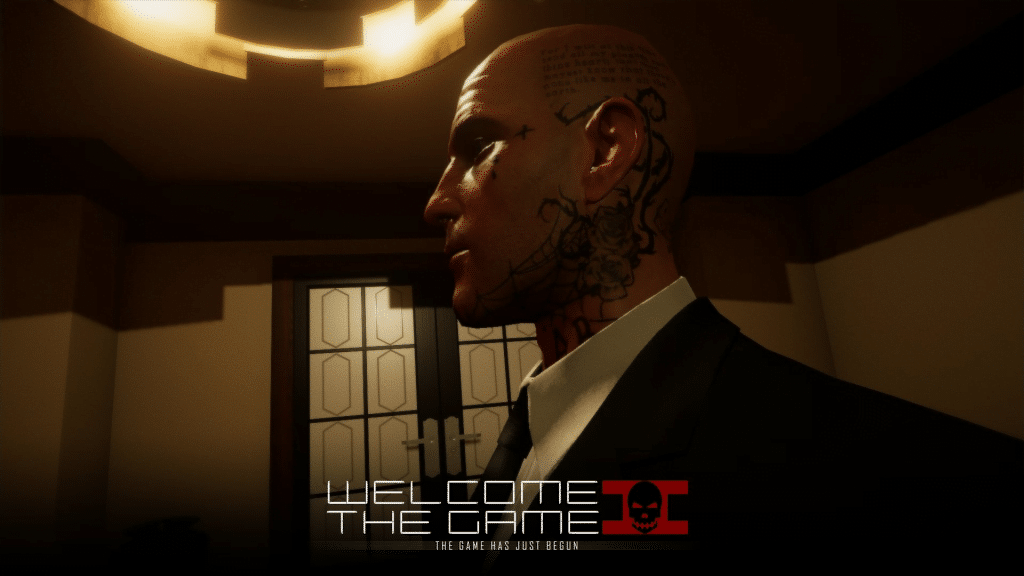 The Noir
Continuing with our guide for Welcome to the Game II newbies, it's time to talk about one of the characters who came to give the game an air of ease.
We refer to the Noir and the Nerfs, that will give you a little respite. Since, for those who played the first installment of the game, they will remember that meeting a Noir was a death sentence since there was no place to run or where to hide.
But in the case of Nerfs it is a little different. If you ran into one in the alley picking up a package, turn around and the Noir is sitting at the end of the alley. If this happens, the game will be over. But with the Nerf, if you encounter Noir , stay calm, back off at a decent distance from the man, turn your back on him and count to 30.
Another thing you have to remember about these characters, especially the masked Noir, is that they spawn in two places. Which makes it a little difficult for you to escape from them.
If you are browsing the deep web looking for new keys and clicking on a link does not end up loading the page. Go back and check your window, because it's most likely open. You may not see anything at first glance, but from now on, you will have to constantly check its window in order to prevent the Noir from killing you.
If you see that the Noir is standing in your window, just repeat what we said before. Turn your back and count to 30. This should be enough to save your life. This is all in relation to the only point that will always be constant in your encounter with Noir.
Now, we have to tell you about a second place that is completely random. But, this process of going back and counting should be enough to survive. But whatever you do, don't panic and start running desperately for your life, because you will lose it.
The respirator
Unlike the first installment, in Welcome to the Game II you will not have any indication that the respirator has arrived. The best part of this version of the game though is that he doesn't enter the apartment complex. So in a way, you will be safe from him in your home.
However, as you may have already noticed, many important things are in the alley. Unfortunately, it is the only place where you can find it so it is very likely that you will get it. Especially when you go to him after 11 at night.
In these cases, there is no way to avoid it if you approach the end of the alley. The best option to ensure that it is not present, once you decide to venture out at that time of night to pick up a package, is by the following method.
First, you have to open the door, hold it, and look out the window on top of it. Here you will have to wait about 5 minutes. Once that time is up, go and get the package. Go back to the door and repeat the procedure to make sure it didn't show up.
Now that you know everything about Welcome to the Game II with this guide, you will be able to survive the first encounters and enjoy the best experience of a game full of mysteries and surprises in every corner.
---
You will also find it interesting to read about: