The industrial revolution was the great step in our history to a more technological society. But What does it take to make one on another planet? Perhaps the answer lies in the Factorio mods.
After all, it is a game where the objective will be to establish a colony in a hostile world. So it is worth knowing everything you can in order to survive.
How to install Factorio mods?
In this order of ideas, the first thing we must learn is how to install the Factorio mods to be able to enjoy this epic adventure without problems.
It is important that you know that there are two ways to do it. Don't worry, at HDGamers we also want to meet the stars and contribute to the survival of the human race. For this reason, we will tell you, step by step, everything you need to do to enjoy these mods.
Factorio Mods: Easy Way
As we titled it, here we will explain the easiest way to install them. To do this, you just have to follow the steps that we will show you below:
Inside the game start menu you will find a button called mods.
When you click on it, a window will open where you will have to log in with your Factorio account.
After that, the official page of the game will open with all the available mods made by its developers.
Now you just have to click the install button and wait for the process to finish.
Factorio Mods: Long Path
Do not be fooled by the name, this second way is almost as simple as the previous one. The only difference is that it will take a little longer to do it.
However, it is ideal for using mods that are not in the game catalog. That said, here you only have to do:
Download the Factorio mods in their .zip or .rar format
Go to the Factorio Mods folder located inside the address Appdata/Roaming/Factorio/FactorioMods.
Once here, just bring the mods file you downloaded and save them here.
Finally, run the game as administrator.
From here, go to the mods menu within the game.
Repeat the steps from the previous method and select the mods you just saved.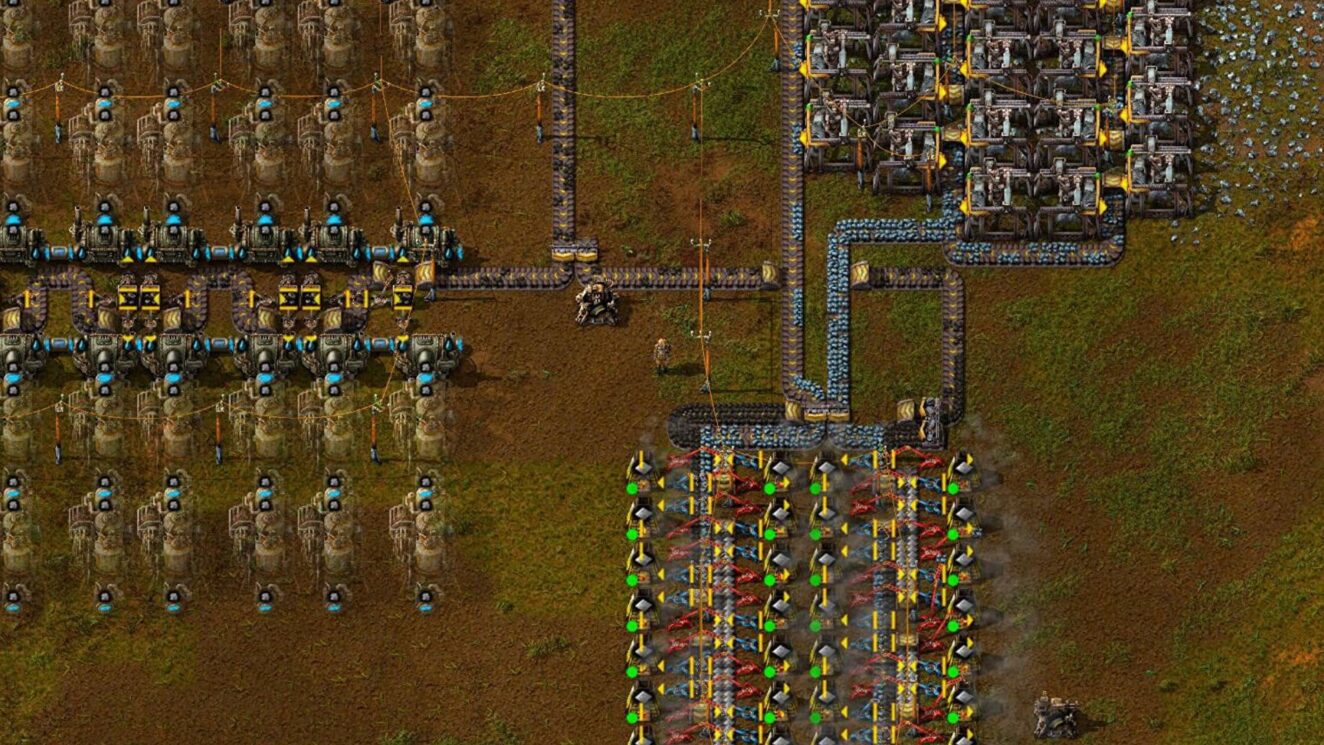 What are the best Factorio mods?
At this point you can imagine There must be thousands of Factorio mods! So Which ones are the best? It is at this point where at HDGamers we will give you a technological quantum leap –Does this phrase exist?-
Next, we will show you which are the best Factorio mods so that you can enjoy a great experience within the game.
Alien Biomes.
Bob's.
Bottleneck.
GDIW.
Mobile Factory.
Rampant.
Solar Walls.
Squeak Through.
What do the best Factorio mods bring?
It is possible that the oxygen begins to lack inside our capsule and we only gave you the names. But Why are they the best? Here we will tell you.
Alien Biomes
By downloading this mod you get the following Alien Biomes:
Snow.
Volcanic.
Crater.
Various colors of Dirt.
Sand.
Grass.
In addition, you will have control of the planet with:
Planet Controls
HotClimates:

By using it you will be able to control the fluctuations of heat in the Temperature scale.

Cold Climates:

You will be able to control the fluctuations of the cold in the Temperature scale.

Moisture:

Through this, humidity fluctuations are controlled:

Low Bias:

It makes the world drier on average, sothere is less grass and more sand. The driest climates are pale sandy with craters and almost no vegetation.

High Bias:

This makes the world wetter, so there's more grass and less sand.

Terrain Type:

This scale affects the terrain type fluctuation scale:

Low Bias:

The average world is more Earth-like and less alien and the predominant colors are:

Blue.
Purple.
Green.
Brown.

High Bias:

It makes the world average more alien, so the predominant colors are:
Bob's mods
By installing this mod you are incorporating a series of mods that work together to expand almost every facet of the game, adding:
New minerals.
Research technology.
Metals and materials.
Power Options.
Weapons.
Defense options.
Mining equipment.
Electronics, etc.
Note: These mods are designed for veteran players to add more complexity to the base game.
Bottleneck
If you like ornamentation, this is your mod, with which you will be able to develop your creative attitudes in the decoration of:
Assembly machines.
Ovens.
Mining drills.
Bomb cats.
Chemical plants with an indicator light, making it easy to identify bottlenecks in your factory:

Green:

Indicates that it is being processed.

Yellow:

Indicates that finished products are being removed.
Warns that there are problems at the output of the product.

Red:

Raw material is being incorporated.
Warns that there are problems entering matter.
Note: Colors can be configured through the settings menu.
Purpose of the mod
Improve the efficiency of your factory.
GDIW
With the installation of this Mod you achieve:
Automatically generate alternate recipes for anything that involves multiple fluids.
Also allows for a tighter build when toggling input options.
Allows you to manually toggle the inlet and outlet of individual pipes on:

Oil refineries.
Chemical plants.
Other liquid-based structures
Helps you establish much stricter chemical production lines.
Mobile Factory
If you want a mod that provides you with many features, I assure you that by installing this one you will not be disappointed as it adds a tank to your inventory which, when implemented, will allow you to:
Enter to open a 30×30 construction net.
You can build on this.
It facilitates the regular supply of certain resources and items at hand since it can be moved around the world and for that purpose they have:

The Base Mobile Factory

Which is a balanced vehicle with a standard speed and a large grid equipped.

The Hovering Mobile Factory

This consists of a slow vehicle that can fly over structures.

The Mobile Factory GT

It is a vehicle with:
A small network of teams.
A small log that can go very fast.

This Mod also adds:

A dedicated graphical user interface.
New(s):

Mineral.
Fluid.
Intermediate.
Machines.
Chemical products.
Articles.
Technicians.
Jets.
Serialization of materials.
Rampant
If you want to be smarter you should install this mod which:
Improve enemy tactics by using:
Pheromones that allow probing:

The defenses.
Withdrawals.
Reinforcements.
Counterattack.
Violation.
Raids.
Gathering Deathcry.
The hunting of the jplayer.

Uses biter lockable non-homing projectiles.
Add new enemies (off by default).
Adds new AI behaviors to hostile alien insects in the game:
Probing your defenses for weak spots.
Performing tactical retreats when stunned by your turrets.
Reinforcing nearby nests you are attacking.
Notes:

The Factorio Biters can be extremely dangerous both for the factory and for you.
Difficulty settings in the mod options menu.
Solar Walls
With the installation of this mod you get another source of energy, in addition:
Walls are crucial in protecting your factory against nasty Biters,
Combines a new take on regular walls that have solar panels on top, helping you save space by running your factory on clean energy.
Squeak Through
Using this mod you achieve:
Reduce object collision detection.
That your character can 'squeak' smaller spaces.
Navigate your factory more easily.
Walking past what used to be obstacles, such as:

Directly adjacent solar panels.
Pipes.
Steam engines.
Mining holes and chests.
Make it easier for Biters to bridge gaps.
Note: The walls will still stop them (and you) so make sure you build them nice and thick.
Final recommendations on Factorio mods
Like any industrialized organization, there are certain caveats and Factorio mods are no exception to this rule.
To begin with, it is extremely important that you know that you can install them manually with the game open. The only difference is that to activate them, you will have to restart the game and continue with the steps that we show you.
Likewise, you should know that each of them will increase the demand for resources on your computer. Therefore, use them wisely if you don't have a powerful enough computer to enjoy them.
On the other hand, if you don't have a Factorio account, you can create one from here. It is also worth mentioning that you will be able to use all the Factorio commands.
As for the Factorio mods, there is not much more we can add. So we will only tell you that you are the last hope of humanity so go out and conquer other worlds.