From the Far East we meet Nioh 2 , an incredible adventure from any perspective. A game that will hardly bore us throughout its challenging missions. But, if we want to give it more novel dyes, we can try the Nioh 2 mods .
With these small mod files, we will have the keys to a whole new world of possibilities. Each and every one of them dedicated to making the most of the experience of playing this great game.
What do I need to use the Nioh 2 mods?
Before you go crazy and start looking for any number of Nioh 2 mods which, if that weren't enough, you can create a huge list with all of them; you must learn some previous steps.
In this sense, we mean that you must have installed a small program called mod enabler . Without it, none of the mods that you want to install will be able to work.
How do I install the Nioh 2 mods?
Once you are completely sure that you have this file installed, you can add all the Nioh 2 mods you want. To be able to enjoy them, you just have to follow these simple steps.
The first thing you should do is install the mod enabler in the game folder.
Next, download the mod that you want to use.
These will generally come in .zip or .rar files. So you will have to unzip the file.
Here you can do two things:
Unzip it in a folder other than the game and then move it to the folder mod located in the main directory of Nioh </ strong>.
On the other hand, you can unzip the file directly in this folder.
To finish, you just have to run the game as administrator and enjoy all the Nioh 2 mods that you installed.
What are the best Nioh 2 mods?
At this point it is wise to remember that this is a game that features a huge variety of mods . A situation that makes it really difficult to decide which ones to use.
Therefore, at HDGamers , we set out to do an extensive search to find which of all the Nioh 2 mods are the top. In this way, we have been able to achieve the creation of this guide that we bring you today.
Adrenaline Mode
What does this mod bring?
Adjust the speed of the player and the enemies separately using the Cheat Engine Table in Nioh.
More intense and challenging melee combat.
Ansel block remover
What does this mod bring?
This mod is an automated tool to remove the Ansel block during menus and scenes.
It will not eliminate the distance from the camera by leaching and colliding with the environment.
It will not allow you to use Ansel on unsupported hardware (such as NVIDIA 600 series older or any AMD GPUs).
Pleated Mini Skirt with Thick Thigh and Bottom Compatibility
What does this mod bring?
Replace the thief's waist guard with a pleated miniskirt.
You get a lot of tight textured panty shot for:

Ubergrainy's Onmyo Hunting Dress mod .
Alpaca21's Unscarfed Shinobi Onmyo Set (Mai and Kasumi Cosplay)
If you want the robe.

Hunting dress
Shinobi Onmyo set without carving.
Kasumi-Mai -ChunLi Cosplay.
Round Glasses.
Lace-up thigh stocking.
Retext Eyes.
Suzuka Miniskirt
What does this mod bring?
With this mod you can replace the thief skirt with a Suzuka miniskirt.
nyotengu sweaty body
What does this mod bring?
Use the present mod to give old nyotengu sweaty body.
custom hut image and wallpaper
What does this mod bring?
This mod brings a template to hang image or parchment and wallpaper of the hermit's hut.
Scampuss Skins
What trae this mod?
By means of this mod you reach different skins for Yokai cats.
Ferrymen Armor Variations noCape
What does this mod bring?
Hereby mod adds / replaces variations to the ferryman or men's armor.
Sickle Skin (Hatchets)
What does this mod bring?
A sickle endpoint for ax users.
More variety of skins.
Replacing the togakushi ninja ax or the heroes' hatch may be requirements.
Handsome Uminyudo
What does this mod bring?
Through this mod you will be able to give the Uminyudo chief (director) a sculpted face.
GAWF Club skins (Ax)
What does this mod bring?
This mod exposes the weapon editions by replacing the PICKAXE with a Golf-Club.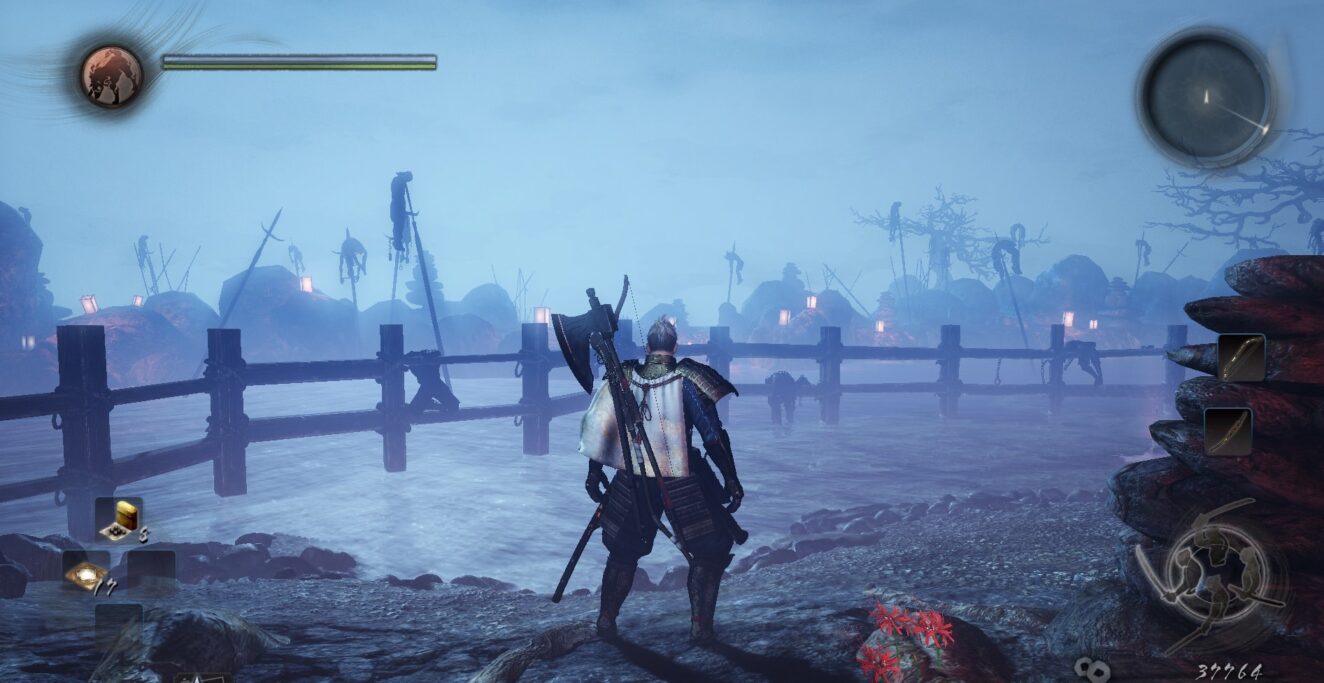 Unscarfed Shinobi Onmyo Set and Kasumi-Mai -ChunLi Cosplay
What does this mod bring?
This is a mod of Cosplay costume like:
Shinobi Onmyo Set
What does this mod bring?
This mod is exclusive to remodel the armor set of:

Shinobi Robe .
Onmyo Hunting Hakama .
Onmyo Hunting Dress (Torso and Legs)
What does this mod bring?
Garb modified to be tighter.
Hakama without pants.
Includes edited textures with 10 color options.
Rok Serigala Ansos_LoneWolf Waistguard Holed Skirt – Character Code.
What does this mod bring?
This mod presents another type of skirt with holes in it that comes with:

3 main options.
4 additional options.
Master Swordsman Robe Recolor
What does this mod bring?
By means of this mod only the thinnest tunic or mesh is edited with some recolors (only female).
ShinobiRobe (female) Remove Fishnet – Scarf – Invisible
What does this mod bring?
With this mod the net and the scarf of the Shinobi tunic are eliminated or made invisible.
Sandal Transmorg Project (Formerly Ferryman's Graves – Remove Shin Guard)
What does this mod bring?
This Mod replaces Ferryman's Greaves with varieties of other sandals without Shin Guard or Socks.
Eyes retext
What does this mod bring?
Three new types of eyes:
Six options:

Ring.
Mystical eyes of perception of death.
Geass.
Sharingan.
Rinnegan.
Rinne-Sharingan.

You can change the eye color as you like:

Ring.
Mystic eyes of death perception.
Lelouch's Geass.
Narutoooo.
Rinnegan.
Rinnegan Sharingan.
Thief's Waistguard Alternative Styles
What does this mod bring?
Eliminate metal plates.
It only has the metal plates.
Remove both the metal plates and the fins, keeping only the panties.
All come with an additional option to remove the leg wrap.
Dirty-looking vanilla textures have been replaced to make it look clean and shiny.
Vanilla textures have been included in case you need them.
The waist wrap was also slipped a bit to make it look less bulky.
Minor clipping problems can occur when wearing large chest armor.
Female Tengu Mini-Skirt no veil
What does this mod bring?
DLSS compatibility.
The long skirt was removed.
The inner lining turned black.
The veil is removed.
Kawanami Clan Vest Without Shell (Female)
What does this mod bring?
Remove the turtle cape from the Kawanami clan vest (female only).
Show the back tattoo to your enemy.
They remove the projectile from the female vest of the Kawanami clan.
Bare Chest (Invisible Kawanami Vest)
What does this mod bring?
Remove the armor mesh from the chest of the vest Kawanami so that you can have a bare chest (ladies retain the chest bindings).
Final recommendations on Nioh 2 mods
Before you start enjoying these incredible Nioh 2 mods , it's worth commenting on a few details. Only then can you get the most out of its incredible benefits.
The first one is that you make sure to constantly save your game to avoid losing your progress. It is also advisable to review the Nioh builds . Most of them are perfectly competitive with these mods .
Finally, it is also a very good idea to make sure that your computer has a little more capacity to run the game. This is because many of the Nioh 2 mods will require an extra from it to function properly. By following these recommendations, we assure you that you will have an incredible game with a high number of hours to enjoy every day.