Today we will present you thirteen options of games like Summertime Saga. If you have finished it and are now looking for similar games, or if you are still playing it and you love it, the following alternatives will surely suit you.
Not all games are exactly like Summertime Saga, however we did a good research and we reviewed all the ones that we think you might like, here a quick top 3 with the ones that are most similar:
Camp Pinewod
Waifu Academy
Taffy Tales
Summertime is a high-quality game for adults, , focused on risky players who love dedicated graphics. In this title you start in a small town, you are a young man affected by the recent death of your father and you are still going to college. You will be focused on solving the mysterious death of your father , only if you can with a distraction: The tempting women.
In the game you can easily establish and develop romantic relationships, meanwhile, you must assume the responsibility of paying a gigantic debt that your father left with the mafia local , all this at the same time that the mystery of death is revealed little by little as the plot advances.
The starting point is to discover that your father was suddenly fired, from then on Summertime transforms into a graphic novel full of characters to interact with and dangerous but daring adventures, let's say naughty.
Best games like Summertime Saga
Milfy City
As the name implies, Milfy is full of quality, not only in her female characters, but in her visuals, the quality of the game is truly impressive. Not exactly the same as Summertime Saga, in the sense that you won't have a complex main story to follow. Rather, everything revolves around building relationships with the super Milfs in town.
What they do have in common is that they both take the university world as their starting point, in Milfy City you start out as a student who rents an apartment near their study center. Everything revolves around college life, relationships, and women. Here's a complete guide to Milfy City.
Melody
This game like Summertime Saga is a visual novel, in it you will have to make decisions in the first person. It is a tremendously visual title, in which you play the role of a musician who arrives in a new city eager to try her luck.
The call to adventure comes one day when you go to the market and a woman hires you to give private lessons to her niece Melody. After the first individual lesson you will realize that Melody is a real bomb, in that period and if everything goes well, you can ask for another type of appointment to start moving forward in your romantic relationship.
Dual Family
Dual Family, as its name suggests, is a life simulator in which your goal will be to find real love at all costs . In the simulation you will have total control over your actions, your decisions and of course over which woman you decide to love.
The game will constantly test you in pre-designed scenarios to push your relationship to the limit and test if you really want to make the right decisions or break the relationship.
With this title you can give yourself the opportunity to test yourself in multiple situations and with multiple female characters as a couple, of course.
A New Family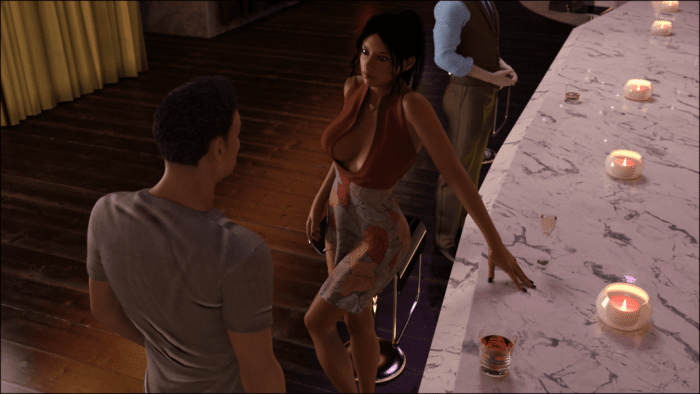 You get a call late at night, it's your ex … Now you have some really compromising information, you could change her life forever. Will you play as the good-natured character or will you decide to use the information to your advantage?
A New Family has a great soundtrack and is a game that really grabs you.
Waifu Academy
Waifu Academy is another title that has a gameplay similar to that of Suemmertime Saga, is a graphic novel rooted in the student world.
You will start out as a young man from private high school, specifically at Sazaki Academy, you swear to expose the cruel truth behind your father's death. The path of revenge will be full of dangers, the secrets that you are discovering are becoming more and more disturbing … To the point that you get to doubt whether you should go ahead.
The best thing about this game are its 3D graphics and its vast universe of characters with whom you can interact during your investigation. If you liked Summertime you will love this title.
Camp Pinewood
This game is not a visual novel, you will certainly miss the multiple answer options and the deep and long dialogues.
Camp Pinewood is actually a dating simulator quite entertaining, the premise is as follows: You go on a trip to a student camp, once you get to the remote location you notice a small detail Summer camp was for women only!
Your goal will be to find out what happened, while you hook up with your new partners.
The art of this game is animated in style, quite similar to Summertime.
Mythic Manor
This is a true visual novel with graphics reminiscent of Japanese manga. The title is completely free, in it you will find yourself sharing a mansion with five girls of mythical beauty.
As you can imagine, your goal is to make friends with your beautiful roommates, get to know them and decide which one or more is worth hanging out with. You will not be limited to the mansion, you can go out into the city and interact with the characters in it.
Mythic Manor has a vast universe of more than 250 different scenarios, of the free games it is one of the most promising.
Taffy Tales
The classic visual novel, in it you will be in a small town called Taffy. It has the mechanics of a dating simulator, with hundreds of missions waiting to be completed. Everything seems traditional in this game, until you realize that Taffy is populated solely by citizens with personality disorder, all with a double life and a fearsome dark side.
Dare to discover the dark past and present in this dating simulator with a really mysterious and exciting twist. Discover the Taffy Tales codes .
Man of the House: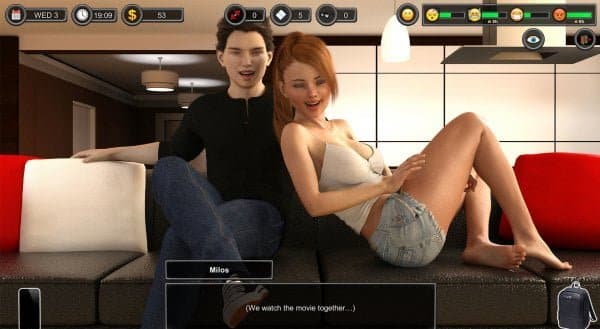 In this game you live with three young and beautiful women in an apartment. Your role is that of a young adult who has freedom of movement throughout the city, you can choose which girl you want to charm, without having to Limit yourself to just your three horny roommates.
The images of Man of the House are of the highest quality, you will also be able to find objects and trigger different types of adventures depending on the decisions you make. Perfect Man of the House guide.
Harem Hotel
After you buy a hotel, you discover that 8 women live there with completely different personalities and abilities. Your main objective will be to grow and level up your hotel, of course without forgetting to make friends with women, you will be able to level them up and complete their personal stories.
In Harem you will spend hours and hours playing thanks to its immense number of modalities and events.
The Awakening
You wake up after an accident with your memory apparently completely lost and after a coma that made you waste a couple of years of life. You have no idea who you are and you will have to find out through adventures, many of them lustful.
We cannot give you more information about the game without revealing how important the plot is to you, we only invite you and we recommend you play it if you liked Summertime Saga.
House Party
House Party, one of the most recommended games to download if you have already finished Summertime Saga and now you want something different.
This title is a social gathering simulator with pretty decent graphics. You are a really lucky player, you were invited to a crazy party at a house. Your goal will be to meet beautiful women while completing missions and the party gets more and more out of control. The missions are getting more and more insane. Find out how install mods in House Party
Before you finish, remember to visit some of our most read articles:
We hope you have enjoyed this post and that you found the information you were looking for. If you think that we should update any information about Games Like Summertime Saga or that we have made a mistake, do not hesitate to write to us!