If we talk about games like Rimworld , there are several alternatives that offer an experience similar to that of this famous space colony management simulator. This type of games like Rimworld is not exactly new, and they have their origin in quite famous old games. This is not why it is about copies or imitations.
Although it may not seem like it, about seven years have passed since its launch, so it is natural to evaluate what other similar games we have available. Here we offer you a complete list of games similar to Rimworld that will bring you hours of equally entertaining strategy.
Dwarf Fortress Steam
Developed by Bay 12 Games, and available soon via Steam, Dwarf Fortress laid the groundwork for many games of the genre, so it is part of the oldest games like Rimworld.
Its new version will include several new features, but will maintain characteristics of its retro style, including Fortress mode and Adventure mode.
Among the most substantial novelties, we will have renewed graphics, official skin packs, premium functions and official integration to the Steam Workshop . However, it will retain its traditional gameplay, so classic gamers will not be lost.
Unfortunately, it is still unknown when this game will be released. In the meantime, we can continue to enjoy its classic version or a game from the rest of the list.
Judgment: Apocalypse Survival Simulation
If you like strategy, base building, and obviously games like Rimworld, Judgment won't disappoint. Developed by Suncrash and available through Steam , this game will require us to keep alive a colony that try to overcome the apocalypse.
You start with 3 survivors of the outbreak of Hell, who now must build a shelter to keep them safe until the conflict is resolved. To do this, they must complete certain missions, and assault the ruins of the world in search of supplies.
You will also tackle tactical combat in real time, controlling the campers, covering yourself and attacking your opponents.
Therefore, you will have to keep a low profile. You will help yourself with a visibility meter, investigating stealth techniques, camouflage and executing certain rituals that will give a natural progress to the game.
But be careful: if you move very nimbly, you could attract demonic forces. And if you go very slowly, you could end up defenseless against these threats. Hard? At first. Entertaining? Very much.
Oxygen Not Included
Certainly this is the best known name on the list. In fact, Oxygen Not Included is one of the most popular Rimworld-like games today.
Available at Steam , and developed by Klei Enternainment, this space colony survival simulator > Assigns us three fickle and curious colonizers isolated in the breathable zone of an asteroid.
You must take care of their physical and mental state, taking care of rises and falls in temperature, water quality and high levels of pollution, and taking care of every detail so that your little friends survive .
At first it will seem complex, but gradually you will understand its mechanics. If you need an air change, Oxygen Not Included will be your ideal option.
First Feudal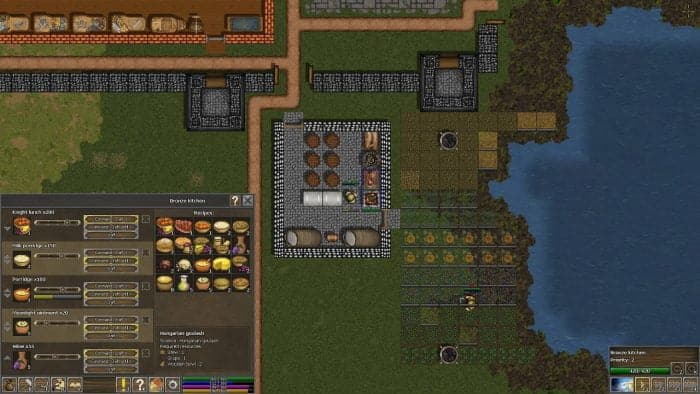 Steam features it among the Rimworld-like games on its platform, and it's available in early access mode. Designed by Holistic Games, this game shares similarities with Rimworld, but not in an identical format, starting with the abandonment of the omniscient vigilante figure.
First Feudal is a village building RPG, where you control a character and participate in the construction of the town. You will gather resources and build various buildings to keep your village happy. You will be able to control its inhabitants, offer them tasks and cover their needs for sleep and food.
Although the concept is interesting, the game is still in development, so its artificial intelligence leaves something to be desired. However, we are confident that improvements will come with future updates.
King Under The Mountain
Another of the games similar to Rimworld is King Under the Mountain, from the company Rocket Jump Technology. For now, its interface maintains a simple and direct style, reminding us a bit of Prison Architect. We have high hopes for this game, so we will keep up to date of their advances.
Currently, it is in the development phase, and will soon be available, thanks to the help received through the Kickstarter platform, from where you can also try your prototype. Although is not ready yet, you can already reserve it through Backerkit.
Although similar to Rimworld, King Under the Mountain focuses on a fantasy world, where you can embody a group of dwarves, orcs or humans, each with their own play styles and requirements of their kind .
Civitatem
Civitatem is a LW Games game with Early Access via Steam. This is unique in certain aspects, and it is that it provides you with a real avatar within the world (as in First Feudal), but still maintaining your omniscient participation (as in Rimworld.)
Although it maintains an aesthetic and art that places it among games like Rimworld, Civitatem c onserves an air similar to Banished , the city-building strategy game.
Their seasons make the difference between surviving or not, since the crops do not grow during the winter, and their birds migrate, so you will have to make your preparations from spring to survive during the inert period. An option worth trying if you are a fan of Rimworld.
Before you finish, remember to visit some of our most read articles:
We hope you have enjoyed this post and that you found the information you were looking for. If you think that we should update any information about Games Like Rimworld or that we have made a mistake, do not hesitate to write to us!