To refresh your memory, the scenario takes place in the waters of an alien planet where your ship crashes, and you must explore the planet and repair the ship while trying to survive. The following are our recommendations regarding games like Subnautica that you cannot miss if you are a fan of the genre.
In a market where competition grows every day, Subnautica is proof of how successful an open-world survival adventure game can be if developed correctly.
Subnautica: Below Zero
Technically, it would not be nice to place an expansion in a list of games similar to Subnautica, but there are exceptions. Subnautica: Below Zero was supposed to be out at the end of October 2019, but it is still being kept at Early Access .
This sequel takes place a few years after the events of the first game, in the inert Arctic climate. You start out on a scientific research base, when suddenly everything starts to go wrong. You will have to collect resources, build adequate spaces to live and continue with the investigations. As you will understand, this expansion is a must.
No Man's Sky
We know that No Man's Sky is currently among the most misleading Subnautica-like games in terms of advertising. The trailer promised graphic elements and vibrant worlds that ended up being boring and vast settings. Even so, it shares numerous similarities with Subnautica, taking you through different unique worlds where you will meet abundant space creatures.
If you played it in 2014 and abandoned it, we recommend you take it back, as it has managed to position itself as one of the best games similar to Subnautica.
Space Engineers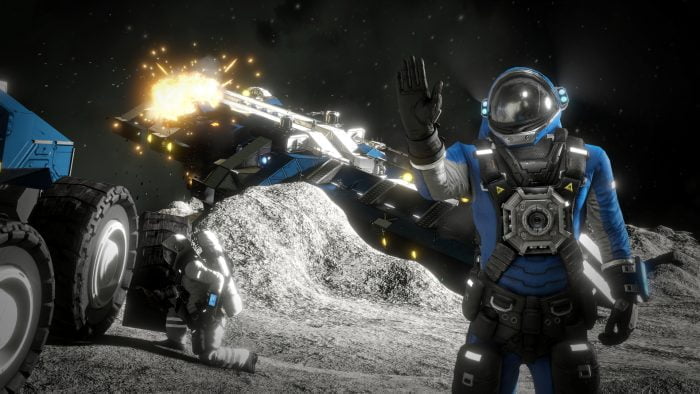 Released in 2020, this game departs a bit from the Subnautica style, as it changes the aquatic world for the emptiness of space. The single player experience is great, but the fun increases when you play with others.
In addition, he focuses more on exploration than survival. You will be a space engineer who collects resources, builds ships and different buildings, using concepts such as mass, force and inertia.
If you enjoy open world sandbox space games, this will be one of your favorite Subnautica-like games.
Minecraft
Minecraft is a game that, at this point, doesn't need much introduction. Although he has undergone a series of substantial changes since his departure, the dynamics remain the same. Minecraft is a procedurally generated, virtually infinite open world survival adventure game.
The basic purpose of the game is to survive and get ahead in this immense world full of varied creatures and landscapes. If you have not tried it, we warn you that it is a vice.
The Forest
This is a somewhat different game from others on this list, as it leans more towards the survival genre than exploration. As the sole survivor of a plane crash, you will find yourself lost in a seemingly uninhabited area, but unfortunately this is not the case.
The inhabitants of this forest are mutant cannibals, so you will have to find a way to resist their attacks by building bases and collecting supplies to survive. Battles are frequent, so On many occasions, you will find yourself fighting inopportune enemy attacks at night.
The Long Dark
Compared to other games like Subnautica, The Long Dark has a slightly darker aesthetic and tone . In this video game, you will explore the frozen, inert wastelands of northern Canada, where trouble is wherever you go.
In this opportunity, you will be a pilot whose plane crashes during a global disaster, and you will have to face the harshness of nature in order to survive. Therefore, you must monitor your temperature, find food, weapons and tools to build and defend yourself against wild animals.
Its release is episodic, so only two have been released so far, but more are expected in the future.
Satisfactory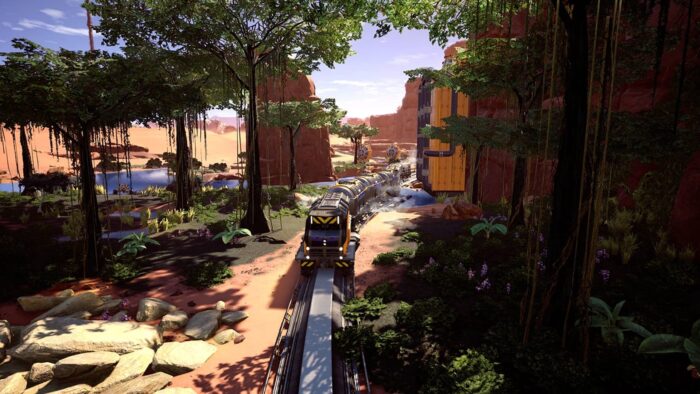 This is one of the highly entertaining and unique first person open world factory building games. As a newcomer to an alien planet, your duty will be to study new technologies, survive enemy attacks, and start the largest empire of automated production ever seen.
As a multiplayer, it will allow you to build all kinds of instruments with your friends. Beyond its incredible graphics, the survival theme could improve.
However, it is a fairly well made game and one that you should consider if you are lovers of games like Subnautica.
Astroneer
This open world game for Windows and Xbox One started its early access for Steam in 2016, and few had faith that it was ever finished. Its graphic section is really colorful and detailed, an aspect that it shares with other games similar to Subnautica, although its theme covers exploration of space and planets.
Its story is much simpler than other multiplayer games of the genre, and it has some bugs, but if you are a lover of open world survival, you will love this title.
Abzu
With vibrant and enchanting visuals, in Abzu you'll have to put on your diving suit and dive into the depths of the ocean to discover its fascinating mysteries.
Enter the list of games like Subnautica precisely for this reason, and that is because this ocean adventure will guarantee you hours of fun while you complete missions and interact with marine creatures that you may never have seen.
You will also enjoy the music and the atmosphere, so this title is highly recommended.
The Solus Project
Although the alien experience is taken as the thematic foundation of the game, the survival section of The Solus Project is somewhat lazy, as resources are plentiful, and it focuses more on the horror and scares that enemies will give you along the way.
It all starts when, as an explorer, you crash your ship, in an attempt to secure a colonizable planet for a fleet of human survivors near Pluto. Being the only survivor, you will have to solve a series of mysteries typical of your adventure.
Before you finish, remember to visit some of our most read articles:
We hope you have enjoyed this post and that you found the information you were looking for. If you think that we should update any information about Games Like Subnautica or that we have made a mistake, do not hesitate to write to us!