Right now, it's very hard to deny how extraordinary games based on Dmitry Glukhovsky's novels are. This time, HDGamers brings you the answer to Metro Exodus levels of difficulty . So you can gradually get used to the third installment of the Metro saga.
What do I need to know?
Before I tell you everything about the Metro difficulty levels, there are certain aspects that you should know.
First of all we tell you that in Metro Exodus, the creators have prepared up to 5 levels of difficulty. Which will greatly change the perception of the game and adjust the level of challenges for the player. In short, they will offer you a greater challenge as your level increases.
Therefore, the idea of ??modifying the difficulty levels to gradually get used to the demands of the game is quite useful.
In this sense, these are the Metro Exodus levels of difficulty that the game has.
Difficulty levels
Reader Difficulty Level.
Easy Difficulty Level.
Normal Difficulty Level.
Difficult Difficulty Level.
Stalker – Hard Difficulty Level

Next, we will give you a quick explanation of what you can do more easily in each of them.
Reader Difficulty Level
It is the lowest difficulty level you will encounter in the game.
Here you will find a fairly simple combat system in addition to having a drop, or probability of finding items, considerably high.
That is why it is considered the ideal solution for people who want to learn quickly and, above all, without pain, all the stories of Artyom and his colleagues.
In conclusion, a level of difficulty more than ideal to take the first steps in Metro Exodus.
Easy Difficulty Level
Continuing with the levels of difficulty, it is time to talk about the easy level. Highly recommended for people who want to enjoy the game more than stress about it. But, at the same time, they don't settle for the easiest thing in the world and want a challenge a little higher than the Reader level.
It is a level that represents a little traumatic challenge. But it doesn't mean that it's as simple as shooting into the air and taking down a thousand enemies. However, it does give you all the ability to enjoy the game to the end. Another good option to learn little by little about Metro Exodus.
Normal Difficulty Level
If you already entered the world of Metro Exodus as a complete novice and were exterminated at the first change. It is because you ran into a somewhat high level of demand.
It is precisely at the normal level that the game is configured by default. But at the same time, it is a level of difficulty that will offer you great challenges and boundless excitement.
However, having a low drop you will need to have reasonable inventory management and careful combat management.
Most recommendable, in case you are a novice or you are not so familiar with the game yet, don't start here.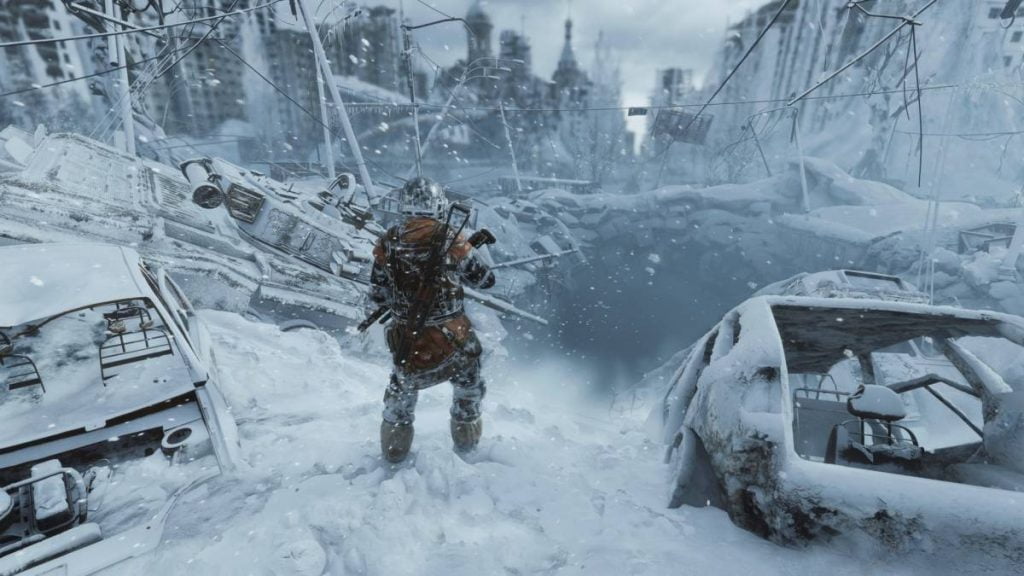 Difficult Difficulty Level
If the previous level seemed demanding, you can't imagine the next one. The difficulty level difficult represents, on its own, a great challenge that will seriously test your skills.
The most remarkable thing that you will find here is with a series of considerably strong enemies that will cause you a lot of damage. In addition to a big headache and possible trauma if you are not prepared enough.
On the other hand, ammunition and other resources are very scarce, as a result of having a low drop. So it pays to be very careful in any combat situation.
Stalker – Hard Difficulty Level
Now we present to you the Stalker level, it is the highest of all the difficulty levels in Metro Exodus . In short, it is a configuration only for the most experienced players.
At this level you will encounter difficulties such as deactivating the sight, limiting the HUD, reducing ammunition to a minimum and increasing the difficulty of combat and the vigilance of enemies.
Also, weapons wear out very quickly and workshops are hard to find.
But, the biggest challenge when playing Ranger Hardcore in Metro Exodus are the enemies that are now much stronger and smarter. Where you will frequently find yourself being attacked a lot of them. To make matters worse, you will feel the first blow long before you can detect them.
In short, you will experience a true hell of bullets, death and destruction in this difficulty.
That is why we recommend you to play Ranger Hardcore, after having tried all the Metro Exodus levels of difficulty so that you can get an idea of how to move and at the end of the day , survive the challenge of one of the best games you can find.