Within the universe of video games there are certain titles that we could call "classics". One of them is Final Fantasy and that, although it is one of games most popular in recent years. It has always been lacking in some respects. For this reason, at HDGamers we bring you the best FFXIV best Mods to maximize your experience.
Are Mods necessary?
For those who have had the opportunity to enjoy the FFXIV , they will know that it is a game that has an amazing history. However, in the graphic section if it has much to improve.
That is why, over time, various Mods have been developed that allow it to be compared, graphically, with much more striking games in this regard.
Therefore, at HDGamers we set out to bring you the best Mods of FFXIV to maximize your experience in this incredible game.
ReShade
The first of all the FFXIV best Mods that we are going to highlight is the ReShade. Remembering previously commented. This mod takes care of the fact that the graphics of Final Fantasy XIV may not turn out to be anything outstanding. A difference that becomes more noticeable when compared to images from other more recent games.
In short, we can say that the image quality of the FFXIV tends to be around the world of the dead. So if you play the original title it tends to be a bit of a disappointment. It is precisely this problem that ReShade addresses.
In this sense, we can say that it is a mod that once installed, will greatly improve the graphic section of the game. Basically what it does is reailize an overlay while adjusting the color settings. Thus giving a more pleasant visual sensation for users.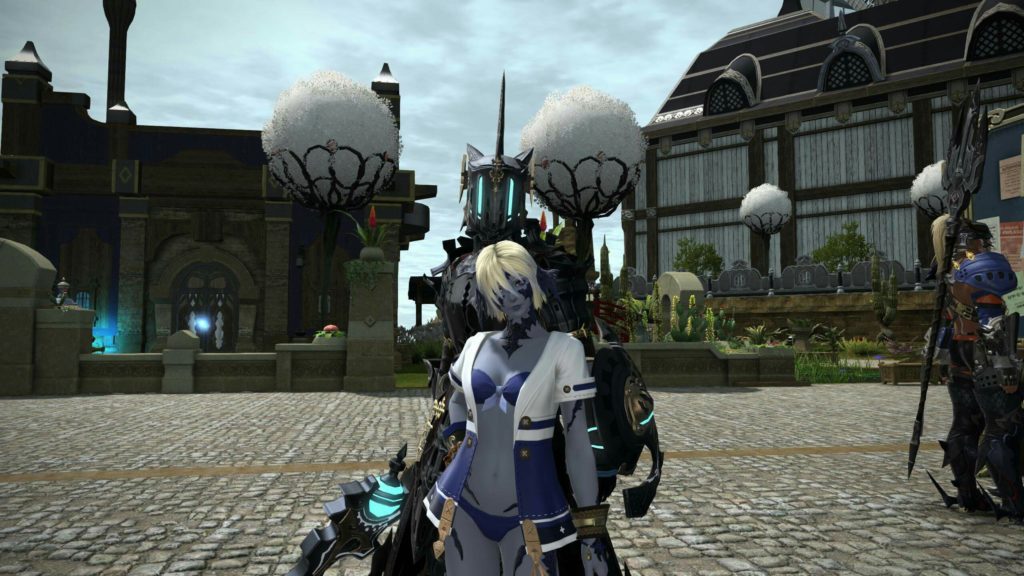 Owl's Eyes of Eorzea
Next on our list of FFXIV Best Mods is Owl's Eyes of Eorzea. A very particular mod that will allow you to explore the deep emptiness that the characters' eyes express.
As poetic as it may sound, that's exactly what this mod does to you. Like ReShade, it will improve the quality of the image regarding the eyes. In other words, it will improve.
A task accomplished by the simple fact that it is a mod that corrects and optimizes the texture files for each character's eyes. Regardless of your race or even gender. It goes without saying that it is highly recommended.
Lewd Housing NPCS
Continuing with our list of FFXIV best Mods. We stumbled upon a mod that, as a general advice, is wasted.
The name itself suggests that it is a FFXIV nude mod. And yes, we could say that this is it. The basic function of the Lewd Housing NPCs mod is to alter, or change, the original Valentoins apron dress so that you can see through it.
It is not exactly a mod that strips the character, but it does reveal a lot. We truly recommend this mod for every final Fantasy XIV player. It is definitely more than necessary.
Hair Defined
In our mission to improve the appearance of the FFXIV characters and environments, we have found, so far, mods that improve the quality of images in general and, subsequently, one that provides a degree more realistic in the eyes of the characters that make life in the game.
Now let's talk a bit about another peculiar mod that, like the previous ones, improves a specific graphic aspect of the characters such as hair. In this sense, Hair Defined offers us better graphics and the solution to the multiple problems of pixelated characters.
In summary accounts, it is a mod that will make a complete exploration and will improve all types of hair of our characters, even the beards and eyebrows. Without a doubt, a mod that you must have.
HD EyeWorks V3
The next of the mods on our list is one that, from our perspective, is crucial that they have installed. This is the HD EyeWorks .
It is a mod that will not only improve the texture of the characters, it will also optimize the sharpness of the images. That is to say, a mod that can unite and enhance all that we have previously tried. Undoubtedly, a mod that you will need from the moment you think of buying the FFXIV.
Beautiful Eorzeans
Continuing with the idea of ??the FFXIV best Mods with which we can beautify our game. It's time to make Final Fantasy XIV characters look more attractive, beautiful, and pleasing to the eye.
The story of this cute mod could start like this. One day, a friendly developer came up with a humble mod called Eorzeans. He did it all to replace the original facial textures of the FFXIV characters with new and more detailed ones. "
With which all users will be very grateful for offering us the purest beauty that the FFXIV can bring us. More so when this wonderful mod also provides practical features that will surely be a substitute for every face paint. Without a doubt, a very good initiative.
Coronal Summer Halter Topless
In case the Lewd Housing NPCS is not enough for you, don't worry. The next in the list of FFXIV best Mods will give you all access to the natural outfit of the characters you want so much.
If we are going to talk about the Coronal Summer Halter Topless, we have to start by saying that it is a mod that changes the " coronal summer halter model ". With this variation, what you will do is remove the bikini top for each female character in the game.
Casual Wear Strife Vest
This is our latest recommendation of FFXIV Best Mods which, unlike the previous one, may not have much acceptance by fans of nudes. But it is still a mod that has no waste.
The casual wear strife vest will give you the chance to wear one of the best FFXIV garments. This mod was specifically designed to eliminate garbage or clutter on various fighting vests of characters. As a result, a much more comfortable and striking outfit.
It is also important to note that the casual resistance vest comes in two versions. The first one is a hip vest, quite stylish but nothing flashy for gameplay.
However, the second version is a Spanish vest without a cover da. The latter is ideal for gamers who don't need a cut debuff.
You have to know that there are other mods. But at the discretion of HDGamers, these are the best FFXIV Mods with which you will have the best experience with final fantasy XIV. Now you only have to enjoy an extraordinary classic.