Do you have problems with gravity? You fought with Newton's laws and now your phone is broken? If you are wondering how can I recover data from an Android without usb debugging. You came to the right place. Find all the answers in this article.
We will teach you the three most efficient methods so that you can have all your precious data back without major inconvenience.
The first two methods use backups, the first helping you with Google drive, and the second using an external backup such as an SD memory.
What if I don't have a backup?
Don't worry, for that we created the third method, which is infallible and works whether or not you have a backup of all your information. For this you will have to download a program, we will leave you the link, everything is 100% safe, legal and reliable.
How to recover data from Android with Google drive
With the help of Google drive it will be very easy to restore the deleted data from your Android phone.
In drive the storage space works up to 15 gigabytes, in them you can store your most important data.
If you are lucky enough to have everything backed up in drive you just need to follow the following steps in order:
Go to the settings menu of your Android.
Choose the Backup and reset tab.
Once inside, look for the option "Back up my data"
Then a list with options will be displayed, just make sure that your Gmail account is synchronized and that the "Automatic Restore" or "automatic restoration" option is on, as you see in the following image:

How to recover data from Android with an SD card
If you are proactive and you had all your files backed up to an SD card, you can easily recover them with these steps.
Insert the SD memory into the slot.
Open the folder inside memory.
Select all the files you want to restore, simply copy and paste them into the internal memory of your Android.
Make sure you have enough free space on your internal memory, otherwise the operation will fail.
How to recover data from Android if you don't have a backup
This is a solution for when all other methods fail. You have the advantage that is almost completely automatic.
You can recover the data of your S8, S7, S6, Galaxy Note, or any other recent model that has Android, regardless of the brand.
Steps to recover data from your Android without backup
Download doctor Dr.fone from this link.
Connect your phone to your computer.
Select "Data Recovery".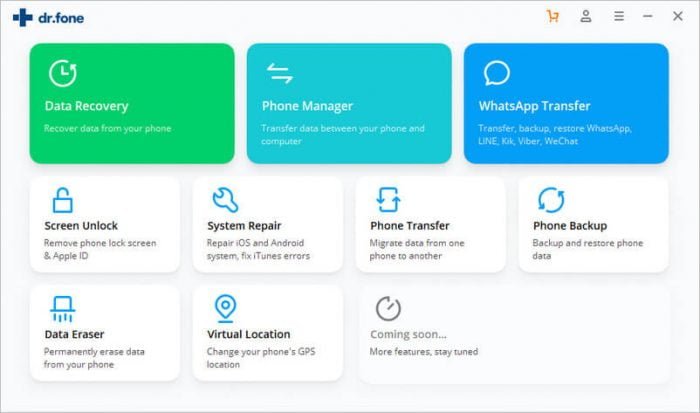 Follow the instructions of the program.
Then all you need to do is follow the program's instructions to the letter, it will give you several options to choose from depending on your case, but the whole process is quite automatic.
We liked this application precisely because it gives us options to choose from depending on the case that comes our way. For example, it is not the same to recover data from a cell phone with a damaged screen, than to recover data from a phone that even turns on, or was accidentally wet.
If your phone works but, for example, your screen does not, this app will allow you to select this option and it will recover your data much faster.
The advantage of using Dr.fone is that it is a safe app to download and use , in HD gamers we will never recommend a program that we will not try first. We also have a discount on the application for you for being a reader Hablamos de Gamers.
Unlike other recovery apps, this one is very friendly and easy to use.
In conclusion, if you were wondering How can I recover data from an Android without usb debugging. The answer is simple: It depends, if you have a backup your best ally will be Google, otherwise you will need to download Dr.fone.
---
More about tech.