The Iron Age will always be considered one of the most important sources of inspiration in the gaming industry. And how not to be attracted to those great stories of knights, crusades and, of course, dragons. It is in this incredible world where role-playing games as striking as Dragon Age Origins appear and today we bring you all their commands.
We can only anticipate that they are a series of tricks that will transform you into one of the most tenacious explorers in the arcade. That is why we recommend that you save and use wisely all the Dragon Age Origins Console Commands that we will present below.
What is Dragon Age Origins?
It should be noted that we will not be able to understand the secrets that the Dragon Age Origins Console Commands keep for us without first knowing the essence of the game. To do this, we have the opportunity to easily summarize it by considering some important aspects of it.
In this sense, we can say that Dragon Age Origins is a game framed within what the role-playing genre is about, setting in a representative world of the Middle Ages with fantasy characteristics. So, when talking about a title of this genre we have to remember that his idea is to create a character with whom we will go through all the missions and live an adventure in this mysterious world.
However, the most striking thing about this game lies in its name. And as we can intuit when reading or listening to Dragon Age Origins, we will be surrounded by dragons in every step we take. An incredible element that enriches a story worth telling and enjoyed to the fullest by players around the world.
What are Dragon Age Origins Console Commands?
Now that we know some of the features that make Dragon Age Origins a more than interesting alternative for any player. It is time to understand that the level of difficulty of the missions will increase as you progress through the story.
Therefore, the time will come when you will feel that your character will not be able to pass the level or that there will be a rival so difficult to defeat that you will think it is impossible. In addition, there is the possibility that you are in a campaign where resources are scarce or simply and you simply want to modify your character or some other graphic section of the game.
For all this and much more is that, over time, various traps were created in the form of codes that today we know as the Dragon Age Origins Console Commands and that, in short, they will give us the chance to satisfy all our tastes in the ideas that we previously exposed and much more.
In other words, Dragon Age Origins Console Commands are nothing more than a series of orders that we will give to the video game to obtain some benefit that we would not otherwise have or would be very difficult to obtain. The truth is that on many occasions they become practically your only option to achieve a goal in the game. That is why they are so important and HDGamers brings them to you today.
How do I activate the Dragon Age Origins Console Commands?
After knowing the fundamentals of the game as well as the concept and importance of Dragon Age Origins commands. We have reached the point where we will enter fully into the world of these incredible tricks that will save our lives on more than one occasion.
Therefore, the most important thing to start executing these incredible and varied Dragon Age Origins Console Commands is to be able to open the game console where we will start writing each and every one of them. For this you just have to follow the following steps since it is a somewhat long process but really very simple.
First you have to create a shortcut to your desktop for "daorigins.exe" (Dragon Age / bin_ship / daorigins.exe).
Then you have to go to the properties of the shortcut, and in Target add -enabledeveloperconsole (after..daorigins.exe ").
If you downloaded it from Steam platform, these steps can be summarized by clicking Right-click on the game in your list, selecting Properties, and clicking Set Launch Options. This allows you to enter the command line option.
Now you have to go to your documents and look for the keybindings.ini file located in "My documents BioWare Dragon Age Configuration ".
Once inside it, look for the command line OpenConsole_0 = Keyboard :: Button_X. Change the X to any other key.
Save the file and run the game from theshortcut you created in the first step.
At the end of all this procedure you will have enabled the keyboard with the key of your choice to activate the game console. Once inside it, you will have to start typing each of the Dragon Age Origins Console Commands that you want to use and hit Enter.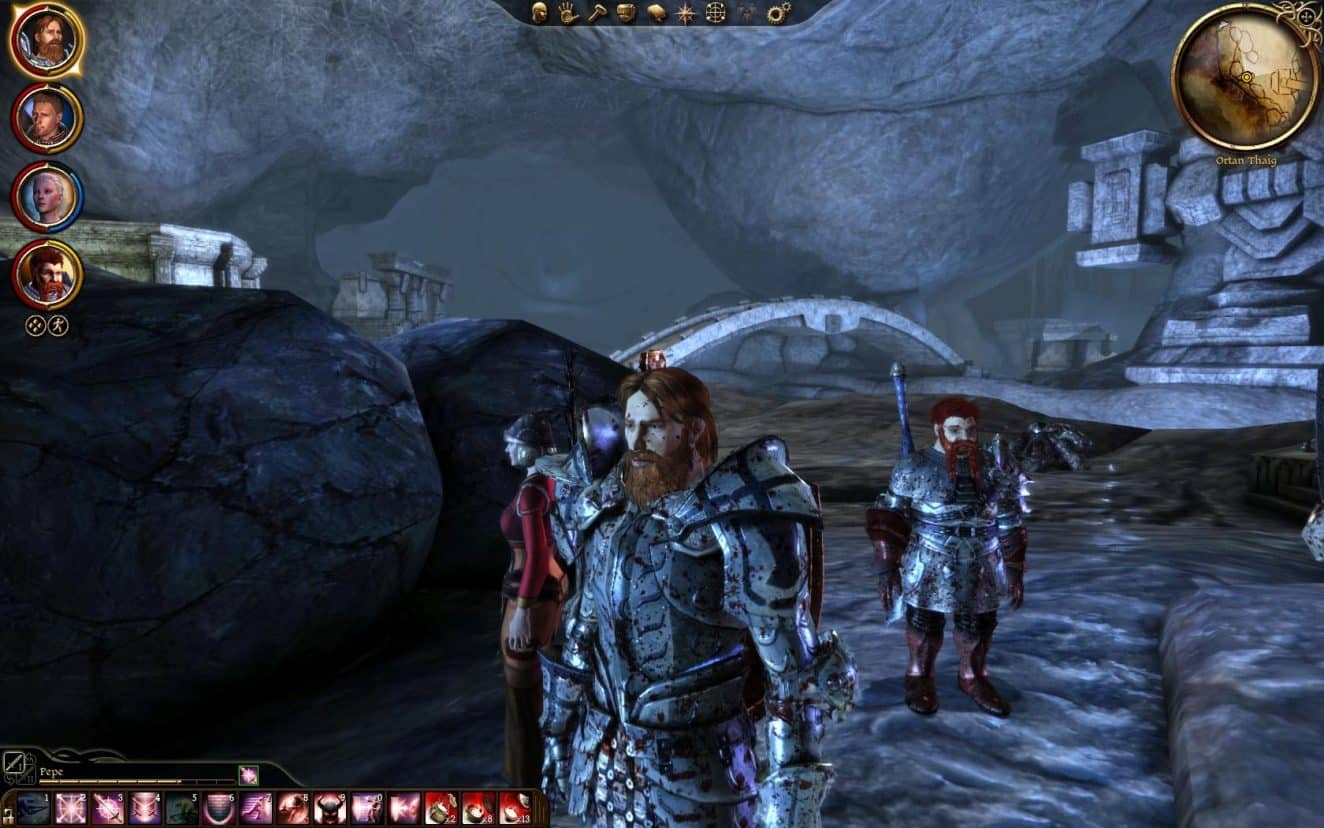 The Dragon Age Origins Console Commands
With all that we have discussed so far, we could consider ourselves as experts in the art of executing Dragon Age Origins Console Commands. However, we are missing the most important part that are the guests of honor in this conversation.
Therefore, from this moment on we will begin to show you each and every one of the tricks that will make your trip through Dragon Age Origins a unique experience that you will want to repeat over and over again.
runscript zz_addparty NPCname
Develop group members by name.
runscript zz_addapproval X Y
Added to the approval level to a partner (*), where X is the name while Y is the amount (can be negative).
runscript zz_add_skills3
Increase 3 skill points. You can see them after saving and reloading the game.
runscript cheater
Add all the achievements to your player profile.
runscript zz_starmetal_sword
Add Starfang 1H and 2H swords to player items at the same time (must have vigilante DLC).
runscript e3_addparty
With this command we join Jory and Daveth to the party.
runscript zz_party_addgifts
Enabling this code appends the following gifts from the story to inventory:
Anti-virus leather boots.
Dalish gloves.
Amulet of Alistair's mother.
Duncan's Shield.
Andrast's grace period.
Linda g.
runscript zz_party_addgifts
Increase your inventory with gifts from plot-sensitive party members.
runscript addtalent (number)
Add the talent or spell corresponding to the character's number.
runscript zz_set_trap
Increase traps to inventory.
runscript zz_addparty X
Allows players to expand the group, the X is the name of the character to add.
runscript zz_camp_debug
He approves of setting up plot flags and starting an ambush at the camp, as well as teleporting you to the first camp you establish.
Runscript zz_upgrade
Use it to display the enchantment menu.
runscript zz_deathblow
Based on the currently equipped weapon, have your character animate completed attacks at random.
runscript zz_givearmor
If you want to add all of the Dragonbone Legion armor to your PC inventory, you need to redeem it.
runscript zz_createrunes
Activating it adds one of each existing rune type and the Oathkeeper sword from the PC inventory.
runscript zz_getparty
Use it to gather all the direct members of the group.
runscript zz_supercrit player
This is the command with which 1000 mana, 1000 health, 50 strength and 50 dexterity are obtained for the player.
runscript dbg_setattrib (attrib) (value)
This instruction increases the time by 180 seconds. Considering that (attrib) is a number that goes from 1 to 6 (1 is str, 2 dex, etc.) and the (value) is the number of b that you want to apply.
runscript pc_immortal
God mode. (You will still be injured, but you will not die.)
runscript zz_cli_debug
Take you to the climax of Redcliffe Castle (use at your own risk).
runscript killallhostiles
Kill all hostile creatures in the area.
Runscript Healplayer
Heal both the player and the party.
runscript bowlingforferelden
A shield is created around the player.
runscript zz_char_creation
Remove any ghost images of the map on the map screen.
runscript chargen
Exclude all harm to yourself.
runscript selectparty
Select the group.
runscript ai abilities 0
Perceived enemies cannot use special abilities.
runscript injury remparty
Party selection screen also heals group injuries
runscript injury remall
Original screen also heals only personal injuries
runscript zz_reveal_map
Eliminate the fog, repel enemies and form a shield around you.
runscript zz_dropparty
Open the role creator screen.
Note: This will overwrite your game and you will lose all progress.
runscript removetalent xxx
Kill all the ferocious creatures in the area.
runscript levelparty
Reset party level, stats, etc.
Add multiple items to inventory.
Remove and destroy all equipped items (unequipped items may still be covered b.
runscript zz_dlc_debug
with this code start some test scripts that allow some modifications in the state and transmission of the drawing.
runscript zz_arl_debug
Activating it starts the script "Arl Eamon Debug Assistant", which allows you to modify the state of the drawing and the transfer.
runscript chargen 0
This command opens the character generation interface.
runscript chargen
This code enables the character update interface 1.
runscript zz_cir_debug
Enabling it starts the "Magi Debug Assistant" script circle, which allows you to modify the status of the drawing and the transfer.
runscript zz_den_debug
This command enables the Denerim debug wizard script, which allows you to modify the frame state and transfer it to Denerim and Landsmeet.
runscript zz_epi_debug
Prepare the debugging of the epilogue and allow the state of the plot to change and the epilogue begins immediately.
runscript zz_lot_debug
This code accesses the Lothering Debug Helper script, which allows you to modify the status of the drawing and transfer.
runscript zz_ntb_debug
The nature of the script to start the Beast Debug Helper, which allows you to modify the state of the drawing and transfer it.
runscript zz_orz_debug
Paragón launches its Kind Debug Helper script, which allows modifying the state and transmission of the drawing.
runscript zz_pre_debug
With this code I link the Prelude Debug Helper script, which allows you to modify the state of the drawing and transfer.
runscript zz_ran_debug
Activates the Random Encounters Debug Helper script, which allows you to modify the state of the drawing and transfer
runscript zz_urn_debug
Launch Holy Ashtray, you can modify the state of the plot and teleport.
runscript zz_wmp_debug
This command heads the World Map Debug Helper script, which allows you to change the state of the main diagram and complete any main task immediately.
runscript zz_talk_nearest
Activate it if you wish to talk to the nearest NPC.
runscript zz_eurodemo_end
Using this command you teleport the players and you can join the Dalhi Camp.
runscript zz_pre_strategy
Spawns Ostanga Duncan's Player Teleportation and Fire Party.
runscript zz_pre_demo2
Enable it to Teleport players and groups to Ostaga.
runscript zz_jump_around
If you activate it, it teleports you to a random location on the current map.
runscript zz_jump_around
Enable it to teleport and set a teleport point on the current map.
runscript ai off
Redeem it to disable AI.
runscript ai on
If you want to turn on the AI ​​you must activate it.
runscript wizard
Open it if you want to become a level 2 wizard.
runscript rogue
This command turns you into a level 2 rogue.
runscript warrior
You want to be a level 2 fighter you must activate this code.
runscript zz_economizer
Use this command to remove all the gear he's wearing
runscript zz_money X
Apply this code to receive X quantity of copper, and it takes 100 coppers for a piece of silver or 10,000 coppers for a gold piece.
runscript addxp X
Enable it to receive X amount of desired experience.
runscript appearance X
This code is used to modify the appearance of each character, X is its code in number.
Latest Dragon Age Origins Command Recommendations
In this last segment of our guide on Dragon Age Origins Console Commands we have saved some recommendations with which you can take care of your game and enjoy every aspect of this incredible story to the fullest.
To begin with, it is important that you save your game continuously to avoid having problems or errors after executing any of these commands. On the other hand, remember that the first steps for the execution of the game console can be skipped as long as you have obtained the game from the Steam platform.
Also, remember to write the values ​​or ID in each of the tricks that ask for it. Which, we have specified with the letter X for identification. It is also important that you know that you write these codes in the way we have shown them to you in order to avoid any errors.
Before you finish, remember to visit some of our most read articles:
We hope you have enjoyed this post and that you found the information you were looking for. If you think that we should update any information about Dragon Age Origins Console Commands or that we have made a mistake, do not hesitate to write to us!