One of the biggest fears of parents is that their gamer children will not learn anything. But how could I say that when games where strategy is crucial like Tooth and Tail force us to lead an entire village with imperial ambition. A rather complicated task to execute unless you have the codes of Tooth and Tail .
What are Tooth and Tail codes?
In the Gamer multi-universe there is a special section for so-called strategy games where Tooth and Tail belongs.
It should be noted that these are titles where ingenuity and mental capacity are tested to limits that many of its users do not know. So, generally speaking, they are usually quite challenging games.
Likewise, in Tooth and Tail it is important to comment that it is a real-time game, so the count of manufacturing and learning of the skills of your characters will pass at the speed of the day.
In addition to having a level of difficulty designed to demand the maximum of your skills and still not be enough if you are a novice player.
Consequently, we are talking about a game that tends to be complicated and slow. Where resources are not easy to come by and where you will always have to compete against your environment to survive and expand your kingdom.
In this sense, the codes of Tooth and Tail come to be a great tool to facilitate, in a way, your walk through this incredible game that from HDGamers < / em> we recommend you enjoy.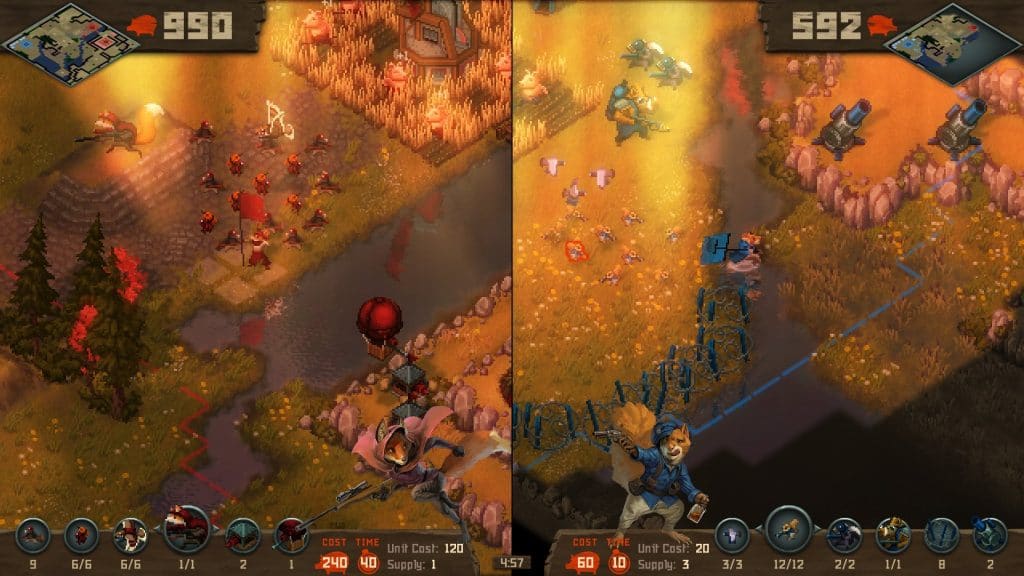 What are the Tooth and Tail codes?
A feature that characterizes the codes of Tooth and Tail is the variety of utilities it has and the benefits it offers you.
At times, they can be a little strange or even useless. However, they can save you on more than one occasion with the proper precautions for their use.
Here we present all the codes of Tooth and Tail you have, as well as a short description of their function.
F3: Use this command to change the climate or the weather.
F4: Use this command to toggle slow motion.
F5 and home: Use this command to give food and money.
F7: Use this command to access the full build (it also does this to enemies and allies).
F9: Use this command to immediately win and unlock the heroic.
F10: Use this command to lose immediately.
-: Use this command to starve your army. (Ideal when you are overcrowded and not at war.)
=: Use this command to save your army from famine.
Page Down and Del: Use this combination to remove all your food and riches.
Pg Up: Use this command to heal each commander.
. : Use this command to reveal the map.
I: Use this command to make your military units invincible.
O: Use this command to improve your development capabilities.
J: Use it to make all commanders invincible.
Q: With this key you can toggle the prediction move on and off.
How can I use them?
To finish we have to give you some very important recommendations to use the codes of Tooth and Tail.
The first of these is that these are not console codes. Therefore, to be able to use them you just have to go to the options menu. Then, just activate the Enable cheats button.
In addition, you should know that the use of these tricks in multiplayer can cause penalties to your account. So, from HDGamers, we recommend using them in single player mode.
Before you finish, remember to visit some of our most read articles:
We hope you have enjoyed this post and that you found the information you were looking for. If you think that we should update any information about Tooth and Tail Codes or that we have made a mistake, do not hesitate to write to us!