What is BIM and how does it work? Can both programs be used? Which program is better? What are their differences? We did an in-depth analysis of Revit vs Autocad for you, so that you understand everything from the basics and draw your own conclusions.
At the end we have a discount coupon for any Autodesk Software , in case you decide to buy a program, you can save 20% for being a reader of our website .
We start by answering one of the most frequent questions that users have:
You can mix both formats, which is better?
What can be done with CAD and what else with BIM? If your workplace migrated to BIM, does it mean that your CAD files are unusable?
Many people have the belief that when you switch to Revit everything should be in BIM and the other programs are rendered useless, but this is not the reality. You will need both CAD and BIM to function efficiently to you.
The first thing you have to achieve is an organized workflow so that CAD files are imported in an orderly manner into a BIM software such as Revit. To achieve this workflow you will need to understand where it is coming from and towards where the files go.
Basic differences of Revit vs Autocat
Work environments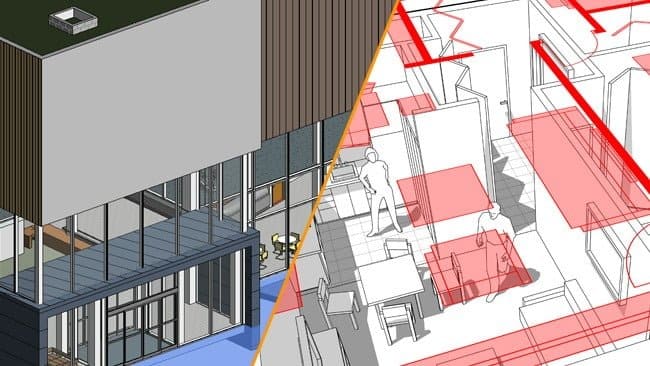 AutoCAD
If you work with CAD in two dimensions , as you would in AutoCAD, you will have several files (DWGS), these will represent the views of your project: Elevations, sections, floor plans, designs with lines and blocks.
Blocks created in CAD are grouped objects that act as one in 2D . These blocks can be used to create repeating content: drawing symbols, common components or standard details.
It should be noted that in these blocks there are no relationships between lines of the DWGS or the views.
Revit
This is fully 3D software , which works with BIM. You will create 3D models that are built in a single file. As with CAD , the 3D BIM file includes floor plans, sections, and elevations.
Unlike AutoCAD, Revit uses elements and then uses families to assign structures, parameters, and details, which makes the process easier. When you change the properties of any element all views they are updated automatically, you won't have to do it manually, as it would happen in a CAD.
Creation
AutoCAD
In AutoCAD you will use lines and hatches to make representations of the various materials and objects of the plan. You can assign layers and thicknesses as well as line colors to improve the representation. All lines must be continuous, in a closed way to be able to fill them with patterns.
Revit
On the contrary, in Revit you draw objects in a concrete way, not represented. You can for example choose a wall from the library or create it yourself, it will have layers to represent the materials real construction. You can control plus lines, colors, and patterns.
Every object you create will be smart, the walls know that they are walls, the windows will know that they are windows, which will help you label, make changes, change proportions, etc.
Graphic representation
AutoCAD
Each office will have standards to determine how the layers created in 2D CAD are printed. The graphic representation depends on the layer in which the objects are assigned.
Revit
For its part in Revit each element has its own configuration for printing, you can control them yourself using the "Object styles" or the visibility graphics. This feature will allow you to make visible changes to different representations of the same model.
The possibilities make Revit very versatile in this section, you can make changes for a specific object, for a category, or even for a specific view through the view templates.
Revit vs AutoCAD: Advantages of Revit
1. Printing from Revit is faster and more direct
As you may have noticed in the previous section, Revit simplifies the process. You only need a team that has a good understanding of the whole topic of line widths and view templates.
Pen files guarded suspiciously by CAD studios, consulting firms, and engineering firms are a thing of the past.
As long as you organize everything from start to finish, so that the objects are in the appropriate types of families so that everything is done with the same sense, the impression will be easy. </ Strong >
If you learn to outline ahead of time, projects will be completed faster with Revit. It's all a matter of having a schematization method before starting to generate any plan.
2. You won't need to print extra plans with Revit
Today's clients prefer to see their project in 3D, many times even in images but in virtual reality glasses or with a printed model. As Revid works in 3D, you will avoid printing plans and plans to build "mentally" an object in 3D. The work is done.
You will save a lot in rendering and 3D modeling services, by working in BIM you are doing a lot of the work.
3. You can put the black working background in Revit
Work views in Revit can be configured to look like what design managers are used to. Work views with dark backgrounds and yellow lines can be used … But it's completely useless and makes little sense.
In Revit you end up printing as the product looks in the design, you don't need to see false colors or representations, that was in AutoCAD, the advantage of BIM is precisely that if you create a wall, it will be a wall, not a representation .
In this way, accumulate much less printing errors, the visualization is more effective than the classic CAD when printing.
4. Parameters are more efficient than texts
Although at first glance the process of creating parameters may seem slower than visible texts, in the long run it is the most intelligent system. By far the most beneficial for the project, especially for corrections.
Annotating corrections within the parameters is diametrically more efficient than annotating them on the views by means of texts.
Let's see: In a world where we are all happy and objects should never move it wouldn't even make sense to be discussing this … But we don't live in an ideal world.
If you need to move an object within a project, for example, some railings, when these have a text you will need to move the object and also the information with it, this in each plane, in each view and for each time you need to move the object. If, on the contrary, said text is incorporated into the object as a parameter, the information will always move with it, because it will belong to the object, it will not be a text written in a hurry within a view. It will not be superimposed but integrated.
When you do numbers you realize that it is much better to take the time to convert those texts into parameters, so that they stop obstructing the views and make everything easier for you when having to move objects in the different planes.
If you want more information, check our Comparison of Fuison 360 vs Autocad

After analyzing both programs in depth, those were all the important data that we were able to obtain in terms of differences between Revit vs AutoCAD. It all depends on what field you are working in, for which market and with which clients.